He had aspired to be in Egypt's Air Force; instead as a cardiologist, he has done over 25,000 procedures.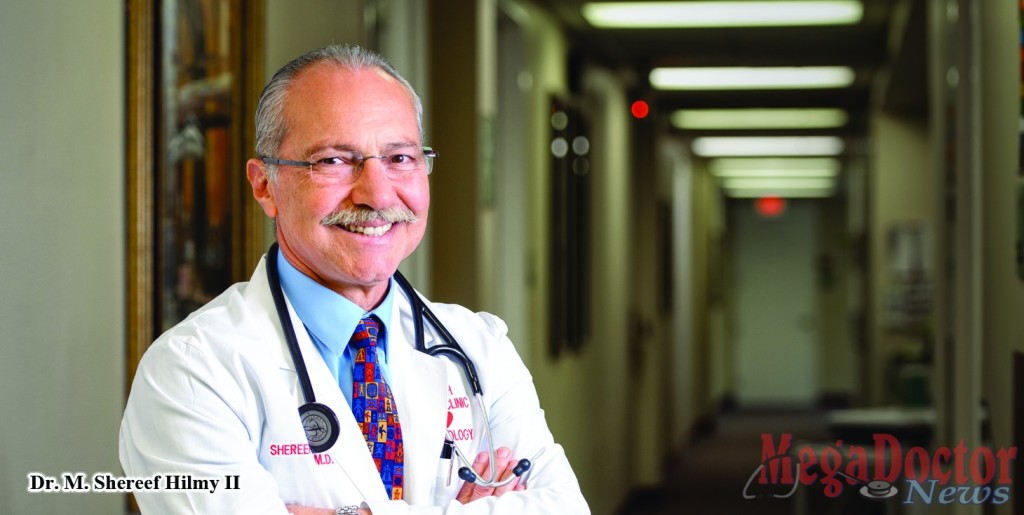 - Advertisement -

Mega Doctor News – 
By Roberto Hugo Gonzalez
The Rio Grande Valley has been a special place from its inception; the arrival of medical professionals with unique specialties has enhanced the area. For years the newcomers have proven that with dedication and the desire to serve the public, they can be the best in their particular field. Such is the case of this unique interventional cardiologist, Dr. M. Shereef Hilmy II, F.A.C.C., F.S.C.A.I., a Consultative, Non-Invasive, and Invasive Interventional Cardiologist. His specialties are in Internal Medicine and Cardiovascular Disease.
You will find his story interesting, and you will appreciate him when you learn that he has performed more than 25,000 heart procedures during his career. In total, Dr. Hilmy has practiced medicine for approximately forty-one years and has specialized in cardiology since 1980. Dr. Hilmy practices at South Heart Clinic based in Harlingen, Texas, where he is a part of a distinguished and renowned team of medical doctors.
During the interview, he spoke highly of his colleagues and told Mega Doctor News that he is proud to be part of this highly trained and experienced medical team.
Dr. Hilmy was born in Cairo, Egypt to parents Amin Hilmy and Horeya. He said, "My dad was a diplomat and for that reason I have traveled extensively and have been educated in different parts of the world."
His parents brought him to America at the age of 17, and he finished high school in Mamaroneck, New York. Later he finished premedical training at Delhi University in India in 1970 and basic medical training at All India Institute of Medical Sciences in New Delhi, India.
In February 5, 1977 he obtained his Bachelor of Medicine and Bachelor of Surgery, M.B.B.S., equivalent to Doctor of Medicine, from the All India Institute of Medical Sciences in New Delhi, India.
- Advertisement -

From 1978-1980, he did his Internal Medicine residency. He went on to finish his fellowship in Cardiology at the New York Medical College in Valhalla, New York. He entered Cardiology training in 1980, and finished Cardiology training in 1984. Dr. Hilmy also served as Chief Medical Resident at the same institution from 1980-1981.
His father, a dedicated soldier and diplomat, instilled in him the principles of hard work, honesty, and integrity. He said, "Those were his big things." On the other hand, his mom was the enforcer. "I love her. She's 95 years old now. She's the kindest person, but she was a disciplinarian. I owe the fact that I appreciate things in life to her."
The fact that he ended up in the Valley is a long story. He said, "In a few words, I was attending New York Medical College and was offered a chance to be part of the faculty." His immediate response was that he had no desire to be a faculty member in a center where he had done his training. He pointed out, "It was very cold up there as you can imagine; I wanted to look for a warm place."
He recalled that he visited Anaheim, California where he attended a conference and his boss and mentor Dr. Melvin Weiss offered him again a chance to be part of the faculty, and he declined. "We are still close friends," he said.
What happened after was like an odyssey; while his sons were still babies they traveled all over the west in search of a job.
"My wife and I together with my sons, one was three years old and the youngest, one-month-old; we traveled all over the west." He said, "I rented a white Buick Regal and drove from Anaheim, California all the way to South Texas passing through Bakersfield, California where I interviewed."
From there he traveled to Phoenix, Arizona for other interviews and continued on to Tucson, and then to El Paso, Lubbock, and San Antonio, Texas. From the last city, he called a cousin living in the Rio Grande Valley, who was in the citrus business.
It was 1983, and at the time there was no cell phone service, so he called his cousin from the hotel lobby. "You are only four hours away just come down and visit," his cousin told him excitedly.
Once in the Valley visiting with family he wondered, "What is this McAllen place like?" With time on his hands and curiosity he drove around and found Rio Grande Regional Hospital. He said, "They had just celebrated their ribbon cutting ceremony in 1983, I saw that some of the ribbons were still there."
Because of curiosity or persistence or perhaps both he drove into the parking lot trying to find more information about the hospital. Finally, he found himself in front of a door with a combination lock and tried to open it inputting the usual numbers 1-2-3-4-5, then 5-4-3-2-1, which doctors use for combination locks. The combination of numbers didn't work, but someone from the inside opened the door, and this is how it went.
Voice: "Can I help you?"
Dr. Hilmy: "Well, I was just trying to see the hospital."
Voice: "This is the doctor's entrance. The public entrance is around the corner."
Dr. Hilmy: "I'm a doctor."
Voice: "What kind of doctor are you?"
Dr. Hilmy: "I'm a cardiologist."
Voice: "Do you know anything about angioplasty?"
Dr. Hilmy: "Yes, I'm fully trained."
Voice: "I am Winston Rushing, the administrator of this hospital, please come this way."
"That's exactly how it happened." He added that, "He took me to his office and there I found out that Dr. Hugo Blake, who was working out of Harlingen, was also trying to start cardiology services in McAllen."
In order to start practicing in McAllen, Dr. Blake had been talking to a cardiologist in McAllen. Shortly after the initial meetings though, unfortunately that cardiologist was shot. So for that reason he no longer continued discussions with him to be part of his team. He said, "When I came in, I was to replace the doctor that was shot."
And who is Hugo Blake? "The godfather of the Heart Clinic in both Harlingen and McAllen," he said. At the time, Dr. Blake had already established his private clinic in Harlingen and was the Director of the Cardiology Department at Rio Grande Regional Hospital in McAllen. "He is the man that started it, the one with the vision, and the one with the ability to make things happen," Dr. Hilmy said.
A medical career was not his first choice. Hilmy had originally applied to the Air Force in Egypt, and the response was that he was too short. He said, "I decided to go for the things that I did well in school; I was excellent in physics, biology, and chemistry… the sciences." He continued, "I hated Homer's Iliad and literature and I could not get through those books. Biology is what I really liked, so that's the reason I became a doctor."
During his extensive career he has performed more than 25,000 procedures; he is an interventional cardiologist.
He said, "I'm blessed to have a group of partners that I can put up against any other group in the world, not just in the Rio Grande Valley." He also said, "All of my partners are exceptionally well trained. They are all board certified in their specialties. If I have to leave and go on vacation, I know my patients are being taken care at the highest level." Dr. Hilmy was referring to his cardiology colleagues and one electro physiologist (EP).
One of Dr. Hilmy's concerns about his patients is the fact that some of them don't appreciate the need for compliance with medications.
He said that sometimes it's difficult to explain to a patient the importance of medicine if they don't understand how important it is to stop smoking for example. He said, "That's a concern and a challenge. Some patients say, "I can't afford Plavix medicine as the tablets cost 75 cents a day", but he/she can afford two packs of cigarettes per day at whatever cost they are." Another of his attributes other than being a very effective interventional cardiologist is the fact the he spends a lot of time educating his patients.
He faced a notable challenge when he first came to the United States at age 17; he didn't speak any English, and he had to go to school to finish his 12th grade in English. He said shaking his head, "That was the biggest challenge of my life and a harder year than any year in medical school," he said. "We read from right to left in Egypt and it's a completely different alphabet. I had to learn to read English from left to right."
Mega Doctor News can attest that he also did very well; his English pronunciation is almost perfect, and he said, "I had no choice. My father and my mother were there, and I already told you what would happen, my mother was a very strict disciplinarian."
Dr. Hilmy is married to Marianne Thostrup, originally from Denmark; they met in India. He said that he had been trying to date her and had asked her out four times, but had no luck. He said, "She's the only person in my life that I asked out on a date who turned me down; I'm not kidding."
While he was a medical student in India, Marianne was working in the Danish embassy in New Delhi. He said that one day she showed up with some friends to watch a soccer game. "And there I was, a member of the Delhi soccer team, but I looked like a hippie. The hair in my chest was meeting with the hair of my neck. I looked like an ape, and somehow she liked me. That's how we met."
He says that this was not love at first sight, at least not on her part because she turned him down four times. He said, "No, no, I knew when I first saw her, that's the girl I liked. I knew it."
They have two sons, Erik who runs his own winery, Hilmy Cellars, in Fredericksburg, Texas, and Mark who attends medical school.
Dr. Hilmy loves photography, and soccer, and sometimes plays tennis with Tony Romero, the clinic administrator. He said, "He always beats me, so I stopped playing with him."
His favorite book is "A Short History of Nearly Everything" by Bill Bryson; this is an amazing and a scientific book." He said, "It's not literature, which I hate, as I have explained previously."
He said, "I've never ever checked a patient's insurance status in my life and I never will." Dr. Hilmy is the kind of doctor who has his heart in the right place. That is why he has been chosen for the Mega Doctor feature story of December 2014. We took into consideration his contributions to saving the lives of many patients in the Rio Grande Valley. MDN
Written by Roberto Hugo Gonzalez the 2009 SBA Journalist of the Year Award Winner & The 2009 and 2012 Paul Harris Award recipient.