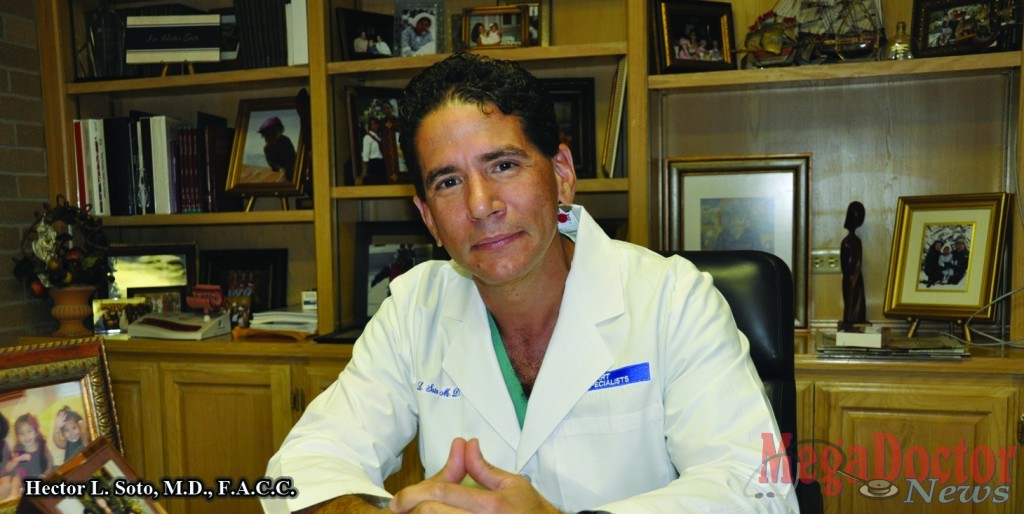 By Roberto Hugo Gonzalez
- Advertisement -

As originally published by Mega Doctor News before it changed its name.
Mega Metropolis Health & Fitness met with Dr. Hector Luis Soto, a cardiologist in McAllen and learned how important is to know some very basic rules in order to stay healthy and avoid diseases that threaten you life and that take away the quality of life people want to have.
Hector Luis Soto, M.D., F.A.C.C. a cardiologist and Diplomate of the American Board of Internal Medicine, Cardiovascular Disease, and Interventional Cardiology, is originally from the Dominican Republic. Dr. Soto was born and raised there, and he finished high school and medical school as well. "After that I came to New York, I did 3 years of internal medicine followed by my fellowship in cardiology also in New York at the Mount Sinai Hospital. I have been here since 1997," he said.
Towards the end of his high school years, Dr. Soto decided to pursue a medical career. "I grew up in an environment that had a lot of medical professionals. My paternal grandparents were both pharmacists and my dad is a cardiologist back home," he explained.
He said no one person in particular tried to influence him in his decision to pursue a medical career. For him the decision was as simple as setting his mind to do it and then to accomplish it. "My father used to say that the smartest guy in the family was my brother, he was already an economist," Dr. Soto stated
But the fact is that being surrounded by professionals in the medical field and seeing his Dad interacting with his patients, aside from the love and respect that the community had for them, probably played a big part in his decision. According to him, he chose this career because it gave him the ability to help people. "I think that this is the essence of my profession aside from enjoying it too."
Dr. Soto has been in the Rio Grande Valley for more than 13 years; this is enough time to know and understand the complexity of the health status in this area. Because of his experience and because he is a professional in the field of healthcare, he has sound advice for his patients and for the general public on how to prevent illnesses.
- Advertisement -

He pointed out that certainly here in the Valley the area has a high incidence of high risk factors for heart disease. There is a very high incidence of diabetes, overweight and obesity all over the United States. "This is pressing all over, particularly here in South Texas," he said.
Dr. Soto pointed out the prevalence of high and low blood pressure. Even though this is a big problem for the area, Dr. Soto sees things different because he says there is hope. "Diet and exercise is a must for everyone," he said. "When my patients visit with me, I always talk to them on how important physical activity is for the overall management of their health care."
He says that exercise can help in the management of weigh problems but it will not solve the problem by itself. "You need to cut calories and supplement with exercise if you really want to lose the weight," Dr. Soto stated.
Most people have a problem following a plan to cut down on what they eat and to invest time on physical activities. "This is hard, but it's worth fighting this battle." He added that following his advice will translate into a lot of benefits immediately.
Dr. Soto realizes that obesity is in an epidemic stage and that the best way to fight it is by educating people on how to prevent becoming part of the statistics.
"Men develop symptoms of heart disease earlier than women. Usually men start around 45 years of age and women after menopause or 50-55 years of age," he said.
Dr. Soto said that one other problem that adds to it is people do not get a yearly physical. "That in itself is one big problem," he stated. It is important to check your blood pressure and make sure that it is not elevated.
Check cholesterol, blood sugar count and it is important to know your weight. "There is more educational information available to prevent significant problems like heart disease and heart attacks. Coronary disease is the leading cause of death in the United States and a physical examination will detect if you have high blood pressure, high cholesterol or if you are diabetic.
Dr. Soto is part of a professional team of physicians that practice at Rio Grande Heart Specialists with two locations, one in McAllen and another one in Weslaco. The majority of the patients they see are sixty years of age or older.  Dr. Soto does not forget that helping people is why he became a health professional, and that is the essence of what he does as a doctor. We are proud to have Dr. Hector L. Soto as our Mega Doctor this month of June.  This story was published before this publication changed to the name of Mega Doctor News.
Recommendations:
Dr. Soto says, "Prevention Pays": Read on to learn what he recommends. Heart disease is often avoidable. Following a heart-healthy lifestyle doesn't have to be complicated. Find ways to include heart-healthy habits into your lifestyle — and you may well enjoy a healthier life for years to come.
1. Don't smoke or use tobacco products
Smoking or using other tobacco products is one of the most significant risk factors for developing heart disease. When it comes to heart disease prevention, no amount of smoking is safe.
2. Get active
Regularly participating in moderately vigorous physical activity can reduce your risk of fatal heart disease.
3. Eat a heart-healthy diet
Eating a special diet called the Dietary Approaches to Stop Hypertension (DASH) eating plan also can help protect your heart. Following the DASH diet means eating foods that are low in fat, cholesterol and salt.
4. Maintain a healthy weight
As you put on weight in adulthood, your weight gain is mostly fat rather than muscle.
5. Get regular health screenings
High blood pressure and high cholesterol can damage your heart and blood vessels. But without testing for them, you probably won't know whether you have these conditions. High blood pressure and high cholesterol can damage your heart and blood vessels. But without testing for them, you probably won't know whether you have these conditions. Always remember to consult with your doctor about your health concerns. MDN
Written by Roberto Hugo Gonzalez the 2009 SBA Journalist of the Year Award Winner & The 2009 and 2012 Paul Harris Award recipient.