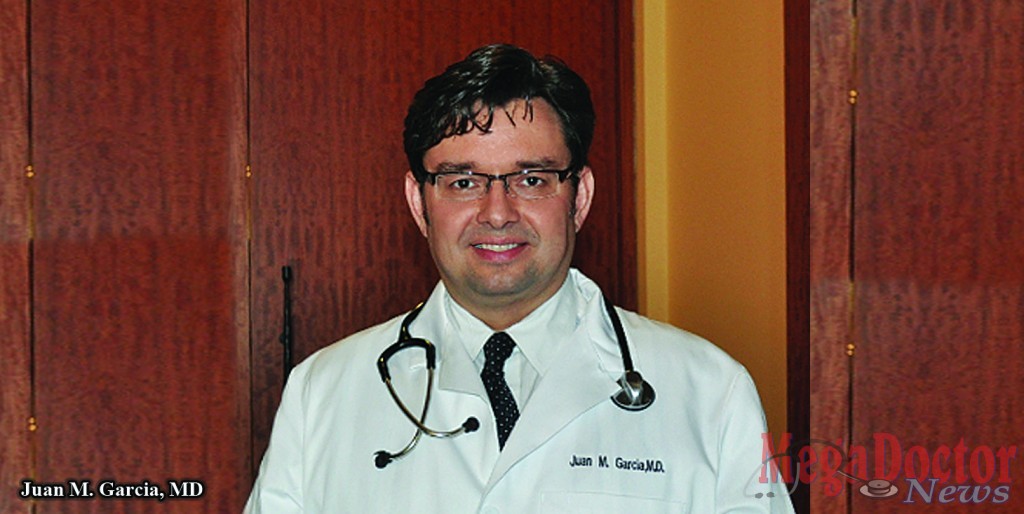 - Advertisement -

By Roberto Hugo Gonzalez
As originally published by Mega Doctor News newsprint Edition
Why do many physicians in the Valley have Dr. Juan M. Garcia as their primary doctor? Tha is indeed a very good question.
To begin with Dr. Garcia stresses prevention, which is his main interest in medicine. "It's my passion," he said.
Dr. Garcia has been practicing medicine in the Valley since 1997. The first ten years in Harlingen involved the full scope of family practice training. This included: full service obstetrics, endoscopies, inpatient care, ICU care, ER coverage, and training residents in colonoscopies at the Valley Baptist Family Practice Residency Program.
"At one point during my career I felt that I was putting my finger in the dike," Dr. Garcia stated. He pointed out that most of the patients that he took care of in the hospital in the acute care setting could have avoided hospitalization. "If we did a better job in the chronic disease management and preventive care a different outcome would have been accomplished. Unfortunately the way medicine is today we are focused in acute care and not enough is done in preventive medicine," he stated.
Because of this, Dr. Garcia decided to take a fellowship in anti-aging functional medicine and is currently involved with the University of South Florida doing a masters program in Functional Anti-aging Medicine.
"I enjoy this much more, because I am not going to focus on somebody's blood sugar and prescribing insulin to bring it down. I want to help patients to prevent diabetes and other diseases," he said. For the last three years his focus has been outpatient care and primary prevention with individualized care.
- Advertisement -

As he analyses statistics he learned that medical doctors even though they are the experts are not taking care of themselves. They come to him because they know that he is a doctor who is knowledgeable beyond disease management. "When I see a patient I am not looking at a disease like diabetes or hypertension; I am looking at the whole person and actually try to do prevention," he said.
"It is well known that the top killers of men are heart disease, stroke, diabetes, cancer and lung disease which all are preventable," he stated. He says that when he was practicing in the hospital he was dealing with premature death. "When physicians or other patients come to me, they ask, how can I avoid this premature death?"
Dr. Garcia goes beyond conventional medicine by doing what is called integrated medicine.  He looks at their hormonal and nutritional profile as well as their life style. "But I go beyond telling them to go exercise and eat healthy," he stated. He says that medical doctors have a life expectancy of less then 70 years of age, to be precise most of them die at an approximate age of 69. "This is less than the average population," he said emphatically.
"When we are born, we are programmed to live 100 years or more and most of us are not making it there. Why?"  He pointed out that with today's medicine it is possible to put the finger on the dike but more can be done for the patient.
When physicians come to you, what kind of health problems do they present? "The same as my regular patients, I deal with life styles." Dr. Garcia continued, "If I teach them how to eat, exercise, how to sleep and manage their stress and follow my advice, they will do well."
He said that stress is responsible for many of the deaths. "Stress management is a key and most physicians are under tremendous stress due to the heavy work load in their medical practice."
How do you manage stress? "First we have to identify what are the stress factors for each patient and then we must find out how their coping mechanism is performing."  Dr. Garcia said that it is important to find out how a patient is managing stress by setting biological markers, assessing their stress levels, evaluating their adrenaline gland and that will give clues on how much stress the patient is having.
"Studies have shown that when you just do a questionnaire with specific questions that a patient has to respond, regularly this will not reflect how much stress they are experiencing.  It is important to eat right, exercise and sleep at least 7 ½ to 8 hours.  The same is for physicians but it is difficult for them if they are on call."
In addition he said that people in professions that do shift work, their life expectancy is less. "So if you want to live 120 years, don't do shift work because it is important to get your 8 hours of sleep," he said.
Do your physician patients follow your health advice? "Well, it is the same as with a regular patient, compliance is an issue in the medical field," he said.  According to him, because of the way medicine is structured today, physicians are not allowed to spend a lot of time with a patient to educate them and that is not his case. "One of my main functions when I see patients is education. I teach them and help them to understand the concepts instead of just giving them a prescription." Dr. Garcia says that in the case of his physician patients, they understand the concept and he can be more in depth when he explains to them."
Dr. Garcia is originally from Managua, Nicaragua. In 1980, his family moved to Houston when he was 12 years of age. They were fleeing a civil war that gave them no choice but to look for a better life elsewhere. His mother Karen went from being a housewife to working as a secretary for a used car lot during the first two years since their arrival. However, his father Carlos spent 2 years trying to get a job. Dr. Garcia recounts that back in Nicaragua, his father had been part of the elite corps of civil engineers originally trained in the United States, so the family was very well off.
"My father's challenge in the U. S. was not the language but a cultural barrier," Dr. Garcia said. "For the first 4 years in this country my father used to say, "as soon as the war is over in Nicaragua we are going back"." According to Dr. Garcia, his father struggled with the American way of life but on the fifth year he accepted the fact that this place was good for everyone.
Dr. Garcia recognizes his parents' hard work because they started all over again and chose to send their three children to private school even if it meant not having any spare money for anything else.
Dr. Garcia is married to Thuy Tran Garcia; she is originally from Viet Nam. "She is also an immigrant so we share that background," Dr. Garcia said.  "We both left our countries because of turmoil and we came to the United States looking for a better life. Both of our parents worked hard to give us a better chance in life, now we are doing the same thing for our children."
He told Mega Doctor News that they met while working in a movie theater. Thuy was assistant manager and he was working at the box office during a break from collage. "We dated for 7 years," he said.
When it was time for him to go back to college in New Orleans, Thuy got a job as a flight attendant so she could go and see him when she had free time. When he started medical school their relationship got more serious and he proposed. "The following week I graduated and we got married," he said.
Thuy is dedicated to their five children Juan Lee 15, Karina Leilani 13, Lexandra Angelina 11, Marisa Lein 8 and Miguel Marcos 5. During their spare time she and Dr. Garcia volunteer with non-profit organizations and teach their children how to give back to the community.
Dr. Garcia believes you should reassess your priorities remembering – God is first! His passion is striving to imitate the life of Christ!  We asked how he would like to be remembered and he replied, "I did my best, followed my passion to help makes this world a better place."
Dr. Garcia is a Diplomat of the American Board of Family Practice and Fellowship trained and Board Certified in Anti-Aging Medicine. He is providing an excellent service of prevention of chronic diseases.  He has also been chosen by physicians as their primary doctor and that is why he has been selected to be our July Mega Doctor. You can reach Dr. Garcia at the Harlingen Family Health Specialists, (956) 428-3701 and at the Brownsville Family Care Specialists, (956) 550-9669.
MDN
EDUCATION/TRAINING
Doctorate of Medicine, University of Texas Health Science Center – Houston, Texas, 1994
Family Practice Resident, University of Texas Southwestern Medical School, John Peter Smith Hospital, 1500 South Main St., Fort Worth, TX 76104, (817) 927-1200; 1994-1997
Intern, University of Texas Southwestern Medical School, John Peter Smith Hospital, 1500 South Main St., Fort Worth, TX 76104, (817) 927-1200; 1994-1995
Bachelor of Science-Biology, with a minor in Chemistry and Philosophy, Loyola University, New Orleans, Louisiana; 1986-1990
The International Society for Clinical Densitometry- Certified Clinical Densitometrist, Echocardiography Interpretation by Keith Mooney, Dallas, Texas, NPI; Colonoscopy, EGD, and Sonography.
Written by Roberto Hugo Gonzalez the 2009 SBA Journalist of the Year Award Winner & The 2009 and 2012 Paul Harris Award recipient.