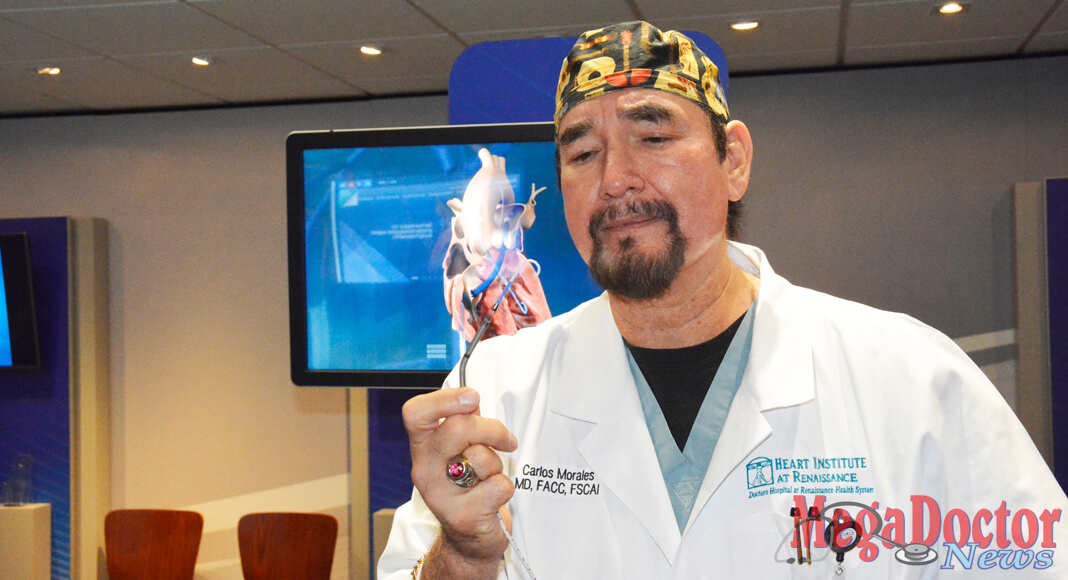 By Roberto Hugo Gonzalez
As originally published by Mega Doctor news in its newsprint edition November 2015
Dr. Carlos Morales, M.D., F.A.C.C., F.S.C.A.I. a cardiologist with Doctors Hospital at Renaissance (DHR), knows about the importance of technology in medicine. Just this week, he told Mega Doctor News about Impella, a catheter-based heart pump that pulls blood from the left ventricle through an inlet area near the tip and expels blood from the catheter into the ascending aorta.
This tiny pump, is an amazing invention, and the fact that is very small and produces big results easily can be categorized as a miracle. The performance of Impella, is an effectively tool that helps cardiologists save lives and is considered a minimally invasive placement device.
Dr. Morales has used this technology in patients with conditions that qualify, and that is patients who have severe left ventricular dysfunction or heart failure. Dr. Morales is originally from El Salvador; however, he has been a Valley resident for the last twenty-five years.
Dr. Morales attended an introduction of Impella to nurses and medical personal on the grounds of DHR conglomerate. He is a cardiologist at Doctors Hospital at Renaissance. "DHR made arrangements with Abiomed, the makers of the Impella device, which is the smallest cardiac pump in the world," he said.
He went on to say that the pump can be inserted via catheterization using the femoral artery in the leg, into the ascending aorta, across the valve and into the left ventricle.
In addition, he said, "We used the pump when heart failure or in patients in whom we are planning to do a complex interventional procedure."  "We can do complex interventional procedures because we use this device as a safety net. It gives us a leeway in terms of doing more complex cases safely."
Dr. Morales said that this technology has been available for some time and that the pump allows them even work on a heart that is not pumping to maintain life, the pump provides adequate pumping function. "Even if the heart is not working," he said.
He explained that the function of the pump is based on the Archimedes principle. "Archimedes' screw that allows a pump that works as a propeller to move blood from the heart to the rest of the circulation," he stated.
"It can provide enough circulation for between 2.5 to 5 liters per minute." He said, "That's enough to keep the patient alive."
He added that the performance of the device is such that even when a patient's heart stops working the patient can still be talking to you.
He also said, that if after a week or so the patients function has not recovered then the next step is to do operation to implant a device with a similar idea but is implanted directly into the heart. He said, "That can be left there permanently or can be used temporarily after a year or as soon as the patient gets a heart donor for a transplant if that's what the patient chooses to do."
According to the company's website, In June 2008, the Impella 2.5 received FDA 510(k) clearance for partial circulatory support for periods up to 6 hours, for cardiac procedures not requiring cardiopulmonary bypass. In April 2009, the Impella 5.0 also received clearance. And in September 2012, the Impella CP was also cleared.
Dr. Morales, prior to coming to the Valley, he was Chief Fellow Interventional Cardiology at Texas Heart Institute/St. Luke's Episcopal Hospital, Houston, Texas. He also did his Cardiology Fellowship in the same institute.
He had the opportunity to work close with doctors like the late Michael DeBeKey and Dr. Denton Cooley.
Watch below a video that shows how the placement of the heart pump is done: