- Advertisement -

Mega Doctor News
By Roberto Hugo Gonzalez
A little over ten years have passed since I last interviewed Dr. Carlos Herrera, M.D., F.A.C.O.G. At the time, he had only been living in the Valley just a few months. He is a gynecologic oncologist serving the Rio Grande Valley from his practice at DHR Health Gynecology Oncology; the clinic is located at 2717 Michael Angelo Drive, Suite 304 in Edinburg, Texas. His double specialty continues to be of great benefit to his patients; many of his patients believe he is a Godsend.
Dr. Herrera's double specialty was long overdue for cancer patients of this community that had to travel long distances to other cities for this specialized health care. I enthusiastically asked, what has happened in these ten years? "Oh, my Lord. I remember saying to Mega Doctor News; I want to eradicate cancer from the Valley." He continued, "Let me tell you, we have seen over 30,000 patients and done over 3,200 major and minor cancer surgeries." He told Mega Doctor News he feels satisfied and happy with their accomplishments.
"Aside from that, I have fallen in love with the area, the patients, the community, and I see the miracles God helps us do every day. That's what makes me very excited," he added.
Dr. Herrera said that cancer treatment had undergone many changes, and the medical community has taken advantage of the innovations to fight it. "Now we do major surgeries. I consider myself a slayer of monsters because I get rid of big cancers," he said.
One of those innovations to help fight cancer is robotic surgery. "But we must be careful with cancer because removing most cancers cannot be done robotically; you don't want to spill anything inside, so you have to be very careful." He said, "A lot of the literature says that cervical cancer at this time, with minimally invasive surgery like robotics or laparoscopy, is not a good idea."
"But most importantly, patients need to know that cervical cancer can be eradicated." He continued, "If you vaccinate your children early, between nine and 13, before they're exposed sexually to the human papillomavirus (HPV), they'll have a very small chance of developing cervical cancer."
- Advertisement -

He added that if women who are 21 or older should have checkups regularly, pelvic exams, and have pap smears, so they can detect pre-cancerous lesions. "There are a lot of things that we can do to prevent cancers before they become a big thing." According to Dr. Herrera, detecting cervical cancer early with a Pap smear gives you a greater chance at a cure.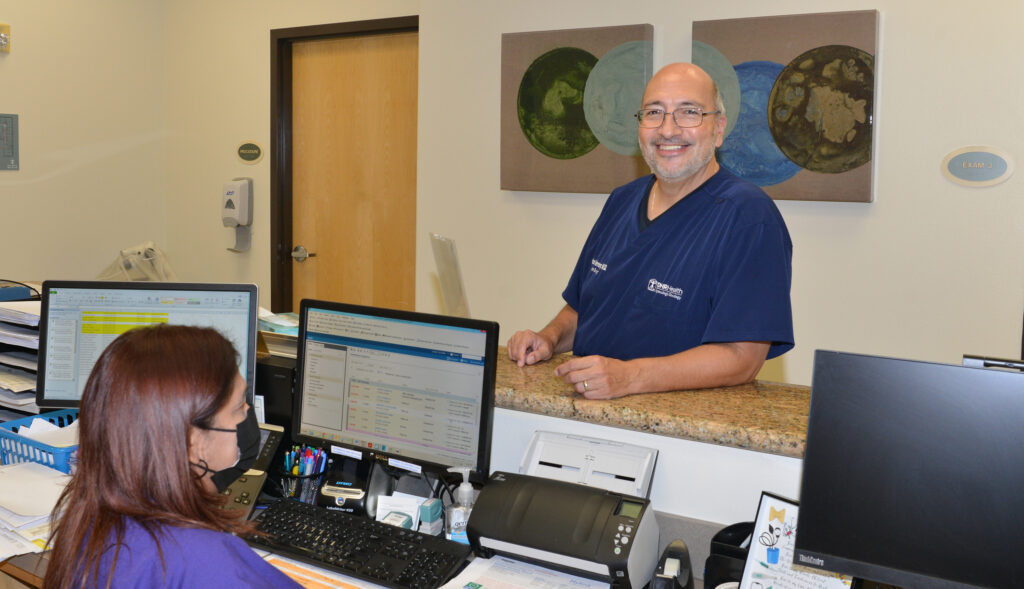 The other good news in fighting cancer is that chemotherapy has advanced tremendously. "We have a lot of new chemotherapeutic agents that are more specific with fewer side effects and are better at attacking cancer." He said, "We have come a long way, and I'm talking just in the past ten years."
He pointed out that the changes have been remarkable since the end of the 1990s. Because of the fast pace of advancements, he continues his education to keep up on the newest treatments. "It's amazing what we're doing in medicine nowadays. We must keep up."
Fighting Cancer
Are we winning the fight against cancer? "Yes, we are winning. Even though, at times, it looks like we're not, we are still winning." He said, "We call that winning for most of the patients that come to my office; we work to get them out of trouble and cured." He said that the only patients they can't help are those where the cancer has already caused their organs to shut down. "Those are the ones that come at a point of no return."
Dr. Herrera highly recommends and encourages people to get checked every year. "Go to your general practitioners or gynecologists to get checked, and we welcome you to come to our clinic." He emphasized that it is important to ensure the patients don't have anything they don't expect to have at an early stage.
What type of cancers concern you? "Endometrial and ovarian cancer, those are the big ones. There is also cervical cancer, which is less common in the United States, but since we're next to the border, we mirror Mexico a lot. So, guess what? Like Mexico, we have a high rate of cervical cancer, which is very prevalent in that country."
He said that endometrial cancer, which is the most common cancer they see in the United States, is also very common in the Rio Grande Valley. "I'm not going to hide it, I have to say it, but it is the high rate of obesity in women, that extra fat gets converted into estrogen, which stimulates the tumors to grow and develop into the most common type of endometrial cancer." He continued, "That's the big one, and it is completely curable." He cautions readers, "As soon as you notice any irregular bleeding, check it immediately."
Ovarian Cancer
"Ovarian cancer is the number one killer cancer; we don't have a way of detecting it early." He said, "But, believe it or not, there are early symptoms. You must be aware of something like persistent heartburn that doesn't go away. Because you think it is gas, you feel the need to take antacids like Sal de Uvas Picot® or histamine blockers because you experience nausea or bloating. You feel tired and are not eating, but you start gaining weight and you notice that your clothes don't fit. You experience unexplained vaginal bleeding. Those are early signs of ovarian cancer. Be very cautious if you have them. Get yourself checked right away. Don't be afraid because I know what happens. People are afraid of knowledge, of not knowing what's going on. Don't be afraid. Get it checked and get it checked early." His message is intended for men, too, for prostate cancer. "Get your prostate exams done, don't be shy."
Best Advice for Readers
"Number one, you must get checked if you feel something is wrong. If you have not had a period for over a year and suddenly have vaginal bleeding. If you have bleeding or pain that is not going away and worsening after three weeks, check it. Please have a pap smear yearly and a breast exam, including a mammogram after age 40."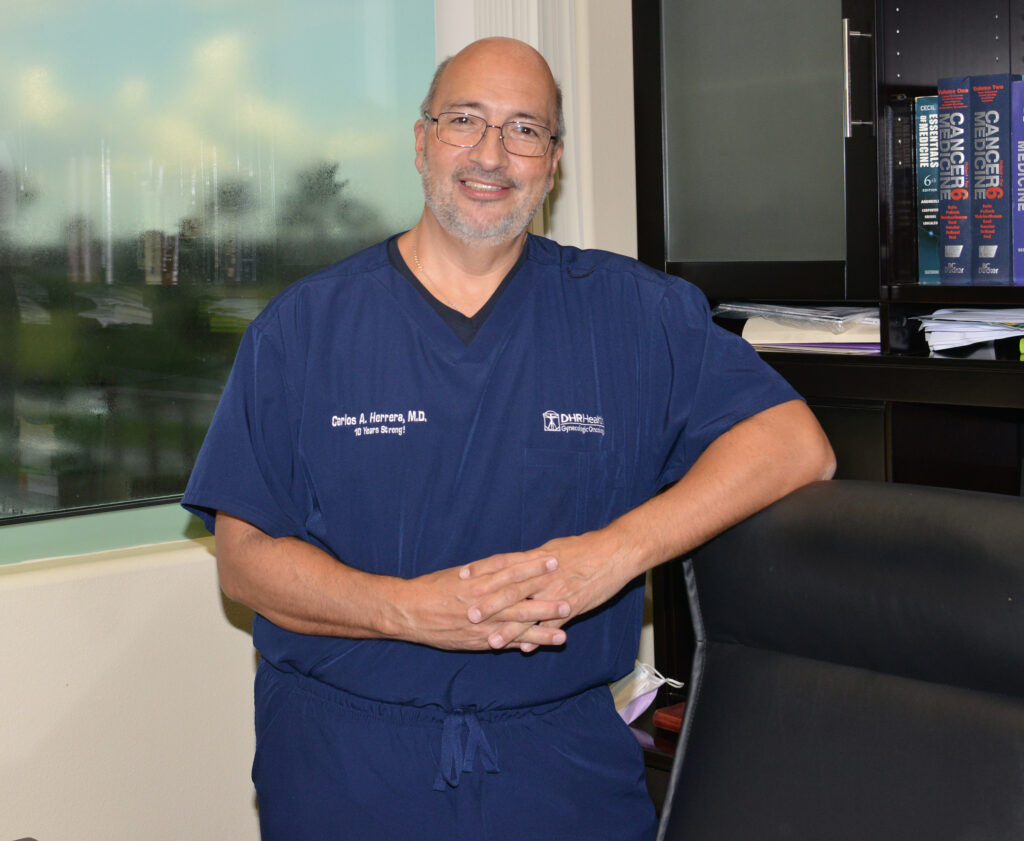 The complexity of Dr. Herrera's two specialties might scare others, but not him. He said, "I do mostly cancer care; however, I also have a gynecology practice." He pointed out that people can have many surgeries and still have gynecological problems like endometriosis, which is common. He treats pelvic infections that people deal with often, and any other difficult gynecology. "Difficult gynecology is still in my realm. It requires difficult surgeries and presents challenges in the management of the problem," he said.
Future for Cancer Patients
There is no doubt that you have kept very busy during these last 10 years. What do you see in the future for your patients? "One thing is for sure; no person can or should die of cancer. We can manage it," he said categorically. "I can promise you that if you are not fully cured, we can get to the point where we can manage it without causing you problems."
Dr. Herrera mentioned that medicine and treatments have advanced, for example, the AIDS infection in the 90s was a killer. "You got infected, then you died." He said, "Not anymore. Now there are medications that help people to live with aids and still live a full life."
Dr. Herrera believes that is where cancer treatment is going. "We can eradicate many of the cancers, at least the most difficult ones. If we cannot fully eradicate them, we can manage them.
If doctors and patients work together to control the cancers, people can live normal lives for a long time."
Technology in Medicine Changes
What about technology and medicine has changed? "I think artificial intelligence is changing the way we see technology." He added, "But I think what has developed the most in the field is chemotherapy treatment." He pointed out that chemotherapy used to be very rustic and very tough. He thinks IV medications will fade and targeted therapy will be used for treatments. "The medications target a specific area of cancer." He said, "Pills, pills, pills are better cancer killers and taking over chemotherapy treatments."
The demographics of women that you see, are they mostly older women? "Yes. The most aggressive cancer tends to be in women after 60. If I see cancer in a woman before age 50, you always suspect a genetic predisposition."
By joining DHR Health, Dr. Herrera provides a service vital to the residents close to their home. DHR Health is at the forefront of multiple treatments. Their constant innovation and effort to attract specialists that were never here before, positions them closer to communities.
Dr. Herrera told Mega Doctor News that studies had been made to support a hypothesis that when people get treated close to home, they do much better than away from their home. He said, "Because it was very easy to say, let's go to San Antonio, Houston, and Dallas, but it costs money, and required time spent away from home. Plus, there is no family support system, which is essential."
He said DHR Health is developing a bigger, stronger cancer center. The area where Dr. Herrera's offices are located are being converted to chemotherapy. "I'm moving my office to the first floor; it's a bigger area. We're trying to make it more convenient and better for patients."
It is important to say that he does not have physician assistants, not because they are not good, but because he feels he needs to have direct contact with the patient. "I want to get to feel close to them and to understand their ailment, to see them and help them through this process and for them to know they are not alone," finalized Dr. Herrera.