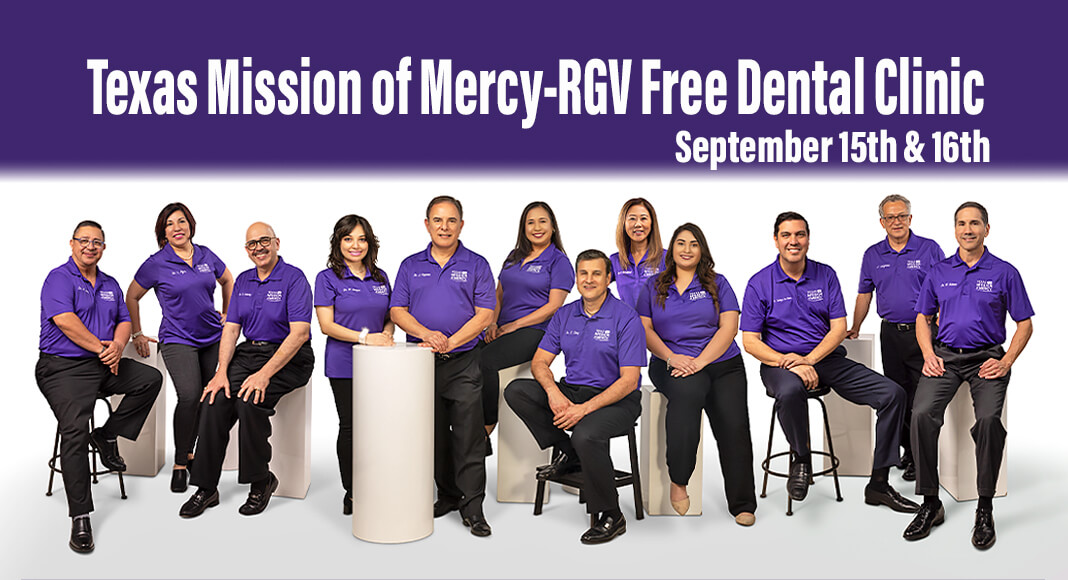 Mega Doctor News
By Roberto Hugo González
Oral surgeon Dr. Carlos Cruz is reaching new heights in his profession and community engagement this year. A proactive participant in his community, Dr. Cruz is spearheading a significant event aimed at offering crucial dental carefree of charge to underserved populations in South Texas.
The Texas Mission of Mercy (TMOM), a Free Dental clinic that provides pain-relieving dental care to underserved Texans at no cost, is coming to Edinburg this September. This time, the dental services will be hosted inside the Bert Ogden Arena in Edinburg, during a two-day event scheduled for Friday, September 15th and Saturday, September 16th. This marks the first time such a large-scale dental outreach event is being held in South Texas, according to Dr. Cruz.
Dr. Cruz discussed the event and his team's role with visible excitement. He, along with a team of committed local dental professionals and planning committee including Dr. Joe Cazares, , Dr. Melissa Uriegas, Dr. Lorena Rojas, Dr. Domingo Valadez, Dr. Walter López, Dr. Kemia Wendfeldt Dr. Michael Adame, Lizette Zapata and Alyssa Garcia ,have spent the past year meticulously planning and preparing for this grand event.
They have received invaluable support from local authorities such as Hidalgo County Judge Richard Cortez, McAllen Mayor Javier Villalobos, Jaime Longoria of the Hidalgo County Community Service Agency, and McAllen City Commissioner D6 Pepe Cabeza De Vaca. The event has also been fortified by private help from the Lone Star National Bank, represented by its President David Deanda, DHR Health and the Bert Ogden Arena in Edinburg.
TMOM-RGV is a unique initiative that brings dental care directly to people who may not otherwise have access. TMOM events are a multi-annual traveling dental clinic that set up in urban and rural areas all over Texas, visiting 4 cities each year. In a two-day marathon of treatments, the team often assists hundreds of patients in dire need of dental care due to a lack of income, insurance, or other qualifying factors.
According to Dr. Cruz, the upcoming event at the Bert Ogden Arena aligns perfectly with their mission. The facility is clean, comfortable, and safe, with ample parking for the multitude of patients expected to attend.
Dr. Cruz emphasized that every dental professional involved in the Texas Mission of Mercy RGV event is volunteering their time and expertise. They are dedicated to offering a Dental Clinic, free of charge, which will start service at 6 am on both days. The clinic will provide a range of essential services, including dental cleanings, fillings, extractions, root canals, pediatric dental care & removable partials and dentures.
The primary goal of the TMOM-RGV event is to improve oral health and reduce the risk of infection, but have also proven to provide a broad range of positive outcomes. The target population will be free from dental pain, have increased knowledge of proper oral hygiene, and those who had limited dietary restrictions due to dental issues will now be able to eat and enjoy healthier foods.
This event is not just an innovative way to bring dental care to those most in need, but also a testament to the dedication and spirit of Dr. Cruz and the team of dental professionals who are ready to serve.
They're making a difference in the heart of their community, one smile at a time. The work of these dental heroes continually emphasizes the importance of giving back and the transformative power of community-driven initiatives in shaping better oral health outcomes.
According to the American Dental Association, many adults don't have access to or qualify for programs that provide necessary dental care, leading to more serious health problems due to untreated dental issues.
Dr. Cruz told Mega Doctor News that the team of doctors is eagerly inviting interested community dental professionals to participate in the event. Those who wish to contribute to the cause and experience the satisfaction of making a tangible difference in people's lives are encouraged to join the mission. Together, they are ready to face the challenges that come their way, driven by their passion for service and the ultimate goal of assisting their community.
In conclusion, Dr. Cruz said that there will be 2 pre-screening events that will be held at two different clinics located in San Juan and Mission, Texas prior to the event.  Here patients will be evaluated and will have a treatment plan set up to be completed at the TMOM event.  To streamline the process and minimize wait times on the actual event days, it is highly recommended, but not required, to attend one of the pre-screening dates. This will ensure a smoother and more efficient treatment experience on the day of the clinic. 
The detailed schedule and locations are as follows:
Dates for pre-screening below:
Both days will run from 8 AM – 2 PM!
August 26, 2023:
Nuestra Clinica del Valle
Location: 801 W 1st St, San Juan, TX 78589
September 9, 2023:
Nuestra Clinica del Valle
Location: 611 N Bryan Road, Mission, TX 78572