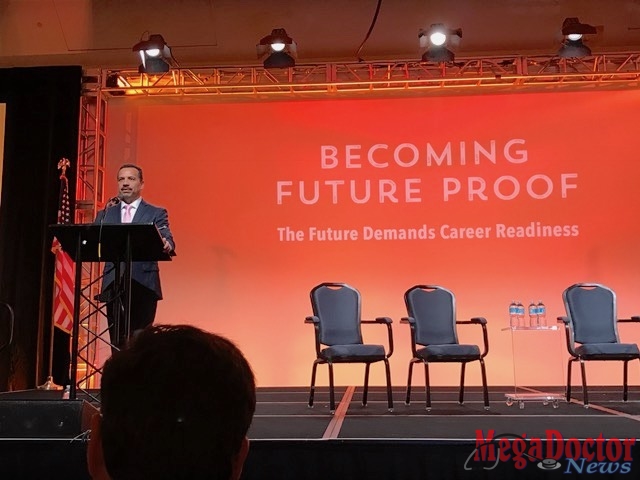 - Advertisement -

Mega Doctor News
Edinburg, TX — Doctors Hospital at Renaissance Health System (DHR) is proud to announce it is the recipient of the 2017 GEAR UP Leadership Award and also recognized by the National Council for Community and Education Partnerships (NCCEP) as the Community Partner of the Year. Representatives from DHR, including Board Members Mr. Alonzo Cantu and Dr. Ambrosio Hernandez, attended the NCCEP/Gear Up Annual Conference in San Francisco, CA to receive the award on behalf of the health system. Mr. Cantu also sat on a panel at the conference to share his experience and advice on the importance of career readiness.
The Rio Grande Valley has experienced a shortage in healthcare professionals; DHR has recognized the need to build local talent and works diligently with local partners to provide training and education opportunities. As a community partner, DHR has collaborated with local institutions of higher education, GEAR UP school districts, and the Region One Education Service Center in order to meet the need for quality healthcare and trained professionals in our region.
Various initiatives with our community partners include the annual College for All Conference for Health Science Professionals, which is hosted by DHR. Each year, this event exposes around 275 GEAR UP students to the many health science fields as they get to hear directly from healthcare professionals about their education and training. Students gain knowledge that helps them navigate the college process, going through a series of breakout sessions, including informational seminars on the scope of healthcare careers and volunteer/ internships available to students.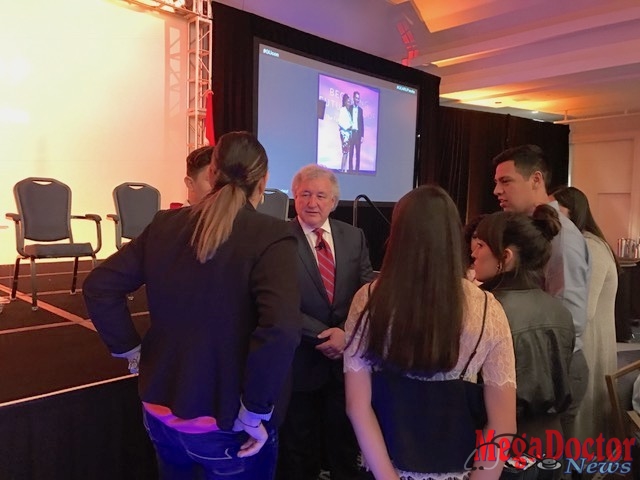 "DHR has a vested interest in the education of students in this region. The annual College for All Conference for Health Science Professionals is an opportunity afforded to Region One GEAR Up, which would otherwise not be available without their support," states Tina Atkins, Administrator at the Region One Education Service Center. "Student survey data continuously indicates that this event has increased their interest in pursuing a health science program of study."
DHR also partners with the Pharr-San Juan-Alamo Independent School District (PSJA ISD), a GEAR UP district, to provide students the opportunity to attain an Associate's Degree in Nursing while still in high school—the first of its kind program in the nation. In May 2017, DHR, PSJA ISD and South Texas College awarded degrees to the first cohort of students to participate in the program. DHR is currently partnering with Region One, STC, and three local school districts to explore other dual enrollment programs in nursing through the United State Department of Education Investing in Innovation grant.
"Our partnership is a testament to our commitment to train the future healthcare workforce in the Rio Grande Valley," states Eliza Alvarado, Ph.D., Director of Government Relations and Grants at DHR. "We are fortunate to have leadership that encourages these wonderful initiatives."
About the National Council for Community and Education Partnerships
- Advertisement -

NCCEP is a non-profit, non-partisan organization dedicated to the fundamental principle that every child deserves an equal chance to obtain a high-quality education. NCCEP establishes community-education partnership, strengthens research-based college access programs, and develops tools and resources to provide educational opportunities for all students. 
About Region One Education Service Center
Region One Education Service Center (www.esc1.net) serves over 431,000 students and educators in seven counties in south Texas including Cameron, Hidalgo, Jim Hogg, Starr, Webb, Willacy and Zapata counties. Region One works to assist school districts in improving student performance, assist districts to operate more efficiently and economically, and implement initiatives assigned by the legislature or the Commissioner of Education.