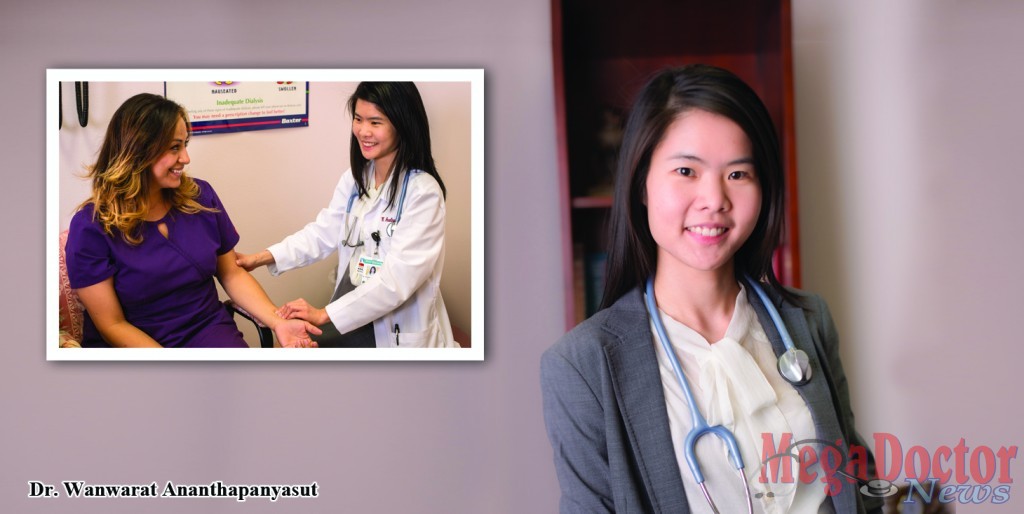 By Roberto Hugo Gonzalez
As originally published by Mega Doctor News newsprint Edition
Dr. Wanwarat Ananthapanyasut is better known by her nickname 'Dr. Ana'.  She is a nephrologist, a doctor who specializes in the study, diagnosis and treatment of kidney and mineral disorders.
Dr. Ana came to the United States in 2006 to start her internal medicine residency of three years in Chicago, Illinois. The windy city is quite unique and different for anyone but more for someone from the other side of the globe. "It was tough at the beginning," Dr. Ana told Mega Doctor News. "Everything was new to me, weather, food, people, culture, etc."
Dr. Ana pointed out that she learned many new things as an internist, but also as she said, "learned to live". She graduated from the Advocate Christ Medical Center/University of Illinois at Chicago in 2009. "I did not stop pursuing my dream; I moved to Los Angeles (LA) for a nephrology fellowship at the University of Southern California and spent two years in LA before moving to Richmond, Virginia in 2011." She did an extra fellowship in transplant nephrology at the Virginia Commonwealth University in Richmond.  She became board certified in Internal Medicine in 2009 and in Internal Medicine/Nephrology in October 2011.
The Early Years
She said that going to a medical school in Thailand is quite different compared to the United States. "We can go straight to medical school after graduating from high school, however, we spend 6 years and not 4 years like medical schools in the U.S."
While she was a student in Thailand, she knew that becoming a doctor would be really challenging. "I also wanted for my family to be proud of me. I worked hard and finally got into Chiang Mai University at the age of 17, which was in 1998. From that moment, I told myself that I would do my best to become a great doctor."
Dr. Ana was born and raised in Chiang Mai, Thailand, which is the largest and considered the most culturally significant city in Northern Thailand. It is located 435 miles north of its capital Bangkok. Chiang Mai means "New City" and was founded in 1296, in the capital of the Lanna Kingdom.
She is indeed proud to belong to an ancient country, however according to Dr. Ana she is now in the Valley for good. "I came to the Valley in July 2012 right after my fellowship, fresh and eager to work," she said.
The question we posed for Dr. Ana was, "Why the Valley?"  "Many people in the Valley suffer from kidney disease as a consequence of diabetes, hypertension, and obesity. I believe in prevention. It is important for Valley residents to be educated in order to avoid kidney diseases," she said.
Dr. Ana emphatically said that if people take care of themselves, they would live their life healthy and not connected to a hemodialysis machine for the rest of their life. "More importantly, my goal is to educate patients about a kidney transplant, which is the best treatment option for suitable patients with end-stage kidney disease. It is quite a surprise that lots of people here do not know about kidney transplants," Dr. Ana stated.
When asked what kinds of challenges she had encountered in her profession, she replied, "The challenge is you are not just a nephrologist, at the same time, you are a therapist and psychiatrist. I always give them options. I think with being a good physician you always have to tell your patient the truth."
The excitement that she gets from being a doctor is because of her passion for this profession, however the new medications and antirejection medications are indeed an extra incentive for hope. "The new medications give hope for patients and hopefully increase the graft and patient survival," she said.
Dr. Ana told Mega Doctor News that this profession brings her a sense of fulfillment, "Nephrology has always been a career of my dream ever since I was in medical school. I feel accomplished as a nephrologist and being what I am now." Her inspiration to become a doctor came from her parents, Chainarong and Orawan Ananthapanyasut. "Both of them are very important to me, I want them to be happy and to be proud of me," she said.  Her parents were very supportive when she told them about her plans to come to the United States. "They wanted me to explore the other side of the world."
After years of training in the medical field, she got her first job working with the nephrologist, Dr. Andrew Levine at his practice, Kidney Innovations. He has been practicing since 1997 and has offices in Harlingen, Weslaco, McAllen, and a main office at 4717 South Sugar Rd, Suite H in Edinburg, Texas.
Dr. Ana comes from a middle-class family. Her Dad, Chainarong is Chinese but was raised in Thailand. Her maternal grandparents Pan and Puk Chandara are from Thailand. Her Grandfather, Pan Chandara was a farmer and owned the largest rice mill in a village in Thailand. Dr. Ana said her grandfather donated his land to the government years ago. Later, the government built a sanatorium on that land, which has been open to the public for over 30 years.  Her Dad, Chainarong is now retired but used to be a banker and later worked for an insurance company. "I only have a younger brother, Wachirasek who is a veterinarian in Thailand," she said.
Her Mom, Orawan is the second of three children; she grew up in a suburb in Lampang, one of the provinces in Northern Thailand. "She was a suburban girl who became educated and successful.  I can only say that my grandfather had a great vision; he always said that education was the most important and it could change one's life. He did everything to support my Mom, especially her education." She went on to say, "My Mom graduated from Chiang Mai University because of my grandfather and she has been teaching French in one of the Thailand high schools for 30 years."
Just like most doctors, her profession can be stressful, Dr. Ana deals with it in a very familiar way for many of us. "When I am stressed, I go to the kitchen and start making my own delicious dishes. I love cooking." Even though she is new to the Rio Grande Valley she has found the Master of Chefs. "I now go to a cooking class at Bistro M, a Culinary Academy on 10th street in McAllen, with Chef Marcel Fortuin."
Dr. Ana loves playing tennis, hiking, kayaking, snorkeling, and bird watching. She said, "The Rio Grande Valley is a well-known place for bird watching, so I am glad to be here."
Following a dream like in her case that she wanted to become a doctor sometimes represents leaving something behind of great value. We asked if she gave up anything when she chose her profession. She replied, "My family, actually all of my family is still in Thailand. I try to go back and visit them once a year."
Did your education and career come before love? "I did fall in love and still remember how it felt but for some reason I always chose education and my career before love. I don't know why, maybe I was born to help people."
Dr. Ana is settling here in the Valley because she loves living and working here. "I am also learning Spanish and hope I will be able to speak the language fluently."
For her long-range future plans she said, "I would like to expand my practice and have a well-organized, established kidney transplant clinic."
Dr. Ana is indeed an example of perseverance and love for her patients. When she graduated from Chiang Mai University, she did it as a first class honor student in 2004. She dedicated all her time and effort to becoming a better doctor when she chose to come and study in the United States. Dr. Ana said, "The schools taught me to become a great doctor as well as a great person."
Because of her uniqueness and her love for the medical profession and her patients, Dr. Wanwarat "Ana" Ananthapanyasut was selected as our Mega Doctor for this month.  You may contact her at Kidney Innovations located at 4717 South Sugar Rd, Suite H, in Edinburg Texas or reach her at 956-383-4041. MDN
Writen by Roberto Hugo Gonzalez the 2009 SBA Journalist of the Year Award Winner & The 2009 and 2012 Paul Harris Award recipient.
Dr. Wanwarat Ananthapanyasut
Professional Information
EDUCATION
2011 – 2012 Transplant Nephrology Fellowship
Virginia Commonwealth University Health System, Richmond, Virginia
2009 – 2011 Nephrology Fellowship
University of Southern California, Los Angeles, California
2006 – 2009 Internship/ Residency, Internal Medicine
Advocate Christ Medical Center/University of Illinois at Chicago, Oak Lawn, Illinois
2004 – 2006 Internship/ Residency, Internal Medicine
Chiang Mai University, Chiang Mai, Thailand
1998 – 2004 Doctor of Medicine (First Class Honors, Gold Medal Achievement Award) Chiang Mai University, Chiang Mai, Thailand
LICENSURE
2011   Texas
2011   Virginia
2009   California
2006   Illinois
2004   Thailand
BOARD CERTIFICATIONS
2011   American Board of IM/Nephrology
2009   American Board of Internal Medicine
2005   ECFMG
PROFESSIONAL AFFILIATIONS
2009   American Society of Nephrology
2006   American College of Physicians
2004   Thai Medical Council