- Advertisement -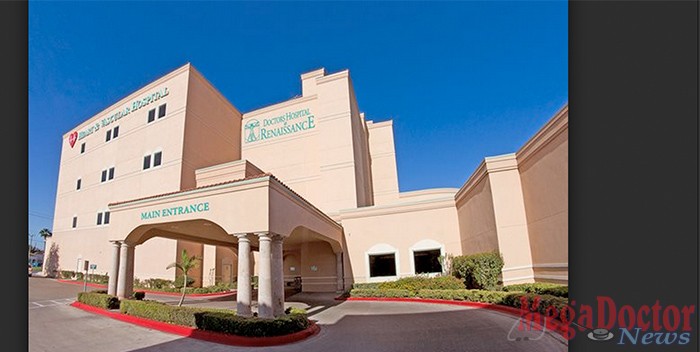 Becker's Hospital Review named Doctors Hospital at Renaissance among the Top "100 Hospitals with Great Neurosurgery and Spine Programs" for 2014
Mega Doctor News
Edinburg, TX— Becker's Hospital Review recognized Doctors Hospital at Renaissance (DHR) on its list of "100 Hospitals with Great Neurosurgery and Spine Programs" for the third consecutive year. DHR was also identified by U.S. News & World Report as a high performing hospital in three adult specialties, including geriatrics, nephrology, and neurology and neurosurgery. The hospital was also named the "#25 Best Hospital in Texas" and one of the "Best Hospitals in America" in that same report.
According to Becker's Hospital Review, the selected hospitals offer outstanding spine and neurosurgical care, and were chosen based on nominations, clinical accolades, quality care and on national rankings and original research. DHR is 1 of 11 hospitals in Texas to receive this prestigious distinction from Becker's Hospital Review.
"Doctors Hospital at Renaissance is proud to have its neurosurgery program recognized as a leading program in the country," said Israel Rocha, Chief Executive Officer at Doctors Hospital at Renaissance. "We are fortunate to have a dedicated medical staff that includes neurosurgeons that specialize in every form of neurosurgery, from minimally invasive techniques to the most complex spine and brain surgery."
Neurosurgery is a branch of medicine that deals with the surgical treatment of problems affecting the brain, spine, peripheral nerves, and arteries of the neck. Neurosurgeons are trained to take care of head injuries, spinal cord and spinal problems, peripheral nerve problems, which can include carpal tunnel syndrome, and administering surgery practices that treat neurological diseases.
"Being recognized by a publication such as Becker's Hospital Review is an honor," says Marissa Castañeda, Senior Executive Vice President at Doctors Hospital at Renaissance. "Our compassionate healthcare team and technology go hand in hand when providing such an outstanding neurosurgery program to our community."
- Advertisement -

The Doctors Hospital at Renaissance Surgical Services Department offers the most advanced equipment and a surgical team that is dedicated to providing high quality care. DHR houses 14 large operating rooms and state-of-the-art equipment that allow surgeons and staff the environment to simply focus on quality care for the patient.