- Advertisement -

Mega Doctor News
EDINBURG, Texas: DHR Health is proud to welcome Natalia Hernandez, MD to their team of physicians at the DHR Health Urology Institute. Specializing in women's pelvic health, Dr. Hernandez is a seasoned urologist with more than a decade of experience. She brings with her a wealth of knowledge and expertise that will further elevate the level of healthcare in the Rio Grande Valley.
Originally from Colombia, and fluent in both English and Spanish, Dr. Hernandez has an impressive academic background. She earned her Doctor of Medicine from Universidad de Los Andes in Bogota. From there, she pursued further training at Harvard Medical School, where she attained a Certificate of Principals and Practice of Clinical Research from the Department of Continuing Education, along with a Certificate in Applied Biostatistics from the Harvard Clinical and Transnational Science Center. She then completed her preliminary year in General Surgery at the University of Texas at San Antonio. After that, she moved to Houston, where she completed her urology residency and fellowship in Female Pelvic Medicine and Reconstruction Surgery at Houston Methodist Hospital.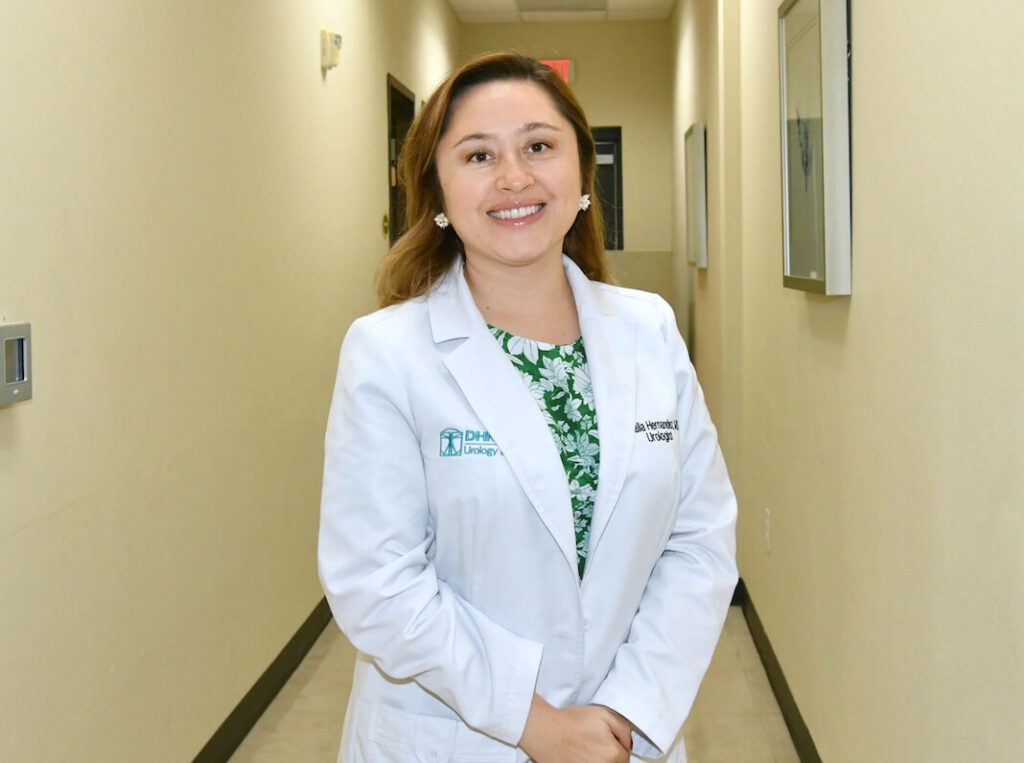 "The addition of Dr. Hernandez underscores our commitment to delivering unparalleled patient services and care, especially in the area of women's urologic health," said Marissa Castañeda, Senior Executive Vice President at DHR Health. "She will help improve access to healthcare for women of all ages."
Dr. Hernandez is the first fellowship-trained woman in female reconstructive urology and voiding dysfunction and neuro-urology to serve the Rio Grande Valley.
"When I was doing my medical training, I saw that there was a large gap in women's pelvic health and that specialized urologists in that field were in high demand," she said. "I made it my goal to seek further training so I can help raise the level of care for women, and I look forward to seeing and helping patients in the Rio Grande Valley."
At the DHR Health Urology Institute, Dr. Hernandez and her fellow urologists provide comprehensive care for patients facing a range of urologic issues. Home to the Rio Grande Valley's only urologic oncologist, DHR Health Urology Institute offers advanced surgical treatments and focuses on delivering patient-centered care for any condition that affects the kidneys, bladder, prostate, penis, testes, or urethra. The DHR Health Urology Institute is also a Center of Excellence for the UroLift® System, the only treatment for enlarged prostate performed by a urologist that does not require heating, cutting, or removal of the prostate tissue.
Dr. Hernandez's medical services are available at the DHR Health Urology Institute, located in the main campus in Edinburg at 2603 Michael Angelo Drive. To make an appointment, pleasecall (956) 362-8767. DHR Health accepts all medical insurances.