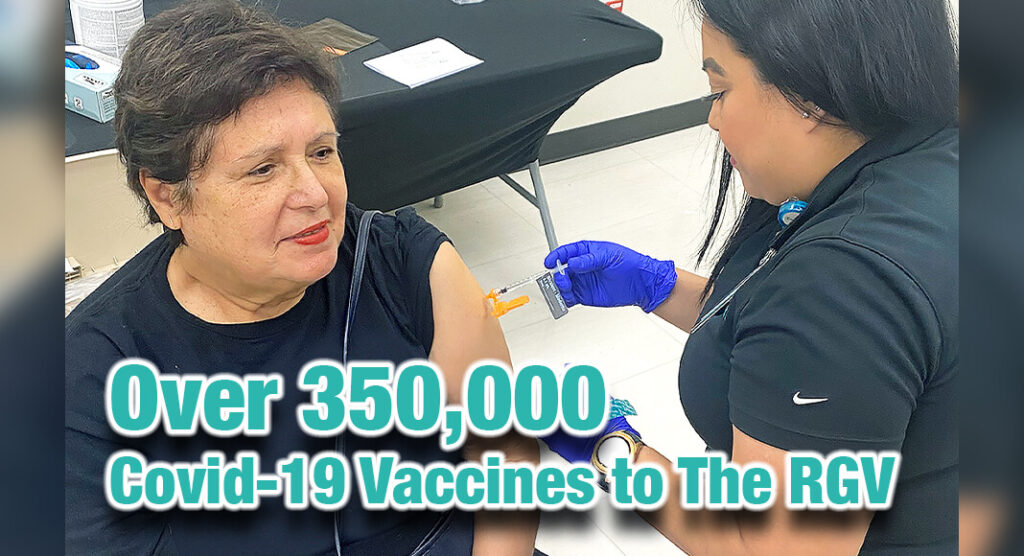 Mega Doctor News
- Advertisement -

EDINBURG, Texas – After a steadfast effort spanning around two-and-a-half years, DHR Health proudly announces that it administered over 350,000 vaccine doses to residents of the Rio Grande Valley through the DHR Health Covid-19 Community Vaccine Clinics. The vaccine clinics, which first opened in December 2020 and concluded on May 31, 2023, proved to be a vital resource for those in the community seeking protection from the Covid-19 virus.
"From the very beginning, the goal of our Covid-19 community clinics was to safeguard our region by offering the vaccine to as many people that wanted it," said Dr. Carlos Cardenas, DHR Health Chairman of the Board. "The clinics were a tremendous undertaking—especially while DHR Health was carrying out its many day-to-day medical operations."
"Special arrangements had to be made to order the thousands of vaccine doses, store those doses, and—of course—have staff on hand to administer those doses. But the decision by administration was unanimous that we all work in the best interest of the communities and people we serve,' added Marissa Castañeda, DHR Health Senior Executive Vice-President.
Held at venues like the Edinburg Conference Center at Renaissance, the DHR Health Emergency Management Department, the Pharr Event Center, and the Edinburg Activity Center, the vaccine clinics were also a source of light for the community during the dark days of the pandemic. "Early in the pandemic, every one of our clinics was a sight to behold," said Sherri Abendroth, DHR Health Director of Emergency Preparedness and Response. "The dedication of DHR Health, and the various volunteers that helped us administer the vaccine to the public was just extraordinary."
On three occasions, DHR Health even held the clinic at the Bert Ogden arena, where a larger number of patients could be serviced. The additional space allowed DHR Health to set up 40 registration areas and 40 vaccine stations, as well as a post-vaccination area where patients could sit for monitoring.
At its peak, DHR Health administered a remarkable 6,000 to 8,000 doses per day during 12-hour shifts. "We worked seven days a week from morning to night to get people vaccinated. In December 2021 alone, we administered 15,000 doses. We worked on Christmas day giving doses too," Abendroth recalled. "This was all while DHR Health was still running its hospitals and emergency rooms and its doctors and their staff were still conducting their day-to-day clinical work. The job was exhausting, but it was our mission."
On the last day of the last clinic, Sandra Sanchez, a 70-year-old resident of McAllen, arrived just before its official closure. "I want to be able to be around my family for many years to come," she said, expressing the importance of staying up to date with her vaccine boosters. "I have so much to live for and I want to continue to be active for five grandchildren."
- Advertisement -

As the DHR Health Covid-19 Vaccine Clinic concludes its operations, we can reflect on the immense progress made in the face of adversity. "The commitment, dedication, and unwavering support demonstrated by our healthcare professionals, the various volunteers, and law enforcement professionals have left their mark on the region. The impact that DHR Health has left on the Rio Grande Valley will be remembered for years to come," said Dr. Cardenas.