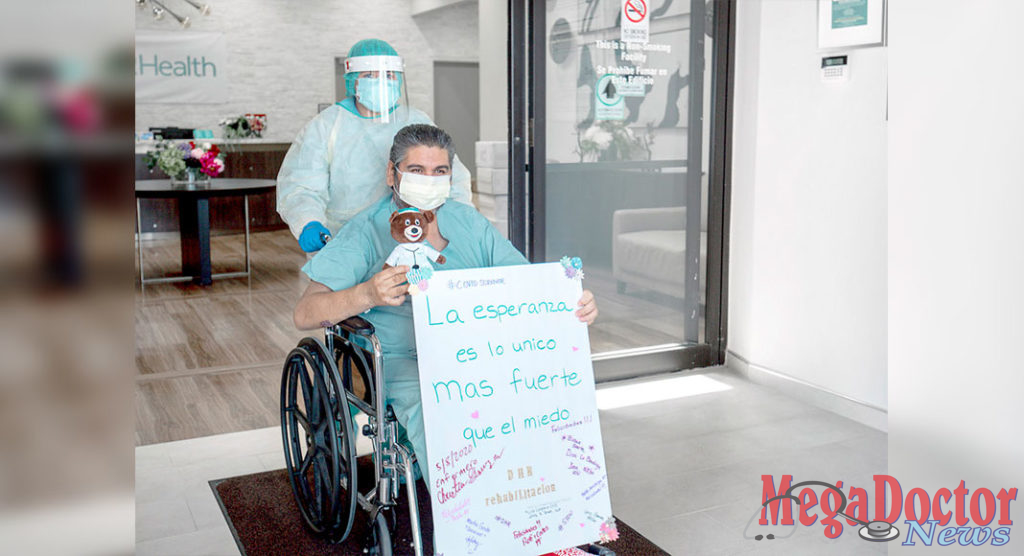 Mega Doctor NEWS
Edinburg, TX – For over a month, DHR Health patient, Matias Rios, 51, battled a life-threatening COVID-19 infection while admitted in the Serious Infectious Disease Unit (SIDU). Upon arrival at DHR Health, he presented with bilateral pneumonia and tested positive for SARS-CoV-2. After being placed on a ventilator for two weeks with minimal improvement, consent was obtained from his authorized guardian, allowing Mr. Rios to receive a transfusion of Convalescent Plasma.
DHR Health Institute for Research and Development has created the Rio Grande Valley's first Convalescent Plasma program to treat patients with severe and life-threatening SARS-CoV-2 infection. Mr. Rios is one of many patients in the Rio Grande Valley whose transfusion was facilitated by this program.
One day after the transfusion Mr. Rios condition started to improve and he was removed from his ventilator. Mr. Rios is now on the road to full recovery, thanks to the extraordinary team of physicians and nurses who played a vital role in his recovery at the Serious Infectious Disease Unit (SIDU), which is located offsite on DHR Health campus to isolate and treat COVID-19 patients.
Convalescent Plasma Program at DHR Health Institute for Research and Development has provided a very important option in the treatment of COVID-19 patients. In total, seventeen (17) patients have successfully received transfusions of convalescent plasma at DHR Health and at four (4) additional partnering hospitals in the region. The demand for plasma remains high as patients in the Rio Grande Valley continue to experience life-threating COVID-19. In order to fulfill the gradually increasing demand for convalescent plasma, DHR Health Institute for Research and Development is seeking individuals who have recovered from COVID-19 and who are willing to donate blood and/or plasma for the benefit of the community.
Mr. Rios credits his faith, his will to live and his family who motivated and supported him even though they were not able to be by his side. "Esta experiencia nos marca," says Rios. "Pero tengo un agradecimiento muy grande con el hospital. Tengo recuerdos muy bonitos."
"This experience left its mark on me," says Rios, "But I have a lot of gratitude towards the hospital. I have a lot of beautiful memories [from my time in the hospital]."
Mr. Rios has been discharged from the SIDU and is currently home, continuing to recover while being cared for by Mrs. Rios his wife, with whom he has been with for over 35 years. He is now walking without assistance and is completing a set of daily exercises recommended by his physicians. His advice to any other person or family who's loved one is fighting COVID-19, is "never give up and trust in God."
To learn if you qualify as a donor, please visit https://b.link/DHRHIRD_COVID19, or call (956) 215-3166 / (956) 342-4896. You can also email dhrresearch@dhr-rgv.com to request more information.