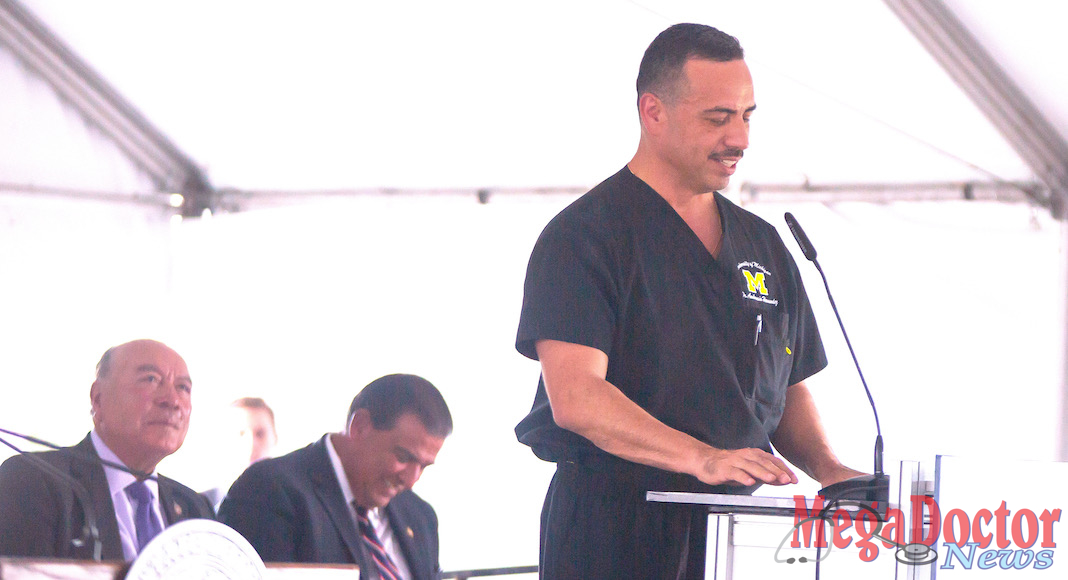 Mega Doctor News
- Advertisement -

By DAVID A. DÍAZ
As Pharr Mayor Ambrosio Hernández, MD joined Gov. Greg Abbott and Valley state legislators for the recent grand opening and building dedication of the South Texas College Regional Center for Public Safety Excellence, his presence was yet another reminder of how DHR Health and its leadership continue to bring major advances to the Rio Grande Valley, not only in medicine and healthcare but also in education and more.
Hernández, the Chief Medical Compliance Officer for DHR Health, helped welcome some of the state's and South Texas' top elected and appointed officials to his hometown during the Tuesday, September 18, 2018, gathering.
The afternoon ceremony heralded the beginning of a state-of-the-art higher education system that when fully operational, will significantly expand South Texas' capacity to provide educational opportunities for the public.
The complex, located at 3901 S. Cage Boulevard in Pharr, will include academic buildings, law enforcement and fire safety training structures, vehicle skills pad, emergency vehicle operations course, simulated weapons center, target range and other exceptional components. The target range will be open to the public for firearms safety training, practice shooting, skills development, and National Rifle Association certifications.
At the event, South Texas College officially launched Phase 1 of its $71 million master plan that will transform the center by 2030. Phase 1 is a 19,500 square-foot investment that consists of a training center, driving skills/skid pad, and shooting and driving simulation labs. The center also consists of 180 additional acres for future expansion.
The master plan consists of 534,385 square feet of buildings, structures, and driving track to be completed in three phases over the next dozen years.
- Advertisement -

The new Regional Center for Public Safety is also designed to make South Texas College the first border college in the nation to establish integrative training along the US/Mexico border while meeting the demand for professionals seeking careers in public safety, law enforcement, fire science, and homeland security.
Hernández, a pediatric and bariatric surgeon with DHR Health, said the South Texas College Center for Public Safety Excellence is the latest accomplishment of what happens when the Valley unites at the local, regional and state levels.
"First is the fact that it is the only campus that has a school district next to it as a partner, has a city with it as well, and the college leading the charter," Hernández said. "We need to educate our next generation of workforce, including introducing them to law enforcement. Now, we have one location where everybody can come and get trained and educated."
A true collaboration, the STC Regional Center for Public Safety Excellence would not be possible without significant contributions from the City of Pharr, the Pharr-San Juan-Alamo Independent School District and the Texas Department of Public Safety.
The City of Pharr contributed 59 acres of land worth $2.5 million, and the Basic Peace Office Certification Program is operated in part with the Pharr Police Academy. PSJA ISD contributed 10 acres of land and an additional $1 million for the construction of four classrooms to serve dual enrollment students in criminal justice and other public safety programs.
The mayor said STC's successful dual-enrollment program will allow more Hidalgo and Starr County high school student to enroll in college courses at the South Texas Regional Center for Public Safety.