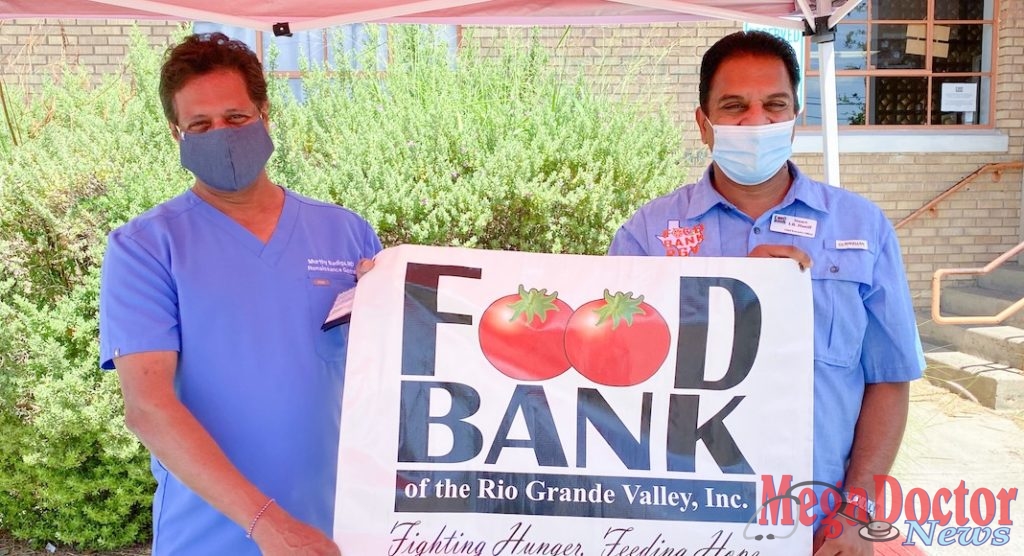 Mega Doctor NEWS
PHARR, TX – The Food Bank of the Rio Grande Valley recently received a generous donation from DHR Gastroenterologist, Dr. Murthy Badiga, to support the food bank's on-going 'Resource Readiness and Response' Campaign. Dr. Badiga's personal donation of $4,000 will provide up to 20,000 meals for those in need in the Rio Grande Valley.
"The Food Bank RGV is a great organization doing an awesome job of helping those in need with life sustaining nutrition. There's no greater mission or higher goal than fighting hunger and feeding the community—especially during these uncertain times," said Dr. Badiga
The Food Bank RGV launched its Resource Readiness and Response Campaign in late February, to prepare for the health and financial impacts of COVID-19, including the possible closures of schools and businesses. The Food Bank RGV has since seen the number of people served throughout the entire network to 127,308 people every week.
Donations received enable the food bank to continue to effectively and efficiently respond to the rapid growing needs of our community by providing support and reinforce its network of 275 partner agencies with food to serve the community and through its on-site Drive-Thru Emergency Pantry (DTEP). Drive Thru Emergency Pantry (DTEP) distribution is on Wednesdays from 7:00am to 10:00am, or until capacity is reached at the Food Bank RGV. The Food Bank RGV is located at 724 N. Cage Blvd. in Pharr, TX 78577. 
There is a limit of 2 families (2 people) per car to receive assistance. ID and proof of address are required. All vehicle occupants must wear face coverings, and car trunks must be empty. Distribution is open to all in need of food assistance and is first come, first served.
To sponsor a Drive-Thru Emergency Pantry distribution please contact Philip Farias, Manager of Corporate Engagement and Special events, at (956)-904-4513 or by email at pfarias@foodbankrgv.com You may visit www.foodbankrgv.com to make an online donation anytime.