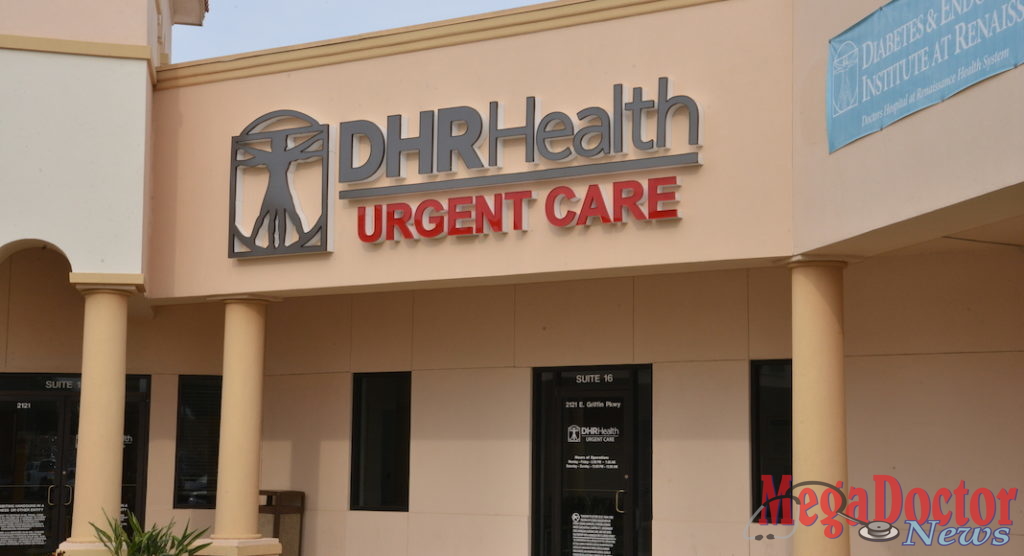 Mega Doctor NEWS
Mission, TX — DHR Health announces the opening of its NEW Urgent Care location in Mission, Texas at 2121 E. Griffin Parkway, Suite 16. With no appointments necessary, this location is open from 5 p.m. until 1 a.m. Monday through Friday and noon until midnight Saturday and Sunday.
The clinical team is comprised of physicians, nurses and specialists who provide patients fast and affordable urgent care for non-life-threatening injuries or illnesses, such as the common cold, flu, wounds that may require stitches, allergic reactions, and minor burns. Diagnostic testing and x-ray imaging are also available.
"Whether someone's dealing with an upper respiratory infection, a child broke something during a game, or an employee was injured on the job, we're here providing DHR Health level care to the community when the doctor's office is closed and when a trip the emergency room can be avoided," said Dr. Cruz Alberto Bernal, medical director of DHR Health Urgent Care. "Two-thirds of ER visits are for illnesses that can be treated at our Urgent Care locations, so we're excited to be expanding access while offering convenience and affordability to families in our community."
Costing on average of five to 10 times less than a visit to the emergency room, including freestanding emergency rooms, DHR Health Urgent Care visits cost around $150 on average. DHR Health Urgent Cares accept commercial insurance, Veteran's Administration, Medicare, Medicaid, self-payers and worker compensation plans. With medical insurance, only a co-pay is required at the time of the visit. Since DHR Health is a Veteran's Administration Authorized Urgent Care Provider, there is no copay for veterans with VA insurance.
The new DHR Health Urgent Care in Mission is the hospital's third urgent care location with two others located in McAllen: 800 E. Dove, Suite A, and 1421 Col. Rowe Blvd.
For more information about DHR Health Urgent Care, please call (956) 362-5050.