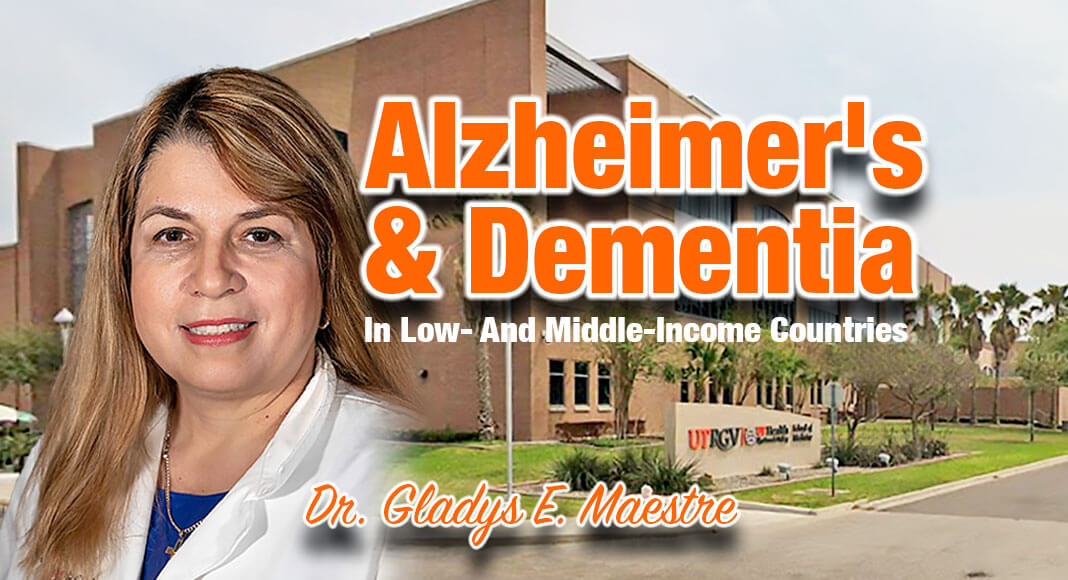 Mega Doctor News
EDINBURG, Texas – Dr. Gladys E. Maestre, director of the UTRGV School of Medicine's Alzheimer's Disease Resource Center for Minority Aging Research, will join some of the leading global dementia researchers at the Dementia and Brain Aging in Low- and Middle-Income Countries (LMIC) meeting in December in Nairobi, Kenya.
Participants will share their research and discuss the prevalence, risk factors, diagnosis, assessment and care of Alzheimer's and dementia in low- and middle-income countries.
"There are numerous reasons for the dementia burden in low- and middle-income countries," Maestre said. "These communities most often have a lack of resources to serve dementia patients, including limited specialized medical care clinics, healthcare systems that are stretched far too thin, and a lack of support to assist the dementia community.
"That is why the research we are conducting at our UTRGV Alzheimer's Resource Center is critical. We are working to combat these dilemmas and fill that much-needed healthcare gap, to better serve dementia patients and improve their quality of life," Maestre said.
The three-day conference, Dec. 6-9, will include presentations on important issues related to brain aging, including modifiable risk factors for dementia; HIV and dementia; cognitive testing and diagnosis; and dementia care and policy in LMICs.
Dr. Maria C. Carrillo, Ph.D., chief science officer for the Alzheimer's Association, said the global aging population is growing, and the need for dementia research that reaches and benefits all communities around the world has never been greater.
"We are committed to a vision of a world without dementia," Carillo said, "and we recognize the needs, challenges and opportunities for dementia research in all parts of the world, and especially in LMICs."
The conference, made possible by a grant from the National Institute on Aging, is supported by Newcastle University, The University of Texas Rio Grande Valley, the Alzheimer's Association, the Global Brain Health Institute (GBHI), the World Federation of Neurology's Aphasia, Dementia and Cognitive Disorders Specialty Group, the International Brain Research Organization (IBRO), and AgeCap Sweden.

Rajesh Kalaria, professor of Cerebrovascular Pathology at Newcastle University in England, said the symposium was initiated more than two decades ago by Newcastle, one of the world's leading centers for dementia focus.
"Thanks to our profound sponsors, we again look forward to this major symposium, initiated more than two decades ago by Newcastle," he said. "The busy program for this conference promises to highlight advances in epidemiology, modifiable risk factors, genetics, biomarkers, and dementia care."
Data show that Alzheimer's disease and all other dementia are a global crisis, with an estimated 50 million individuals in the world living with dementia today. In LMICs, the burden of disease often is greater, and some of these countries are projected to have some of the largest increases in dementia prevalence during the next few decades. This is due not only to higher incidence of dementia and lower support for its caregivers and families, but also due to a significant knowledge gap about dementia in LMICs.
Registration for the Dementia and Brain Aging in LMIC conference is open.
A working agenda of presentation topics is available here.
ABOUT NEWCASTLE
Newcastle University provides world-class education, offering a diverse and exciting range of subject areas with over 200 undergraduate and 300 postgraduate degrees. As a member of the Russell Group, Newcastle has world-class reputation for research excellence, with 16th in UK for research power and global impact. In healthcare in particular, its research is internationally recognized for its strong contribution to improved understanding of mechanisms and treatment of chronic disease and consequent benefit to patients. It holds the largest interdisciplinary centers bringing together biological, clinical and social scientists with NHS services for old age medicine, neurology and psychiatry. Newcastle has engaged in multidisciplinary dementia research for more than 50 years.
ABOUT THE ALZHEIMER'S ASSOCIATION
The Alzheimer's Association is a worldwide voluntary health organization dedicated to Alzheimer's care, support and research. Its mission is to lead the way to end Alzheimer's and all other dementia, by accelerating global research, driving risk reduction and early detection, and maximizing quality care and support. The association's vision is a world without Alzheimer's and all other dementia®. Visit alz.org or call 800-272-3900.