Order Phone number below of all the stores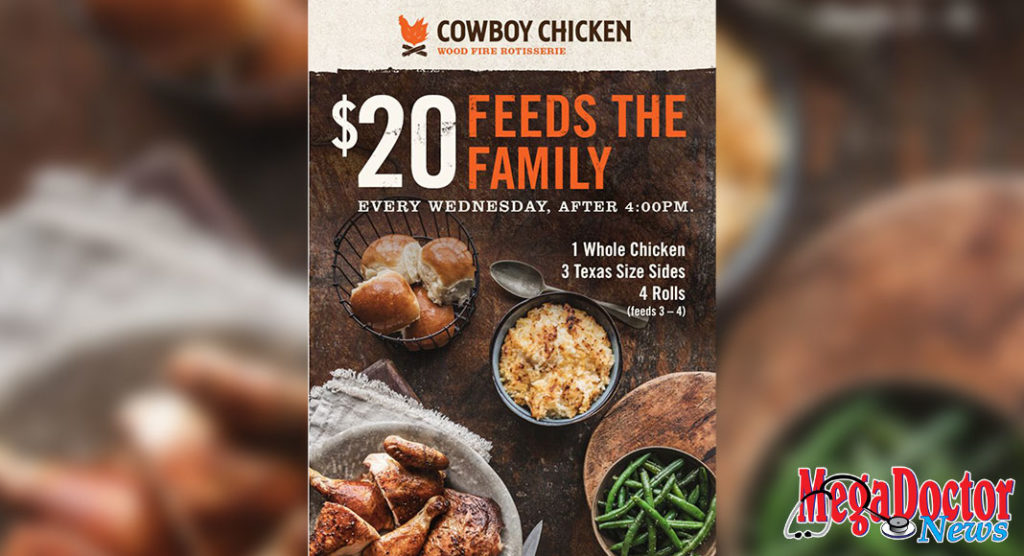 Mega Doctor NEWS
We encourage you to support local merchants. During these times of need, we can rise as a community and help each other out.
Cowboy Chicken Wood Fire Rotisserie
$20 Feeds the Family-Every Wednesday, after 4 pm
1 Whole Chicken, 3 Texas Size Sides, 4 Rolls (feeds 3-4)
Enjoy $5 off any Family Meal every Wednesday Night 4 pm – Close
Don't want to go out? We'll bring dinner to you! We're now offering FREE DELIVERY on all orders over $15.
Your safety is important to us. Learn more about how we're addressing COVID-19.
Due to circumstances store hours and availability are subject to change. To find a store near you, please see listing below:
3400 W Expressway 83 Bldg 100, Ste 100 McAllen, TX, 78501 ☎️ (956) 429-3999
1020 W. Nolana Ave. McAllen, TX, 78504 ☎️ (956) 686-7777
---
If you are the owner or the manager of a restaurant, we would like to help you promote your curbside specials. FREE of charge. Just send us the information to info@tbbmega.com