Mega Doctor News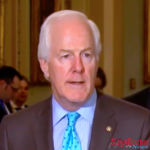 WASHINGTON – Yesterday U.S. Senator John Cornyn (R-TX) cosponsored the Protect Act, legislation from Sen. Thom Tillis (R-NC) that will protect Texans with pre-existing conditions and ensure they will never be denied health care coverage or be charged more because of a pre-existing condition. You can read more about this bill at the end of this article.
"Texans shouldn't have to fear being denied access to affordable health insurance because of a pre-existing condition," said Sen. Cornyn. "This legislation will give them peace of mind they can choose an insurance plan for their families that offers quality, patient-centered coverage."
Senators Thom Tillis (R-NC), Lamar Alexander (R-TN), Chuck Grassley (R-IA), Bill Cassidy, M.D. (R-LA), Rob Portman (R-OH), David Perdue (R-GA), Joni Ernst (R-IA), Kevin Cramer (R-ND), Johnny Isakson (R-GA), Roger Wicker (R-MS), Shelley Moore Capito (R-WV), John Barrasso (R-WY), Rick Scott (R-FL), John Kennedy (R-LA), Todd Young (R-IN), Tom Cotton (R-AR), and Richard Burr (R-NC) are cosponsors of the legislation.
Background:
The Protect Act amends the Health Insurance Portability and Accountability Act (HIPAA) to:
Guarantee the availability of health insurance coverage in the individual or group market, regardless of pre-existing conditions;
Prohibit discrimination against patients based on health status – including prohibiting increased premiums for patients due to pre-existing conditions; and
Prohibit insurance companies from excluding coverage of treatments for a beneficiary's pre-existing condition.