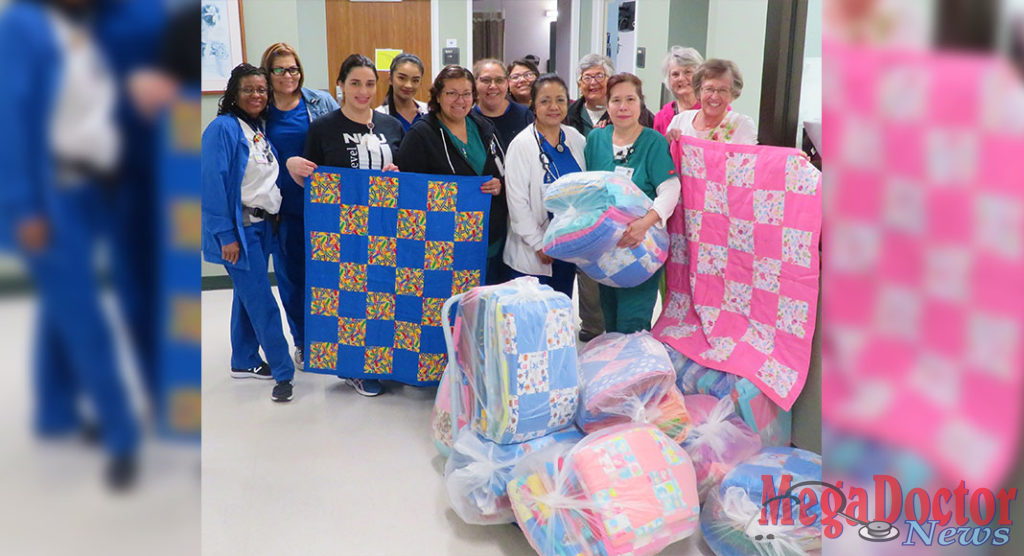 Mega Doctor NEWS
BROWNSVILLE & HARLINGEN – For Ethel Carlson, quilting truly is a labor of love.
Carlson and her fellow members of Winter Haven Border Quilters used their hard work to benefit their community in early February, donating more than 120 quilts to various departments at Valley Baptist Medical Center-Brownsville.
Carlson said it can take many volunteers and a number of hours to produce a single quilt, with members of the quilting group typically banding together to form an assembly line to produce the handmade blankets.
"From start to finish it can easily take three or four hours to make a baby quilt," said Carlson, who has also volunteered at Valley Baptist-Brownsville for nearly two decades. "It's an amazing effort, and we make a big production out of it. It's so important because there are people in need all over the United States, and especially here in our Brownsville community. We have a group of people who are truly selfless and they're giving and using their talents to meet a need in our community."
Miriam Longoria, director of women's services, labor & delivery, and the mother-baby unit at Valley Baptist-Brownsville, said the quilts would be used to comfort new mothers and infants alike.
"The quilts get donated to our tiniest patients throughout women's and children's services here at Valley Baptist-Brownsville," she said. "We give them to patients in our mother-baby unit, where our newborn babies stay with their mothers, as well as patients in our neonatal intensive care and pediatric units. Many of the blankets are kept by families as keepsakes or mementos."
Longoria said that while employees at Valley Baptist-Brownsville are proud to serve the community they love, the mission of providing high quality healthcare to the community is one that often can't be undertaken alone.
"We're so thrilled and grateful to receive the generous donation from the Winter Haven Border Quilters," she said. "At Valley Baptist-Brownsville, we pride ourselves on being a community built on care. To receive such a gift from the within the community confirms that we are doing something right and we're on the right track."
Valley Baptist Medical Center-Harlingen also received a boost to its efforts to care for the area's pediatric patients last week through a donation from the South Texas Juvenile Diabetes Association (STJDA).
Through a partnership with the STJDA, the Valley Baptist-Harlingen pediatric unit received a number of educational care packages for pediatric patients newly diagnosed with diabetes. The packages feature a number of items, including books and activities aimed at helping calm children facing diabetes, in addition to a "shot spots" bear – a teddy bear featuring hand-sewn patches to help children learn about insulin injections and insulin pump site rotation.
Sara Robertson child life specialist with Valley Baptist Medical Center-Harlingen, said the care packages signify the importance of the health system and non-profit organizations working together to care for the community.
"The 'shot spots' bears will benefit children who are newly diagnosed with diabetes here at Valley Baptist. The bears provide comfort as well as an opportunity for learning as children adjust to regularly receiving insulin injections. We use it for medical play — allowing the child to have some control, choosing to be the doctor or nurse and to practice giving shots in the various locations and 'helping' their bear cope each time," she said. "Kids catch on quickly, especially through play, so this helps reinforce the information they're receiving so they can master it more effectively. The new diagnosis can be quite overwhelming for kids and their families, so receiving these bears and connecting with STJDA helps them to know they aren't alone and that they will have support as they begin this journey, not only while they're here at Valley Baptist but also as they return home and into the community."