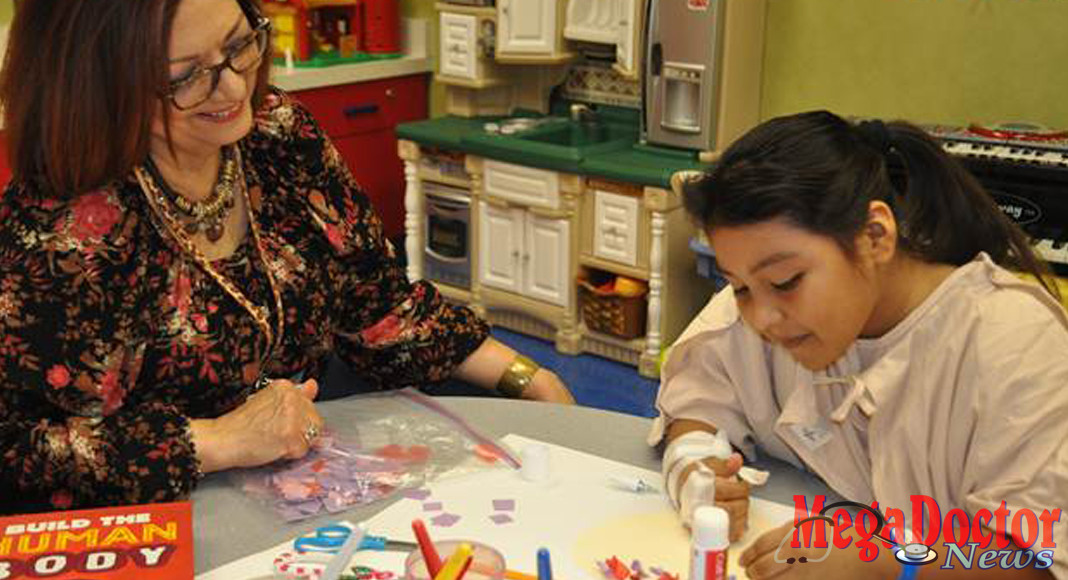 - Advertisement -

As originally published by Mega Doctor News in its newsprint edition February 2017
Harlingen – When a child must be in the hospital, play time can go a long way to easing fear and anxiety associated with treatment.
At Valley Baptist Medical Center in Harlingen, hospitalized children not only have their own playroom, but a certified "child life specialist" who helps them with arts-and-crafts and other fun and educational projects – which can help children cope with the challenges of being hospitalized at such a young age.
The specialist, Maricela Medina, said that play can help in the healing process when a child is in the hospital.
"It gives kids something to look forward to, and when you are in good spirits emotionally, it helps you get better faster," Medina said.
Child life specialists such as Medina are trained professionals "with expertise in helping children and their families overcome life's most challenging events," according to the Association of Child Life Professionals, a national organization which provides professional development programs and resources to child life specialists across the country.
"Child life specialists promote effective coping through play, preparation, education, and self-expression activities," the Child Life Council states on its website.
In addition to play, Medina helps plan special activities to help hospitalized children get their minds off of being sick.  Children at Valley Baptist Medical Center enjoyed visitors ranging from the "Dora the Explorer" cartoon character and Dallas Cowboys football players to exotic animals from Sea World of San Antonio.
- Advertisement -

"We can't take our patients outside the hospital, but we can bring interesting and fun learning activities to them," Medina said. "Being in a hospital can be a scary place for kids, but we work hard to minimize that. Just because they're sick, doesn't mean they can't do something that is fun and exciting. It helps them to cope with the stress of being in the hospital."
Medina has worked as a child life specialist for 33 years – including the last 14 years coordinating therapeutic and recreational play activities and learning activities for children at Valley Baptist's 39-bed pediatrics center – which includes the only pediatric intensive care unit in Cameron County.
Since 2003, the Matt & Patty Gorges Children's Center at Valley Baptist has offered comprehensive pediatric services, which can allow children and infants to stay in the Valley and close to home for specialized medical care.
"Having these comprehensive pediatric services here in Harlingen saves money and time for Valley families – and lessens the hardship for a child who is ill, since the child is closer to home and family," said Claudia C. López, RN, MSN, Director of Pediatric and Pediatric ICU Services for Valley Baptist.
The pediatrics center at Valley Baptist features 25 private rooms and 14 pediatric intensive care rooms, as well as greater access to expanded pediatric specialty care.  Children receive enhanced care in such areas as cardiology, pulmonary medicine, neurology, gastroenterology, infectious diseases, endocrinology, surgery, intensive care, oncology, immunology, and dentistry.
During winter months, the center treats many children with respiratory problems, such as the flu, RSV virus, and asthma.  Pediatricians and pediatric sub-specialists are assisted by specially-trained pediatric nurses who care for the young patients.  The nurses are certified in Pediatric Advanced Life Support to provide emergency life-saving care for pediatric patients.
The patient rooms in the children's center are large enough for a parent to stay in the room with the child, which can help the child to feel more comfortable.  The comfort of parents is also a priority – with a "Ronald McDonald Family Room" located inside the hospital, while a Ronald McDonald House, located across the street from Valley Baptist, provides a "home away from home" for needy families of hospitalized children.
A colorful pediatrics playroom is well-stocked with a variety of toys for all ages, as well as arts and crafts materials, crayons, books, and board games. Older children have their own space down the hall in the "teen room", which features entertaining activities, including movies, video games, computers and music.
Thousands of toys, books and DVDs have been donated by generous groups, schools and individuals in the community.
"All of the donations really help our children," Lopez said. "The kids have to make a transition from the home environment to the hospital. The toys, games and videos help ease their fears and make the transition much easier." MDN