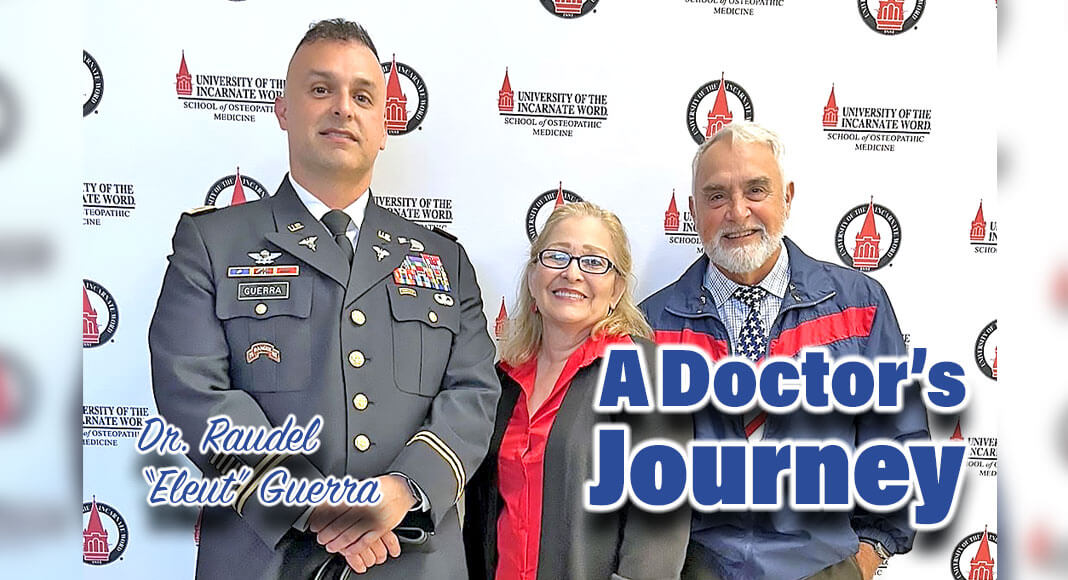 Mega Doctor News
- Advertisement -

By Roberto Hugo Gonzalez
The parents of Dr. Raudel "Eleut" Guerra, D.O., J.D., Mr. and Mrs. Raudel and Sylvia Guerra of McAllen, are thrilled to congratulate their son on his graduation from the University of the Incarnate Word's School of Osteopathic Medicine (UIWSOM) in San Antonio on Saturday, May 6, 2023.
Dr. Guerra will pursue his medical education and military service at the Martin Army Community Hospital at Fort Benning, Georgia, where he will complete a Family Medicine residency program. Before medical school, Dr. Guerra received a full-tuition merit-based scholarship from the U.S. Army's Health Professions Scholarship Program and a commission as a U.S. Army medical officer.
Dr. Guerra's educational accomplishments also include a Bachelor of Arts from the University of Texas at Austin in 2001 and a Doctor of Jurisprudence from the University of Houston Law Center in 2004. In medical school, Dr. Guerra was acknowledged as a natural leader by his peers and preceptors.
In April 2021, he was awarded the UIWSOM Certificate of Distinction Award for a Community Engagement Scholarly Research Project and Medical Publication.
To further develop his medical Spanish, Dr. Guerra volunteered to complete his 3rd and 4th-year medical rotations in Laredo, TX, working with physicians and staff at Laredo Medical Center.
Dr. Guerra has honorably served in the U.S. Army, Texas Army National Guard, and Army Reserve for 28 years. After graduating from Nikki Rowe High School in 1994, he enlisted on active duty as an Infantryman and completed his basic and advanced individual training at Fort Benning, the home of the Infantry Center and School.
- Advertisement -

He served in the National Guard during college and law school. Upon law school graduation in 2004, he became an officer in the U.S. Army's Judge Advocate General Corps, serving as an Army Lawyer from 2005 to 2013. Dr. Guerra has served in elite military units, such as the Army's 75th Ranger Regiment, as an Airborne Ranger and Deputy Regimental Judge Advocate.
He is a decorated combat veteran, having deployed twice for Operation Iraqi Freedom and three times for Operation Enduring Freedom in Afghanistan. His military awards include the Afghanistan Campaign Medal, Iraq Campaign Medal, Meritorious Service Medal, Joint Service Commendation Medal, NATO Service Medal, Combat Action Badge, two Bronze Stars, and the Purple Heart.
Upon completing his residency program and active-duty service obligations, Dr. Guerra intends to return to South Texas and serve the Rio Grande Valley as a primary care physician.