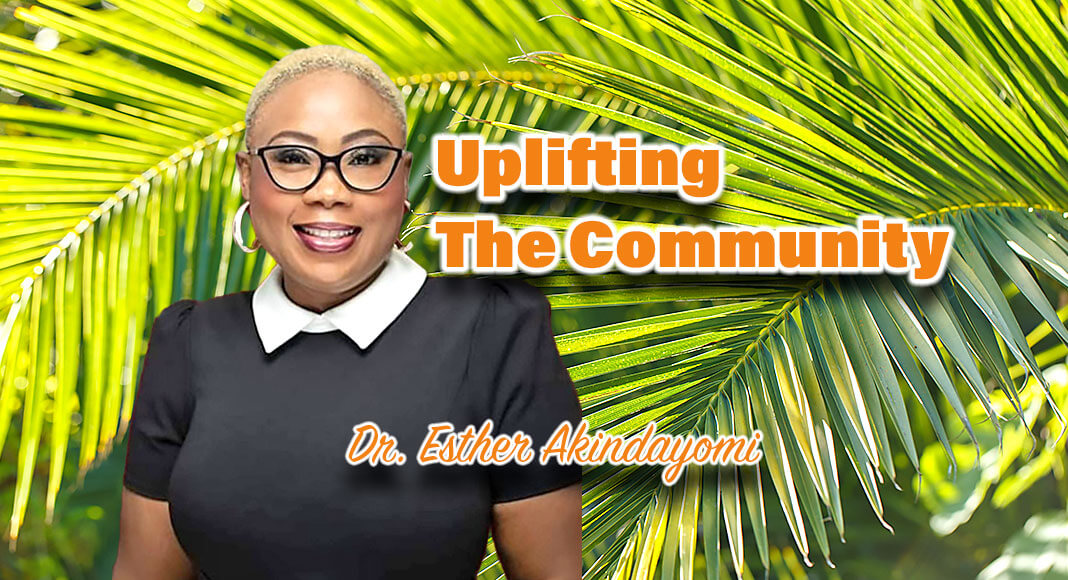 Mega Doctor News
By Amanda L. Alaniz
EDINBURG, Texas – Dr. Esther Akindayomi, a UTRGV MBA alumna and local business owner, admits she tends to overbook herself.
"This is just my regular day. I multibook myself for things. They tell me and I respond, 'OK, OK,'" she said with a laugh. "But I get to everything at the end of the day. I'm thankful for that."
Akindayomi, a McAllen resident, earned her master's degree in Business Administration from UTRGV in October 2020. The classes and program helped her create her business plan and action plan.
After years of schooling and nursing experience, she founded her own health company R.G.Vita Infusions.
"I could always say I did my MBA and started my business in the same place. The education helped me put things down and here we are," she said.
R.G.Vita Infusions is a mobile I.V. hydration therapy service that focuses on helping people boost their immune systems and optimize their health without leaving their comfort zone.
Akindayomi jumpstarted her business with the intention of helping her community, even herself, and bringing wellness.
One way she helps her community is by offering employment to nurses and giving them professional experience by sharing her knowledge.
She also finds time to help with local events, whether it be sponsoring or offering help with auctions or showcasing equipment to students studying the health professions.
"My business here has made me more grounded. It has helped me be more involved in the community. People know what I do. I visit people's homes with my mobile business and give them infusions," she said. "I'm getting to get to know my community more, and growing within it."
Part of Akindayomi's struggle on that path to bigger success was a shortage of nurses and the increasing prices of equipment. Somehow, she managed to slowly overcome those obstacles and now can concentrate more fully on fulfilling her clients' needs.
Her tip for future nurses: Work hard and find your niche. 
"Once you find your niche, you'll find that happiness and what really suits you as a person. For me? I do anesthesia, I have my own business, I am a mom – I find myself balanced," she said.
HOW IT STARTED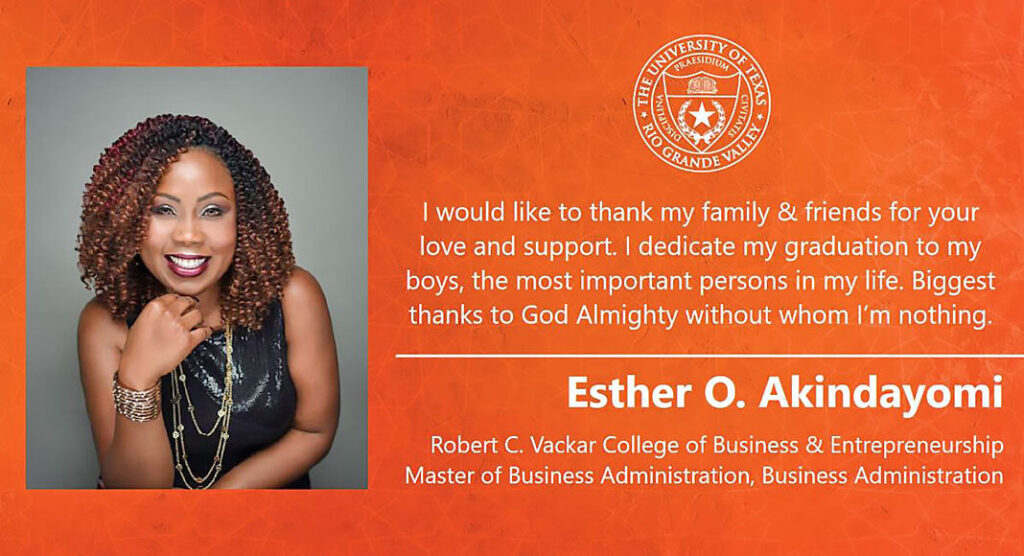 Akindayomi came from Nigeria to the United States in 2006, after earning her undergraduate degree in accounting from the University of Ado Ekiti. After her arrival in the United States, and a personal health challenge, she decided to forge her own path into the healthcare industry. She studied nursing at Rhode Island College.
She started her career as a Certified Nurse Assistant, receiving a master's degree in Nursing from UTRGV legacy institution UT Brownsville. Then, she earned a doctorate in Nursing Practice from Touro University in Nevada.
She worked at an area hospital as a NICU nurse, then became a board-Certified Registered Nurse Anesthetists (CRNA) and is an active member of the American Association of Nurse Anesthetists.
"I've always been in critical care. I started my business around 2020, after I received my MBA. Then COVID hit. In the midst, I was traveling a lot," she said. "I felt tired. I did an infusion on one of my travels and I thought, there's nothing like this in the Valley."
She continues to grow her business. R.G.Vita Infusions isn't only mobile now, and they have an office in McAllen. They also have expanded the catalogue of infusions offered.
GIVING BACK TO HER COMMUNITY
A mother of two boys, she already has a hectic schedule, but Akindayomiremains heavily involved with local organizations, like FEMCITY and Village in the Valley, and is founder of the RGV CRNA Club.
Village in the Valley, known as ViVa, is a local organization that focuses on elevating and uniting the Black community while connecting cultures in the Valley.
She currently is a board member, and helps recruit new members and coordinate events.
"The Black community in the Valley is growing. ViVa being here is so important. I say that as a mother of two Black boys," she said. "I tell my friends, you're busy, you're a professional and everyone is doing something, but if you don't know the community and get involved, how can you help your kids.
"You have to give back. You have to know the community. Now, more people are beginning to understand the importance of that," she said.
Some Black individuals may feel lost, she said, but with the help of ViVa, the message is becoming clear: They are not alone. The people showing up to events is growing, she said.
Akindayomi is also a member of Femcity, a community dedicated to helping women with their businesses and networking. It was something she looked for to get to know people when she moved to the Valley.
As for the RGV CRNA Club, she started it on Facebook, simply to help other CRNAs get the answers they need, like health insurance information and tax guidance.
Her goal was to bring together CRNAs in the Valley, to start forming a reliable group so they wouldn't feel "as lost as I was," she said.
Eventually, she would like to have the group registered, which potentially could help the members find more resources.
As a successful business owner and nurse, she wanted to share some advice with future Vaqueros – from one Vaquero to another.
"Don't give up!" she said.
"One thing I learned, if I want a particular result, I'm the one that has to change or do something differently to get that result. I take the responsibility upon myself, and I think, once we start looking inward, taking more responsibility for ourselves, it'll open a world of opportunities," Akindayomi said.