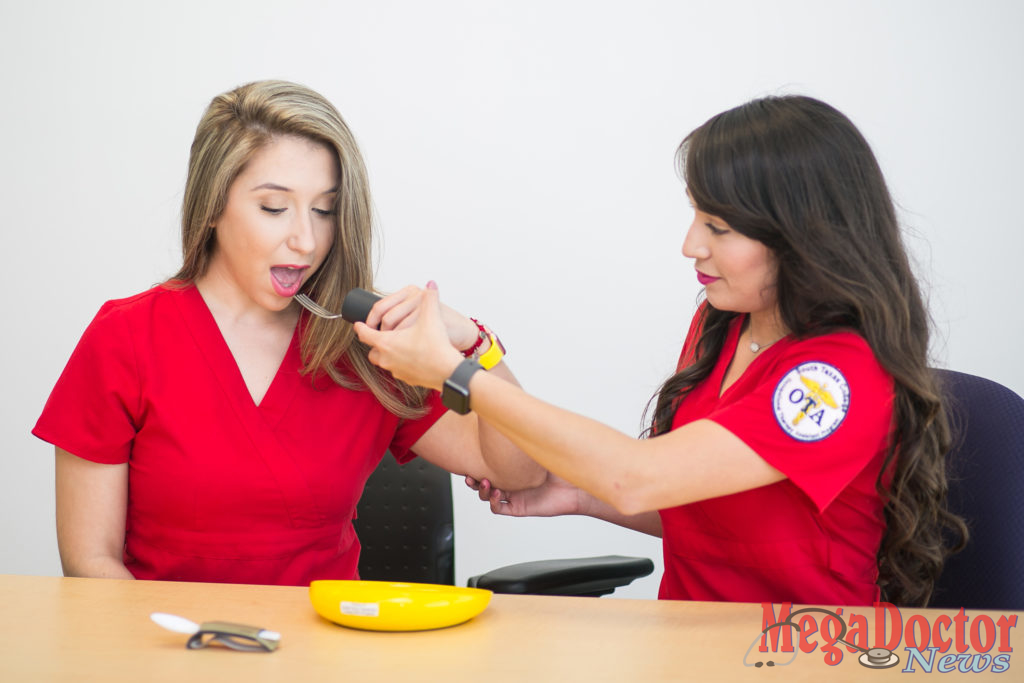 Mega Doctor NEWS
MCALLEN, TX (April  When her daughter celebrated her first birthday and still wasn't able to walk, South Texas College (STC) student Claudia Luna was concerned about her daughter's developmental delay. It wasn't until she was referred to an occupational therapist – a professional who helps people of all ages overcome physical and cognitive challenges by improving everyday skills and activities – that the anxiety began to fade. It had only been a few sessions, but her little girl was already making big strides. That's when Luna experienced a flash of inspiration.
"As I observed what they were doing with my daughter, I thought, maybe this is the field that I want to go into," says Luna.
When Luna enrolled in the Occupational Therapy Assistant (OTA) program at STC, she knew she was in the right place. The hands-on instruction and lessons were just what she needed, and whenever she had a question, she knew she could rely on her instructors to be there. Best of all, according to Luna, it was the comprehensive training received from the OTA program that helped her understand how to help others.
"Everything I learned in the program … I have applied to my various work sites," says Luna, whose experience has included working with children just like her daughter at an outpatient rehab center. Having returned to earn her bachelor's degree at South Texas College, Luna is now back at her beloved alma mater once again – this time, as a lab assistant and occasional adjunct instructor in the OTA program.
Looking back, Luna is grateful to instructor Mr. Darnell Miller, chair of the OTA program, for encouraging her to go the extra mile and earn her bachelor's degree in organizational leadership. Without it, she says she would not be where she is today. So, what is her secret to success?
"If you make a mistake, learn from it, and if you fall, get back up," says Luna.
It's the kind of advice she shares with her occupational therapy clients, and now with the OTA students.
"She's been a great asset to our program," says Mr. Miller, an occupational therapy (OT) practitioner with close to 35 years of experience. "[The students] always seek her out to ask her opinion because she was a former student."
Since 1999, the program has propelled more than 200 students into the in-demand field, where job opportunities in Texas are expanding by 36 percent — much higher than the average for other professions, according to the Bureau of Labor Statistics. Occupational therapy assistants from the College go on to work in skilled nursing facilities, outpatient clinics, hospitals, schools and more.
Mr. Miller himself is a testament to the diversity of careers available in the field. Starting his occupational therapy career in military mental health, Miller went on to work in nursing homes, long-term acute care, and a traumatic brain injury clinic before coming to South Texas College. By assisting patients with strokes, heart attacks and diabetes, he's helped people to perform their daily life tasks, despite their diagnoses.
For example, for patients with respiratory issues, Mr. Miller has helped with strengthening and endurance exercises, breathing techniques, and practicing controlled respiration while performing everyday skills. It's the kind of multifaceted approach that allows patients to live their lives to the fullest.
"The demand is quite high for what we do because we are so broad, and we can work in so many different avenues," says Mr. Miller, who sees versatility as a form of job security for his graduates. For "our past graduating classes, everybody that was looking for work, all found jobs."
After setting a foundation of knowledge during year one, second-year students work hands-on, embarking on two 8-week field experiences at local rehabilitation facilities. Settings include behavioral centers, hospitals, and facilities that assist adults with intellectual disabilities.
According to Mr. Miller, "what normally happens is if they've had a good fieldwork experience, [the employers] say, 'Hey, would you like to come back and work?'"
South Texas College graduates boast a 100 percent success rate on the national certification exam, a requirement to becoming a COTA. For Mr. Miller, it's proof of the STC program's commitment to preparing the students.
"It's a pretty intense test," he says about the exam, which entails a grueling four hours of critical thinking questions. During their final semester, students prepare with weekly mock exams that strengthen their clinical reasoning. They also take advantage of a full eight-hour "boot camp" with the TherapyEd Exam Prep Course.
But for the OTA program, it's about much more than passing the certification exam — it's the practical instruction that hones their critical skills.
"We don't stand up there and lecture," shares Mr. Miller, who tries to encourage as much hands-on learning as possible in his program. In his class, students work collaboratively to demonstrate techniques and are given interactive assignments to teach the community about health issues. "As professionals, we educate, we talk."
April is Occupational Therapy Awareness Month. Each year, OTA students perform an educational outreach event, both on the Pecan and Nursing and Allied Health campuses. Through demonstration and active hands-on participation, the students have educated the community in topics such as backpack awareness, wheelchair mobility, visual impairment and sensory processing deficits.
April is also Autism Awareness Month, and according to Mr. Miller, the program likes to promote both simultaneously, since many students go on to work with children with autism. Last year, the program invited the Capable Kids Foundation, a local special needs foundation, to campus. Many students worked with the group to teach children how to make healthy snacks that they could easily replicate at home. According to the OTA program instructor, helping children navigate through the steps to make the tasty treats boosted their cognitive skills along with their self-confidence and independence.
"We try to engage our students in the community … to help support individuals with disabilities and inclusion," says Celina Casas, OTD, OTR, OTA program instructor and alumni of STC's OTA program. She later received her Master of Science in Occupational Therapy from the University of Texas Pan American and a Doctorate in Occupational Therapy from Rocky Mountain University of Health Professions.
Casas is also the faculty advisor for the Student Occupational Therapy Assistant (SOTA) club, where the students get to participate in awareness walks and community events to help reduce stigmas. "Autism is a lifelong condition," she explains. So, for students, "there will always be the possibility that they will work with somebody with autism, especially in the pediatric facilities," so it is important that they educate themselves and engage with individuals with autism and their families early in their OTA careers to be able to better assist them in the future.
Casas graduated from the OTA program in 2000, and looking back, she realizes the impact it had.
"I really feel like they laid a true foundation for me as a therapist," says Casas, now having obtained her doctorate with 20 years of experience in the field. "I tell my students all the time: the sky's the limit — it all depends in what you put into it."
Casas' passion for occupational therapy was sparked by a family crisis, when her father suffered a motorcycle accident. "You never realize how much your life can change after an accident," she says.
At eleven years of age, Casas accompanied her father to his occupational therapy appointments, and she was amazed at the difference they made. "They rehabilitated him and got him back to doing the things he was doing before."
When she was ready for college, Casas' cousin encouraged her to try OT for herself, and "it pretty much fell into place." Two decades later, she still loves working with children and adults and is now thrilled to share her passion for the profession with her students at South Texas College.
"I tell my students all the time, you all are going to do this for the rest of your life — so you've got to love what you do."