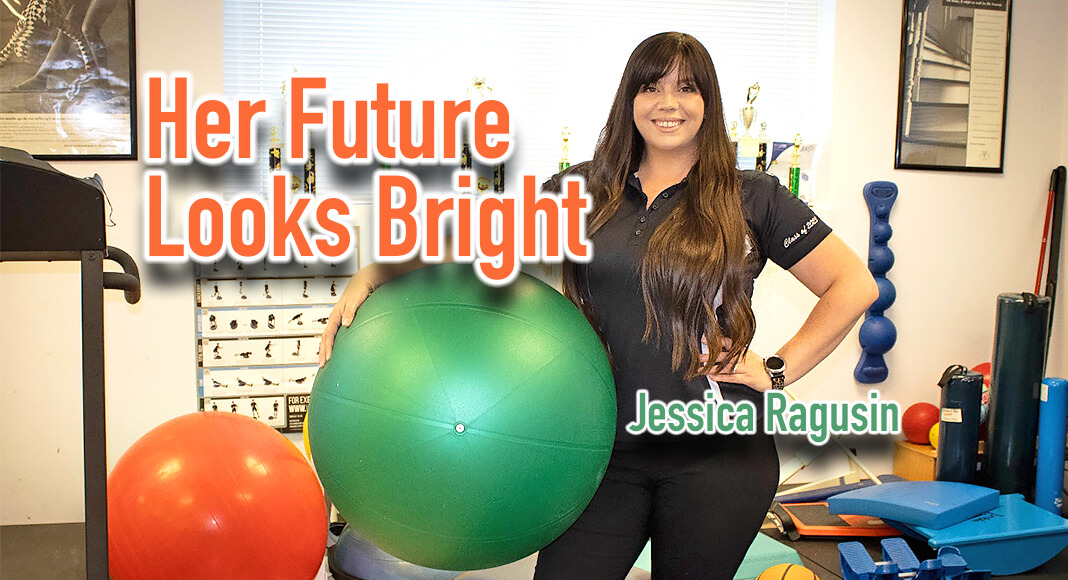 Mega Doctor News
By Selene Rodriguez
After 13 years of earning $2.13 an hour as a waitress, South Texas College alumna Jessica Ragusin turned her life around through STC's Physical Therapist Assistant program by graduating as one of its top students while accumulating zero student debt and by being one of only six recipients state-wide to be awarded the Texas Alliance of Physical Therapist Assistant Educators Transitional Scholarship.
"Every school that offers a Physical Therapist Assistant program in Texas has the option to nominate one of their students, I'm grateful to my classmates for nominating me", she explained. "This is the second year in a row that a student from STC wins and I'm so proud to be part of that accomplishment."
The scholarship covered the cost of Ragusin's National Physical Therapy Examination-Physical Therapist Assistant exam.
Scoring the maximum of 800 points on her licensure exam, she earned a spot at the top of her class, after she was hired by DHR Health Orthopedic and Sports Therapy Institute, one of her previous clinical sites.
Since graduating from Sharyland High School, the McAllen native has made an effort to avoid student debt at all costs, starting a job at Pappadeaux, a seafood restaurant in Pharr, at only 19, while also enrolled in STC's Kinesiology program as a part-time student.
"I have always wanted to study something related to the care of the body and back then I aspired to focus on sports by training athletes," she said. "My family didn't qualify for financial aid, but thankfully STC gave me the option of being a part-time student while working full time. Every semester I would take whatever class I could afford and pay out-of-pocket through monthly payments."
It was her grandmother's health deterioration that inspired her to adjust her career goals and to fully commit to the pursuit of a Physical Therapist Assistant degree that would allow her to help the elderly.
"I witnessed my grandmother's transition from being disabled to mostly bedbound," she said. "She went through therapy, and I saw her determination, that's when I knew I wanted to help elderly people gain their function and their independence, more so than working with athletes."
Unfortunately, Ragusin's grandmother passed away just before she started the program, but she said it inspired her even more.
So, to ensure she achieved success in STC's Physical Therapist Assistant program, the now 32-year-old made many sacrifices throughout the two-year program such as moving to a low-cost mobile home, reducing expenses and spending less time with family and friends.
Ragusin also started a rigorous journey of sleepless nights, tiring shifts and clinical rotations in 2021.
It was an uphill battle, but her instructors saw her efforts and recognized her for her clinical excellence among the program's class of 2023, and celebrated her not only for finding the energy to excel in class, but also volunteering to tutor and assist other students.
"Adjusting to that new reality on the first semester was tough, but once I assessed my weaknesses and found an amazing and supportive study group, I bounced back and built the strength to believe in myself for the rest of the program."
She is now gearing up to start her bachelor's degree in Medical and Health Services Management at STC this fall, while tackling an equally demanding challenge – planning a wedding.
"My now fiancé went through this journey with me and was very supportive when my tough schedule would take a toll on our relationship," she said. "We got engaged after my first year in the program, but my priority was to graduate; now we are planning to get married in October 2024."
Ragusin also hopes to earn a doctorate degree in Physical Therapy, a real possibility that she attributes to STC's affordability.
"The quality of education we receive for the price we pay is unheard of; teachers are dedicated and are always available," she said. "This education changed my life; I don't think I would have been able to complete a college degree or even consider continuing my education unless I was comfortable taking out a large amount of debt. My biggest accomplishments have happened at STC and for that I will always be grateful."
For more information about the Physical Therapist Assistant program or other Nursing and Allied Health programs offered at STC, visit nah.southtexascollege.edu/ or call 956-872-3100.