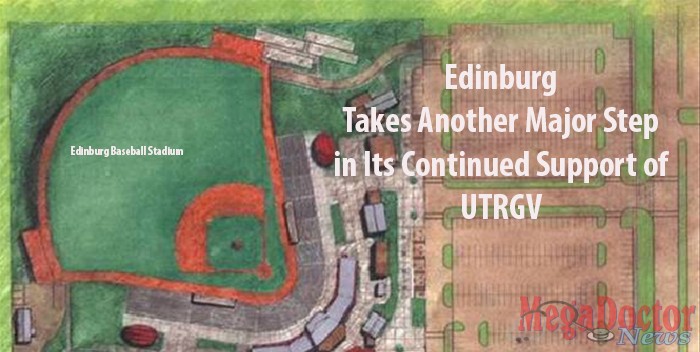 - Advertisement -

Texas Border Business
Edinburg Takes Another Major Step in Its Continued Support of UTRGV
Edinburg, Texas– With a unanimous vote, the Edinburg City Council has taken another giant step demonstrating its commitment to the creation of UTRGV and its medical school.   On Tuesday, August 19th, the Council agreed to transfer ownership of the Edinburg Baseball Stadium to UTPA/UTRGV.
The assignment of the Baseball Stadium was specifically made to help the university grow as it transitions to UTRGV. Its medical school is being built across the street from the stadium on Schunior Street.
Mayor Richard H. Garcia says the intent of the donation is to further the mission and interests of UTPA and UTRGV. "This donation will be re-paid tenfold with the growth and jobs that this new university and medical school will bring to our community."
Estimated projections indicate the medical school will create thousands of new jobs and thousands of business opportunities in health related industries.
Edinburg played a major role in the creation of the new university and the medical school by helping to gain regional support for the endeavor. Mayor Garcia and City Manager Ramiro Garza Jr. traveled to and from Austin on numerous occasions and met regularly with Rio Grande Valley elected officials to ensure that this vision would become a reality.
Mayor Garcia says Edinburg is fully committed to this project for it will change the quality of life for everyone in the Rio Grande Valley. On August 26th as part of the official groundbreaking for the UTRGV Medical Academic Building, the City of Edinburg and three other Valley cities signed a Memorandum of Understanding (MOU) with the UT System that outlines financial support for the university. The MOU which includes McAllen, Mission and Pharr also calls for the creation of a nine-member Hospital District governing board whose members would be appointed by the County Commissioners' Court and participating cities.
- Advertisement -

The MOU states funding from the county and municipalities will be provided until the creation of a Hidalgo County Hospital District, which would deliver an equivalent amount of financial support to UTRGV. If voters approve the District's creation, cities would also significantly benefit.
UTPA is very familiar with the Edinburg Baseball Stadium. It has been leasing the stadium from the City for its Spring Baseball Season since the stadium was built in 2000.
The donation includes approximately 10 acres of land, 4,000 seats, 10 skyboxes, the customary amenities, 635 feet of frontage along Sugar Road and 31 parking spaces.
Meanwhile, the donation will relieve the City of the on-going cost and expense of maintaining the stadium about $225,000 annually.
The transfer of the stadium will become official once the contract has been signed by both parties which should happen no later than September 30th.
The City of Edinburg built the stadium in 2000 to accommodate UTPA and to make room for semi-professional baseball. Since construction it has been home to the UTPA Broncs Baseball Team, The Edinburg Roadrunners and The Edinburg Coyotes.