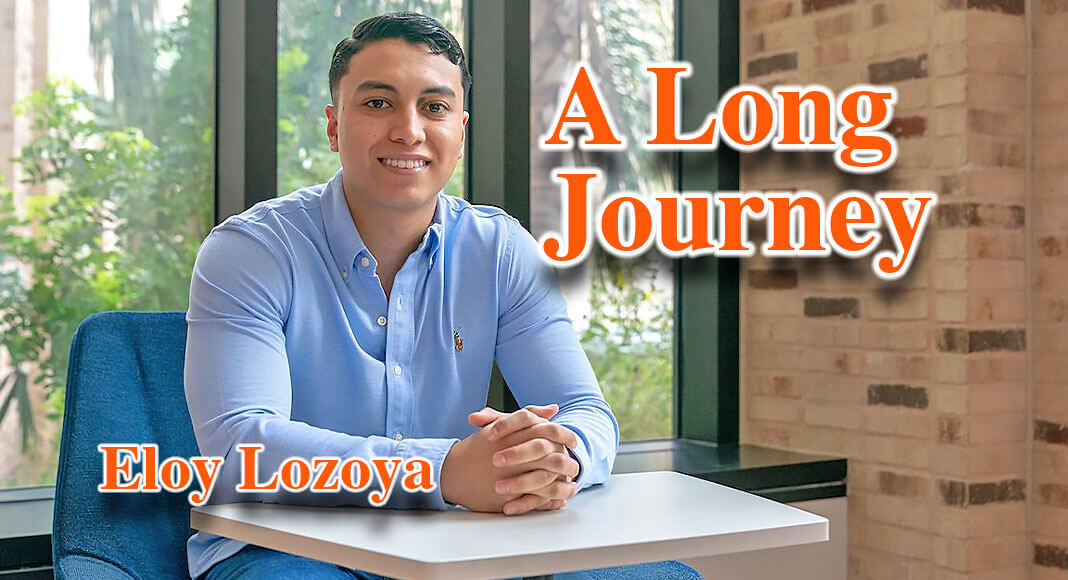 Mega Doctor News
By Victoria Brito Morales
BROWNSVILLE, TEXAS – Sometimes, the pieces just fall into place.
For Brownsville native Eloy Lozoya, simple curiosity led him to a place he never imagined. Now, the 22-year-old is about to graduate from UTRGV with a bachelor's degree in biomedical sciences.
Commencement is Friday and he already has big plans for the fall. Lozoya is part of the Joint Admission Medical Program (JAMP), a partnership between the nine UT System medical schools to provide a seamless transition from undergraduate to medical school. He will be attending the UT Health McGovern School of Medicine in Houston this fall.
His sights were not always set on medicine. In high school, Lozoya was a student athlete who dreamed of pursing a collegiate athletic path in soccer. Due to sustained injuries, however, he made the difficult decision to change his plans and stay close to home to get his degree.
The 2018 Lopez Early College High School graduate originally had planned to study electrical engineering. Then, one month before his high school graduation, he attended an open house at UTRGV. Something lit up inside him.
"I thought because I was good at math, maybe engineering was for me. But when I saw the anatomy models, my curiosity sparked," Lozoya said. "I wondered, 'How does the body really function? Why do doctors prescribe certain types of medication for certain types of disease?' It was like a puzzle to me, and I just had a gut feeling."
Given his sports background, Lozoya said, biomedical sciences, or BMED, felt like a natural fit.
"Being in groups, such as sports, made me adaptable to BMED because we are always working in groups," he said. "Being surrounded by people really helped me with the communication aspect of working in teams, which is what medicine is all about."
FROM FIRST GEN TO MED SCHOOL: THE JOURNEY
Lozoya is a first-generation college graduate and credits his dad's journey as an immigrant as his motivation to push forward.
"I feel like his work ethic is what pushed me to just be a more well-rounded person, be more professional and always try to improve, because I always saw that in him when I was growing up," Lozoya said. "Medicine is not easy, but because of my dad – his way of thinking, his way hard work – that is what really pushed me. He is the person I admire the most."
He needed that strong work ethic when he got involved with the Biomedical Freshman Research Initiative (BFRI), which provides undergraduate BMED students with research experiences that have an impact on the scientific community. Lozoya also serves as a teaching assistant for the program.
Since his sophomore year, he has been a part of a lab run by Dr. Sue Ann Chew, associate professor of biomedical sciences and program director of BFRI, who works on bone tissue engineering.
Chew's lab explores alternative ways to regenerate bones by using the body's own natural processes – stem cells and biomaterials. The goal of the project is to, one day, replace autografting, which is a tissue transplant, so patients don't have to undergo surgery to repair bone fractures or deformities.
"Eloy has been an instrumental and vital member of our research laboratory," Chew said. "He is an author of a review paper from our laboratory, has presented several research presentations, and received an Annual Biomedical Research Conference for Minority Students (ABRCMS) Travel Award and Presentation Award.
"As Eloy worked on developing the research project assigned to him, he demonstrated the ability to think critically and innovatively on how to move forward. From my experience interacting with him, I am certain he is going to do very well in medical school and be a valuable health profession in our community in the future," Chew said.
Lozoya says his participation in the lab helped him grow as a responsible professional and has helped ignite interests in a possible specialty.
"At the moment, I do have some specialties in mind, but I try to deviate from that and go in with an open mind because there are many specialties I have not been exposed to yet," he said. "No matter what specialty I pursue, I will always be grateful to everyone who helped me and remember that this is much bigger than myself. This is for my people, my community, my family and every person who will depend on me in the future."
Lozoya said he hopes to return to the Rio Grande Valley once his medical education is completed so he can join the population of doctors who are bilingual.
In his spare time, Lozoya enjoys reading and learning about health-related topics. And, of course, he still enjoys playing soccer with his friends and rooting for his favorite team, Real Madrid.
Whatever type of doctor he becomes, one thing is certain: Lozoya wants to make a difference in the world.
"The reason I got into medicine was because I feel that it is a profession I can wake up to every day and know that I'm going to effect change, every single day," he said.