- Advertisement -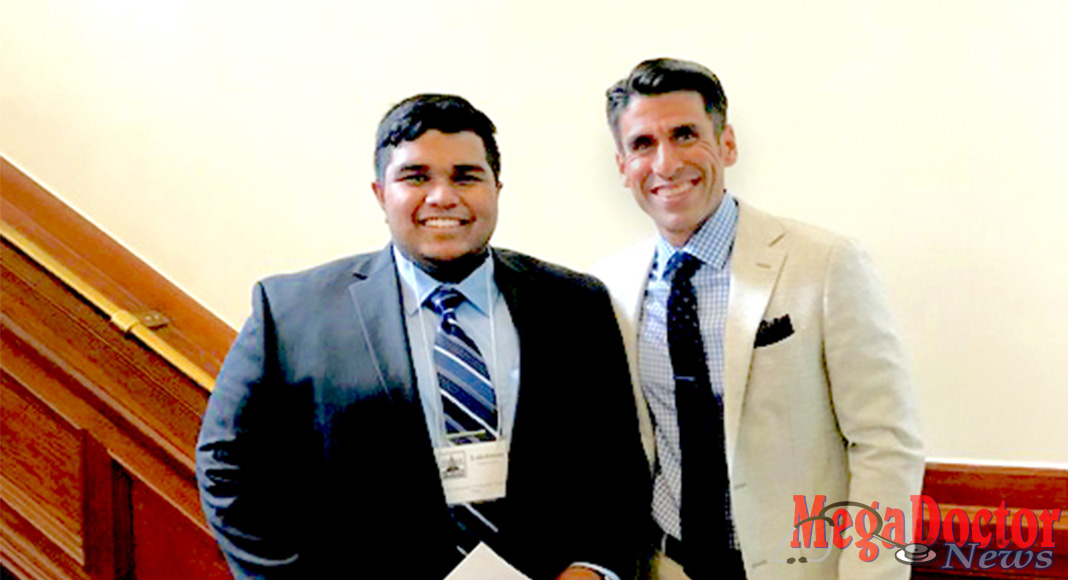 By Cheryl Taylor
Mega Doctor News
BROWNSVILLE, TEXAS  – Lakshman Vigneswaran, a biomedical science major at The University of Texas Rio Grande Valley, represented the university at the Texas Undergraduate Research Day at the Capitol in late March.
Vigneswaran presented his research proposal, "Medical and Social Barriers to Optimal Diabetes Care in a Community Health Center."
"The trip was a great experience, being able to present my work in the Capitol Rotunda and having visitors come by and ask questions," Vigneswaran said. "This was my first time to visit the Capitol, and just being in the beautiful building, surrounded by all the activity, was awesome."
Dr. Amy Weimer, associate professor of psychological science, and Dr. Alexis Racelis, assistant professor in the School of Earth, Environmental and Marine Sciences, accompanied Vigneswaran on the trip.
"We were excited to be able to send Laks to this great event," Weimer said. "Undergraduate research experience is an important part of students' academic and professional development. Among other things, it improves research and communications skills, as well as increasing intellectual curiosity. By presenting his research to peers and scholars, Laks has showcased not only his exciting new findings, but also highlighted UTRGV as an institution conducting high-quality, cutting-edge health research."
- Advertisement -

Richard Sanchez, associate vice president of UTRGV Division of Governmental and Community Relations, also met with Vigneswaran throughout the day to help him build his career network.
"Along with the students from other schools, we toured the Capitol and then attended a panel discussion by accomplished researchers in the STEM and Humanities fields, who provided insight, challenges and guidance related to their careers," Vigneswaran said. "After lunch, we got to sit in the viewing gallery to observe the House in session. At the time, Rep. Terry Canales (District 40) was on the podium discussing a bilingual court system."
At the poster session, Vigneswaran responded to visitors' questions, explaining the objective of his study – identifying the medical and social factors associated with poor glycemic control in Type 2 Diabetes Mellitus (T2DM) patients.
In his study, he worked with adult T2DM patients at a community health center to complete a short Diabetes Self-Management Questionnaire (DSMQ) about social barriers.
"The data collected from the questionnaire led me to conclude that affordability of medication seemed to be the most significant social barrier to optimal glycemic control," he said.
Vigneswaran said he benefitted from being able to view the wide range of multidisciplinary research on display, as well as meeting Texas legislators and networking with other students from around the state.
"I'm pleased that Dr. Guy Bailey came by to see my poster. He stressed the importance of diabetes-related research in the Valley," he said of the UTRGV president.
Vigneswaran met with Rep. Eddie Lucio III (District 38), and gave him a summary of his research, as well as with Fernando Treviño, legislative director for Rep. Cindy Burkett (District 113), from the Garland/Dallas area.
Sanchez said meeting with Treviño was important because Burkett is a member of the House Public Health Committee, responsible for issues that include diabetes, and has jurisdiction over various agencies that deal with such matters.
"I also met a student from UT El Paso whose research was similar to mine – his was assessing Type 2 diabetes in relation to heart disease. It was good to talk with him," he said. "It made us feel good to have graduate school professors showing a lot of interest in our work."
Vigneswaran said he is grateful to the mentors and collaborators who assisted with his research, including L. Anandasivam, M.D., Brownsville Community Health Center; M. Saldivar, Ph.D., UTRGV College of Health Affairs; and B. Restrepo, Ph.D., School of Public Health, UT Health–Houston, Brownsville Regional Campus.
Vigneswaran, a UTRGV freshman from Houston, is interested in the fields of epidemiology and health policy. He plans to attend medical school after receiving his Bachelor of Science in Biomedical Sciences (BMED), and also would like to obtain a Master of Public Health (MPH) degree. He said he selected UTRGV and the BMED curriculum because it fits well with pursuing those two degrees.
"Coming from Houston, the Valley has been a huge culture change for me, but one that I've embraced," Vigneswaran said. "I really believe that UTRGV offers a closer knit environment where I can thrive. There is an abundance of opportunities on campus, various organizations and inter-mural sports."
Vigneswaran didn't fall far from the family tree. His entire immediate family works in STEM fields. His father is an oral pathologist and professor at The University of Texas School of Dentistry (UTSD) at Houston; his mother is a Registered Diagnostic Medical Sonographer (RDMS); and his older brother is in his fifth year of neurosurgery residency.
"My time at UTRGV has proven to me that the university provides each and every one of its students a chance to succeed," Vigneswaran said. "All the student needs to do is grasp the opportunity when it arises."