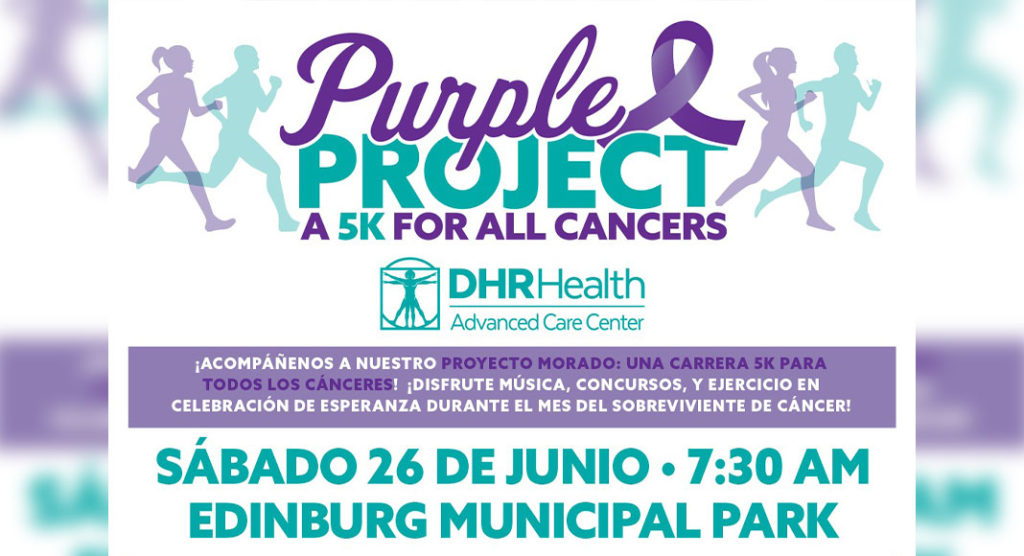 Mega Doctor News
- Advertisement -

The deadline to register for the Purple Project 5k For All Cancers hosted by the DHR Health Advanced Care Center has been extended to June 4th.
The proceeds of the 5k go to the Renaissance Cancer Foundation which offers cancer education, emotional support and financial help for underserved patients, easing the burden cancer patients face when it comes to paying for needed expenses.
Register as soon as you can, deadline is June 4 and participate on June 26 at the Edinburg Municipal Park. Register online www.dhrhealth.com/purpleproject5k now.
According to BreastCancer.org, about one in eight women will develop breast cancer over the course of her lifetime. At only 43 years of age, Graciela did not think she would ever become part of those statistics. Her diagnosis came in late 2019. Her fight continues today.
Working since the age of nine, Graciela has had to adjust to the less active lifestyle she leads now. Before her mastectomy last year, she was a waitress serving delicious Mexican food to hungry patrons. Now, cancer treatment leaves her tired, and the ongoing pandemic keeps her mostly indoors.
But Graciela is a problem solver and a hard worker! She creates tasty dessert treats like chocolate-covered fruit as well as pastries with the help of her daughter Ana. "My daughter is the reason why I must overcome this disease," says Graciela. Ana has been a blessing to her mother, assisting her as much as she can.
Graciela shares that she has another angel helping her. She refers to her social worker Lisa Gomez at the DHR Health Advanced Care Center. "Lisa has given me the moral support and trust in the medical process that I urgently needed," expresses Graciela.
"I also cannot thank the Foundation enough for helping me with expenses," added Graciela. With financial assistance from the Renaissance Cancer Foundation, she will begin simultaneous radiation and infusion chemotherapy treatment very soon. "May God multiply the blessings to every person that donates to the Foundation."
Once treatment is over, Graciela wants to help other breast cancer patients like herself. We wish her a full recovery!
To help patients like Maria, please consider MAKING A DONATION to the Renaissance Cancer Foundation. If you would like to organize a fundraiser, please CONTACT US.