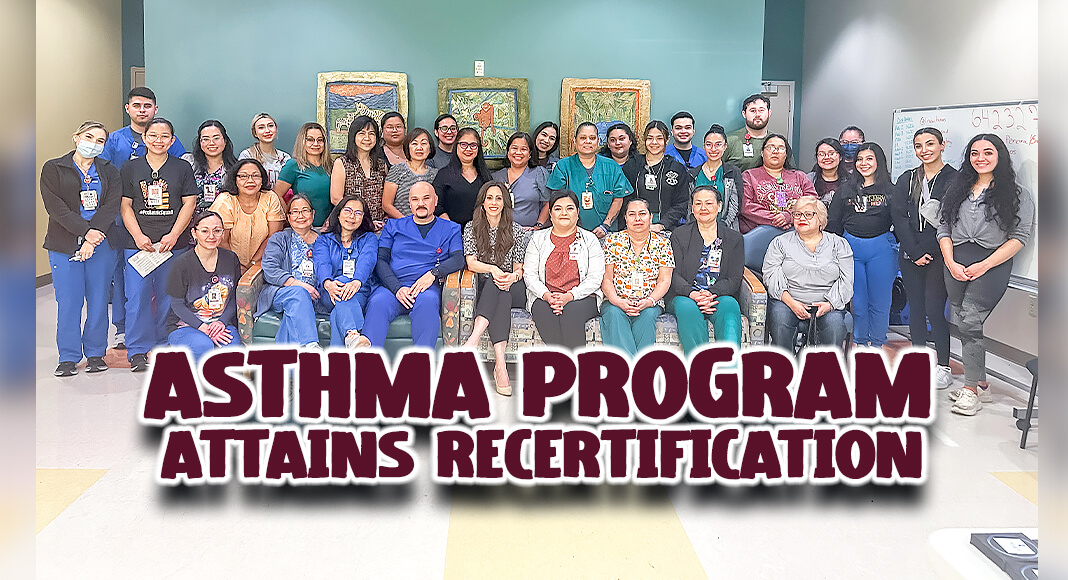 Mega Doctor News
A common, chronic lung disease, asthma often affects children and adolescents. In fact, more than 4.5 million kids in the United States aged 18 or younger currently have asthma, according to the Centers for Disease Control and Prevention. Causing repeated episodes of wheezing, breathlessness, chest tightness and nighttime and early morning coughing, the disease can cause children to miss school and end up in the hospital.
To provide the most comprehensive pediatric services available for children in the Rio Grande Valley, South Texas Health System Children's launched its asthma program in 2010 to help children treat and manage the disease while raising awareness for the dangers of asthma and offering flare-up prevention advice to parents. Following a disease specific certification survey, the program was initially certified by The Joint Commission in 2011, making STHS Children's the only facility in the four-county region to hold the designation by the nation's oldest and largest standards-setting and accrediting body in healthcare.
Last month, the hospital's asthma program was once again recertified for another two years, confirming the program follows all standards, uses clinical practice guidelines and meets performance measurement and certification participation requirements.
"While we don't have specific numbers for the Rio Grande Valley, there are more than 400,000 children under the age of 17 in the state of Texas who have asthma. Through our asthma program, we're committed to help local families become better educated on the harmful effects of asthma, as well as the best treatment options available," said Rosio Reyes, nursing manager, STHS Children's. "From interactions with the families of our pediatric patient to community outreach in schools, at community events and through local presentations, we provide educate to help families better understand the dangers of asthma and ways they can protect their children from attacks and flare-ups, with all our materials available in English and Spanish to ensure everyone receives all the important information they need to help increase an asthma sufferer's overall quality of life."
Certification by The Joint Commission is based on whether a facility has met metrics such as compliance with order sets that they have created, providing education to families, delivering critical steroids, affording bronchodilators and providing patients and parents with a survey to ensure they can provide feedback.
As the Valley's first dedicated children's hospital, STHS Children's has been proud to serve the four-county region for more than 17 years, with pediatric hospitalists, nursing staff and respiratory therapists available to provide personalized care tailored to a child's specific needs, including those living with asthma. Additionally, the emergency department at STHS Children's, the only dedicated pediatric ER in the region, has two dedicated asthma rooms to provide swift care for children experiencing a life-threatening asthma attack or flare-up.
"This certification serves as a reassurance to the communities we serve that STHS Children's is dedicated to helping children with asthma in our community as a Center of Excellence for the disease. It demonstrates that we follow evidenced-based practices consistently and provide the best care for our asthma patients," said Kimberly Davis, pediatric administrator, STHS Children's. "We are specially equipped to recognize the signs, symptoms and triggers of asthma in a way that other facilities are not, and this certification demonstrates that."
"This achievement cannot be credited to just one individual; it has been a collaborative effort between staff, our hospitalists and physician partners and our respiratory therapy team," Davis added. "We don't expect parents to have all the answers, which is why we're here to figure out what their children need so they can have a happy, healthy childhood."
The Joint Commission is a United States organization that accredits more than 22,000 health care organizations and programs in the country, helping measure, assess and improve performance to ensure the safe, high-quality care of patients.
To learn more about the asthma program at South Texas Health System Children's, visit STHSChildrens.com.