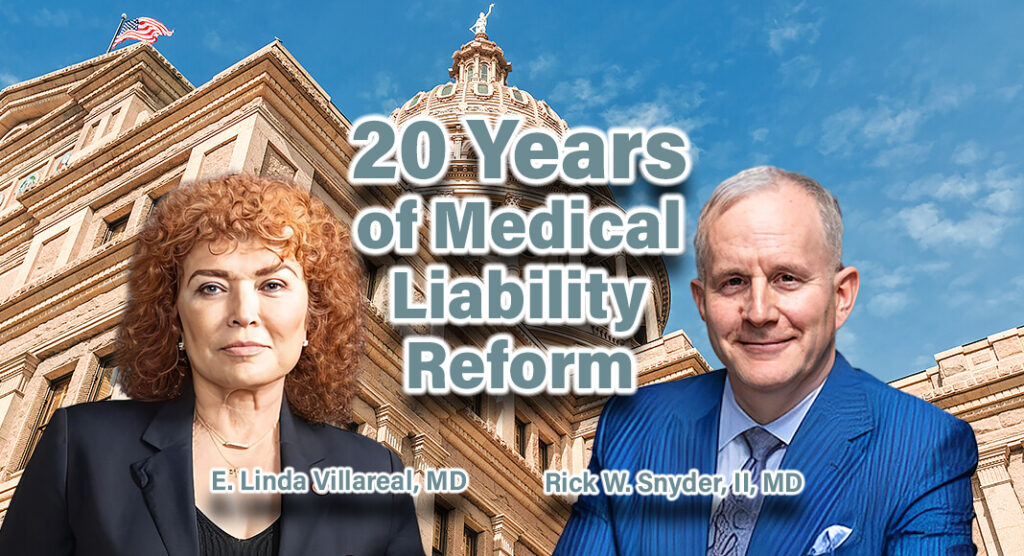 Mega Doctor News
- Advertisement -

The week of September 11th, 2023 marks two decades since Texas voters approved a constitutional amendment to stop what some physicians and patients called a crisis situation. They say the effort ensured patients have greater access to doctors' care.
A group of Texas physicians and organizations including the Texas Medical Association (TMA), Texas Alliance for Patient Access, and Texas Medical Liability Trust led the effort to pass medical liability reform in the state 20 years ago. The passage of House Bill 4 in the 2003 session of the Texas Legislature made sweeping changes in how medical liability cases can be brought before a court of law. These changes led to a decrease in the number of medical liability lawsuits against physicians and paved the way for medical liability insurance carriers to return to Texas, lowering the doctors' medical liability insurance premiums.
The 2003 law "preserves access to care and has contributed to Texas becoming a net importer of residents and physicians," said Rick W. Snyder II, MD, TMA's president.
Since 2003, the number of newly licensed physicians each year has tripled from approximately 2,000 to more than 7,000, according to Texas Medical Board data. Texas has repeatedly licensed physicians in record numbers over the past two decades.
Before these reforms went into effect, Texas physicians faced a steady increase in lawsuits, some meritless, leading to extremely high and often unaffordable medical liability insurance premiums. As a result, some physicians left the state or ceased to practice certain medical procedures. Insurance carriers also fled the state, leaving only a few liability options from which doctors could choose.
Physicians across Texas – especially in the rural areas – could not afford to practice and lived in fear of career-ending lawsuits.
E. Linda Villareal, MD, an internist in Edinburg, remembers how devastating this pre-reform era was for her patients.
- Advertisement -

"It was just a different world," said Dr. Villareal, who later became TMA president. "The miracle of time (getting urgent patients timely care) was not available to us, as a lot of our very sick patients had to be transferred up to 300 miles away."
She recalls one of her patients had to be flown to Houston for treatment for a brain aneurysm. Since her Rio Grande Valley area lacked neurosurgeons, the patient couldn't be treated quickly enough and died.
"So many high-risk subspecialties just did not come to our area to set up a practice," said Dr. Villarreal.
Dr. Snyder, a Dallas cardiologist, recalls not being able to get bypass surgery for serious cardiac patients. "Despite the science and education screaming that these patients needed surgery, the [liability] climate prevented that from happening," he said.
Fed up with the situation and its impact on patient care, physicians were pleased TMA already had a plan in motion to improve the medical liability landscape during the 2003 legislative session. House Bill 4 established a $250,0000 cap on noneconomic damages in medical negligence lawsuits against individual physicians.(A maximum of $750,000 in noneconomic damages is allowed if health care institutions also are found liable.) Lawmakers also passed a constitutional amendment to protect the reforms from legal attacks, and Texas voters approved the amendment, Proposition 12, on Sept. 13, 2003.
As a result, physicians who left the state or had ceased to practice certain medical procedures started to return. Patients' access to care increased so they could get the care they needed once again.
Dr. Snyder says his patients are more able to get the care they need without delay. "I now can refer patients to needed surgery without having to wait for the surgeon to confirm that they have [liability] coverage."
Going forward, Dr. Snyder says physicians should do everything possible to make sure the reforms passed in 2003 are not diluted.
"Vigilance, vigilance, vigilance!" he said. "TMA needs to be on guard against the incursion of our medical liability reform protections by outside interests." Otherwise, he said, patients' ability to get the care they need would again be at stake.
TMA is the largest state medical society in the nation, representing more than 57,000 physician and medical student members. It is located in Austin and has 110 component county medical societies around the state. TMA's key objective since 1853 is to improve the health of all Texans.