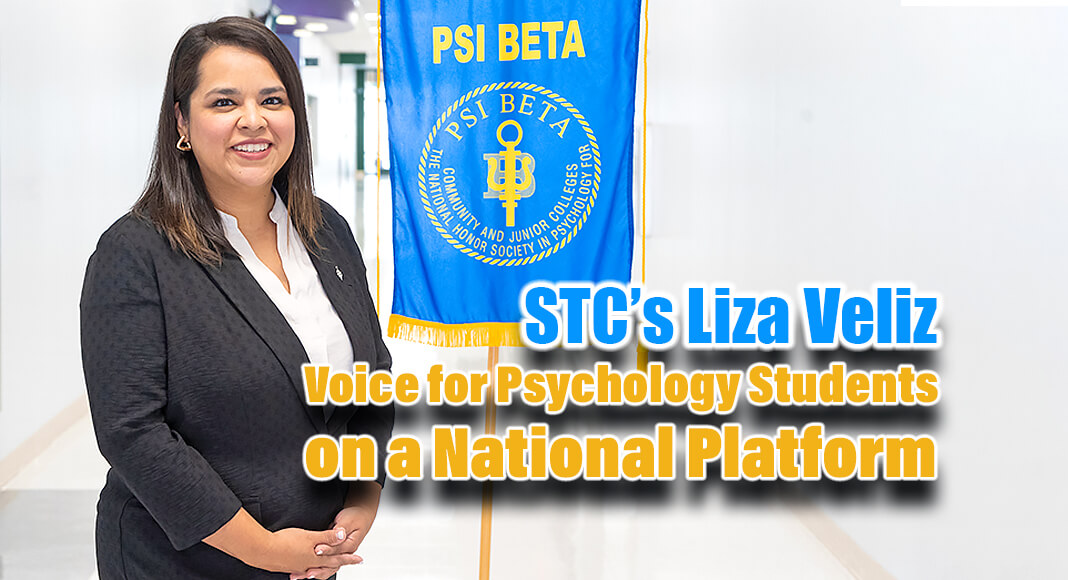 Mega Doctor News
By Joey Gomez
McALLEN, Texas – South Texas College Psychological Sciences faculty member and chair Liza Veliz, says her experiences in education as a former first-time college student gave her a deep determination to advocate for students and the unique barriers they face.
Now at the helm of Psi Beta, a national honor society dedicated to student achievement in the field of Psychology, Veliz, who was recently named the honor society's president, said there has never been a greater chance to level the playing field for students working their way into significant research positions.
"I am a first-generation college student, and I am the first in my family to graduate from college and hold a master's degree. Really, I am a first-time professional," Veliz said. "Times have changed since I have been in school, but what we are seeing now are those professors who have their own labs needing more help on the research side because their labs are growing. They are recruiting undergrads, and we want our STC transfer students to be among those who are recruited. We are placing the emphasis on first-time students just like me who are also set to become first-time professionals."
Veliz will serve a two-year term as Psi Beta's president. She was selected to the position during the annual American Psychological Association's annual conference held in Washington, DC.
Psi Beta is a national honor society in psychology for community colleges and is a member of the Association of College Honor Societies (ACHS) that operates with the goal to develop outstanding psychology students at two-year colleges through scholarship, leadership, research and community service.
As national president, Veliz will oversee Psi Beta's board of directors, and seeks to bring new resources to the organization in order to improve the academic success of thousands of America's undergraduate students majoring in psychology.
Upon being selected to the national post, Veliz had just completed four years of service as Psi Beta's Southwest Regional vice-president.
"The biggest thing that I am most concerned about is research opportunities for students. If students are not given an opportunity to enter into research labs as undergrads, then they are put at a very concrete disadvantage," Veliz said. "If they don't get that experience, then when they enter the graduate level, their application will be seen as having fallen short of that experience even though they were never really given the opportunity to gain that experience. That's my goal right now."
STC Psychology student Noah Castro is among those students who are already seeking an opportunity to enter research opportunities. Guided by Veliz, Castro said he began his journey into the research process by analyzing the effects of impulse buying, which he presented at the first Emerging Scientist Symposium in the spring.
"I began to look at the new emerging Fintech, or financial technology, that I had recently been exposed to at my current place of work, which is geared to those of lower socioeconomic status, which in this case is the majority of the population in the Valley," Castro said. "With professor Veliz's help, I was able to create a project that ties in with impulse buying and how when it is done excessively can lead to psychological distress. She (Veliz) was a big help through all of the process."
Veliz, who just completed her first year as department chair of Psychological Sciences, said the start of the Symposium represented a key goal she had set since the start of her leadership role with the department.
"Part of my goal when I started as chair of this department was to start the Emerging Scientist Symposium for students as a way not only to showcase our students' abilities but connect with the community and get them to understand Psychology, which is the scientific study of what we as humans think, feel and act," Veliz said. "My next goal is establishing more peer advisors here at the college. By having a Psi Beta member, who will be tasked with mentoring incoming students, we will have that passing of the torch of a college-going culture that we have established from one student to another."