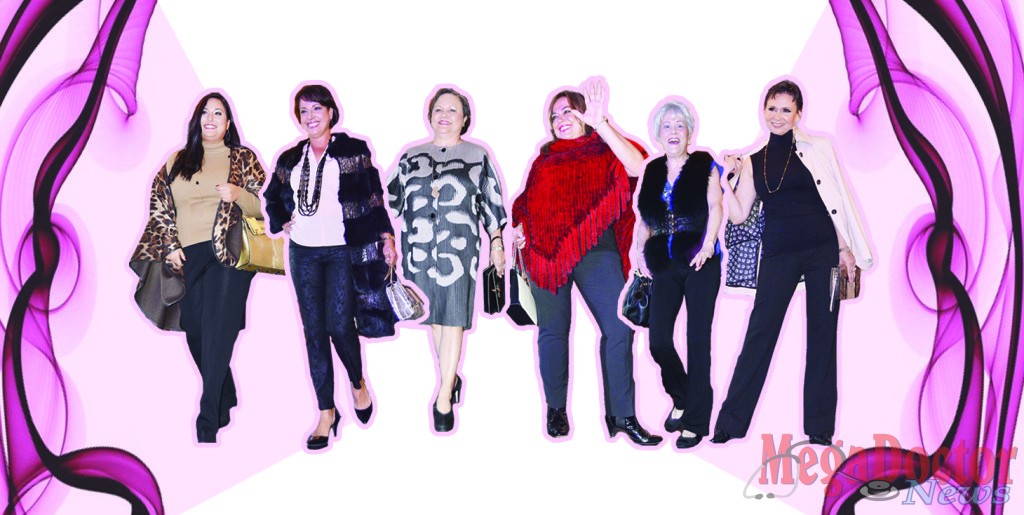 Mega Doctor News
By Roberto Hugo Gonzalez
Mega Doctor News was invited to be part of of an event where several lovely ladies, survivors of cancer, were the honorees.
The purpose of the event, according to Gerry Garcia, McAllen Chamber Vice President of Special Projects was to honor those affected by cancer with a day of pampering just for them.
Six of the survivors were selected among friends or family members of the Project Runway 2015 committee, which has been officially tagged as a yearly event. Garcia said, "Yes, this will become a yearly event, we are hoping to add something different each year and also focus more on the entrepreneurs."
Gerry Garcia and Gracie Yarritu, the Mary Kay Sales Director were directly involved in planning and implementing this event.
There were other key people that helped but one stands out and that's Lazaro Fernandez of Dos Rios Fabrics in McAllen Texas. "A true believer without question," Garcia commented.
Garcia in exclusivity to Mega Doctor News said, "Plans are underway to organize the event for September 2016, the exact date and place are to be determined."
During this special event the six survivors were interviewed; each spoke from the heart. Some of them with tears in their eyes, they spoke bravely enough to convey a message of hope to others and to emphasize the importance examinations (mammograms) in order to prevent breast cancer.
Sylvia Fortuin was born and raised in McAllen, Texas. She moved to Dallas to go to college and lived there for 10 years. She told Mega Doctor News, "After college I moved to Europe, where met my husband Chef Marcel Fortuin, and we came back about 25 years ago."
Sylvia was diagnosed with breast cancer on October 17, 2013 which was actually her husband's birthday.  "I know, what a surprise, and from that moment my whole life changed.  I was thrown into the world of cancer, and it was all a whirlwind," she said.
During her fight with this formidable enemy, she had to get chemotherapy.  She said, "It was a very aggressive cancer, it started to be so little but by the time I got my first chemo it was the size of a lemon."
As a survivor, Sylvia is on monthly maintenance. "My last chemotherapy was 5 months ago, so that's wonderful not having to go to the doctor's everyday."
What message would you convey to women to prevent this situation? "Well, definitely get your mammogram done.  I was very faithful with it and because I was faithful, I found my tumor in time.  It was stage 3, but it was still in time.  And there is a cure, but chemotherapy is a cure for cancer, it's a bad cure, it's not a fun cure.
So you're happy to be part of this ceremony? "Yes, thank you for my day of honor."
Christie Cantu works at the UT- Rio Grande Valley. "I'm a scholarship fund raiser. I put together people that want to make a difference in the lives of our amazing students with setting up scholarships," she said.
Tell me why are you in this celebration? "I'm here to be a testimony to others, other people that may have just been told that they are diagnosed with cancer." She said, "I'm here to share with them not to be afraid and to keep your faith in God, because He can can get you through anything."
When were you diagnosed? "In 2010." She continued, "So I had six months of chemo, and I was in remission halfway through the treatment."
What kind of message would you like to convey to other women? "Definitely for women to be proactive and pay attention to your body.  When there is pain in your body or something looks abnormal, please get it examined."  She pointed out, "Make sure you get your mammograms on a yearly basis. Because if you catch cancer early, the prognosis is better versus if you wait and it's already spread."
"As long as you have faith and you stay close to God, He's our great healer," she finalized.
Cynthia Gonzalez is the coordinator of the youth ministry at Our Lady of Perpetual Help in McAllen, Texas. She was diagnosed with cancer in September 26th, 2011 and is in remission.
"I was diagnosed with AMS Leukemia with an inverted sixteen chromosomes. I went into remission after my first round of chemo.
How did you find out you had cancer? "My leg was swollen. I went to a doctor, he checked for a blood clot, there was nothing he said for me to keep it elevated.  I consulted with a second doctor and nothing happened, until I went to a third doctor. He ordered a CT and found the mass, sent me to the hospital, and three days later they told me I had Leukemia as well.
What kind of message would you like to convey to other women to prevent a situation like this? "Pay attention to your bodies. Pay attention to every day bodily functions and the way you react to things because our body is trying to tell us something."
Patricia Torres was also involved with the Project Runway Event because she is also a cancer survivor.  "I was diagnosed with follicular lymphoma in 2014 and I've been going through therapy and am currently in remission," she said.
What kind of message do you want to send to women so that they prevent being diagnosed with cancer?  "Absolutely, early prevention is key in getting well and for the treatments." She said, "Anytime you notice any changes in your body, consult your doctor."
Susie Oliveira is a breast cancer survivor.  "I've been cancer free now for two years but it has been a long process from the beginning and starting with a double mastectomy in November of 2013. Then chemo last year was followed by reconstructive surgery." She said, "My last surgery was in December of this past year so I got the all clear in January of this year, so I'm very excited about that."
What message would you give to our readers? "Just to have a very positive attitude as much as possible. Even through the difficult times, I found that staying positive and finding the silver lining helps the journey easier to deal with."
Maggie Hammond is a sales instructor with Mary Kay cosmetics company, and Mary Kay is sponsor of project runway. She is also a cancer survivor and currently in treatment.
Maggie is a kind woman that supports everyone, in this case she wanted to participate to lend her support and heighten awareness.
She said that it is important for people to be aware of the threat of cancer and also to know about the great cures that are coming.
Would you like to send a message to our readers? "Well, of course it's very very important to be aware, to understand, and to know what the threat is. Knowing your family history and just doing your best to live a happy lifestyle."
Mrs. Hammond is currently under treatment, however she is a strong spirited woman that cares to send a message for others to notice and take note of the enemy. MDN