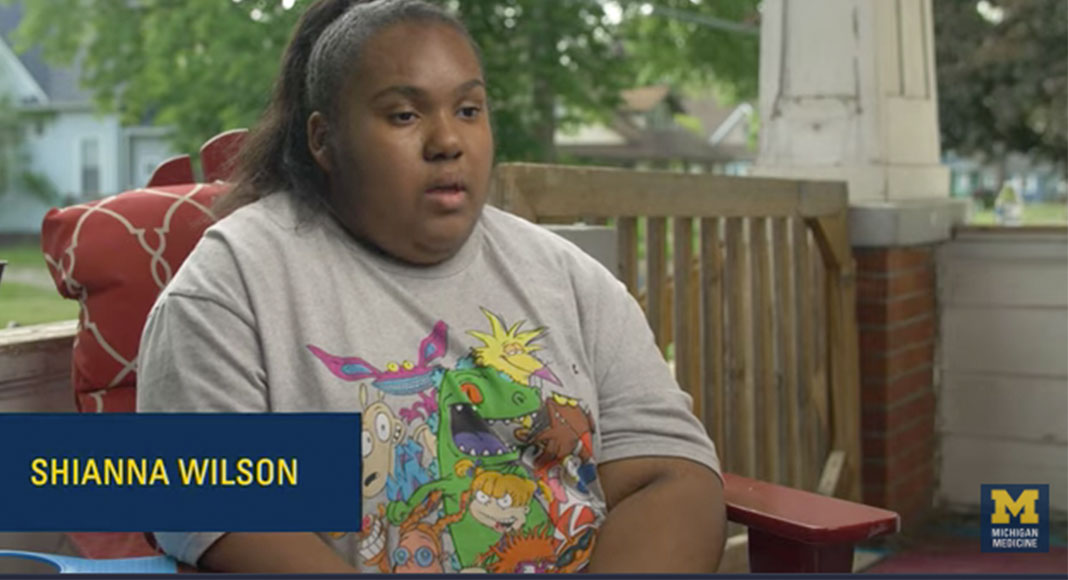 Mega Doctor News
- Advertisement -

Newswise — They kick in unison and sway side-to-side in their chairs. The speakers bump Taylor Swift's "Look What You Made Me Do" through the neighborhood in Saginaw, Michigan.
"I like pop and hip-hop," said Shianna Wilson, 14, taking a break from her weekly one-on-one class. "Sometimes slow songs, too. I've always liked to dance."
The lesson takes place outside, yet another activity modified during the pandemic. The entire time, Shianna's mother, LaKesha, watches with a smile from the front porch of their home.
"Seeing how confident she is, I know people can do anything they set their mind to," Wilson said. "Shianna is proof of that in my eyes."
Watching her child dance was a dream of Wilson's, and one she did not expect to realize. When Shianna was born, doctors told LaKesha her daughter may never walk – let alone dance.
"It was hard to find out everything that was going on with her," she said. "I had to prepare myself and say, 'There are a lot of things that Shianna won't be able to do.'"
As an infant, Shianna was diagnosed with two disorders: cerebral palsy, a condition that affects movement and muscle development, and brachial plexus palsy, a disorder in which the nerves of the arm are damaged.
- Advertisement -

Both conditions occur in approximately one in 1,000 births, but brachial plexus palsy receives less attention and will occasionally go untreated, said Lynda Jun-San Yang, M.D., Ph.D., clinical professor of neurological surgery at University of Michigan Medical School and director of Michigan Medicine's multidisciplinary brachial plexus program.
"Mild cases of brachial plexus palsy may result in full functional recovery with appropriate rehabilitation and therapy, but they can actually be quite disabling when cases are severe," Yang said.
Yang performed nerve reconstruction surgery on Shianna when she was six months old, a procedure Yang doesn't often consider for children with multiple neuromuscular conditions based on previous research. She changed her mind, however, after consulting with Virginia Nelson, M.D., M.P.H., Shianna's pediatric physiatrist and a clinical professor emeritus of physical medicine and rehabilitation at Michigan Medicine.
"As a group, we decided it was something to try because Shianna had shown potential for improvement," Yang said. "We in no way promise, or can deliver, a 'normal' arm through the surgery, but by taking nerves with live axons and routing them to those without them, it delivers some power to the muscles that can then move the arm."
The procedure is one of two Shianna underwent in her first three years of life, including spinal fusion surgery that required her to wear a halo vest, a device that stabilizes the spine through a metal ring fixated to the skull with multiple pins.
Walking with a halo vest is not easy for adults. But Shianna, the toddler – to her mother's joy – danced in it.
"That is a really good picture of her determination," Nelson said. "Shianna doesn't really listen to anybody who says, 'You aren't able to do that.' She pushes through and figures out how to do it."
Pushing forward
Nelson has worked with Shianna for over a decade to optimize her function. They established Shianna's goals and made plans to accomplish them.
"We usually stretch my arm out, see what my limits are and how much better I'm getting," Shianna said. "I do feel like I'm getting stronger because before, I didn't even know how to turn my arm or move it. Now, I'm learning how to move my fingers and lift my hand high. I like that I can accomplish something that I was told I wasn't going to be able to do."
Over time, the Wilsons' trips to work with Nelson in Ann Arbor have become infrequent. Throughout the pandemic, they've exclusively done teletherapy visits. However, as Nelson tells the parents of all her patients, she and her team can only do so much.
"I always say, 'You are your child's therapist,'" she said. "Wherever you go for therapy, that person is a teacher and teaches you, but you are with your child every day. Shianna has a tremendous family, and I suspect they do a lot with her at home. I just see the results."
The Saginaw home where Shianna lives with her mother and grandparents has no shortage of support. But at 14, like most teenagers, the incoming high school freshman took the reins of her therapy. It's the same way she handles everything – "just doing Shianna," as her mother says.
"This is my child, and I'm not going to treat her like she has a disability," LaKesha said. "I'm going to treat her like she is going to do everything everyone else can, and I am going to help."
That attitude, adopted by the entire Wilson family, has never changed. But Shianna has a loftier goal, in fact, she wants to write a book that educates others about disabilities to root out discrimination.
"I want people to know about what doctors told my mom and how I pushed forward to do what I'm doing now," Shianna said. "That you can do anything, things you never thought you could. I want people to learn about disabilities and that they're not a disease. You can't catch it. You shouldn't avoid people because of what they have."