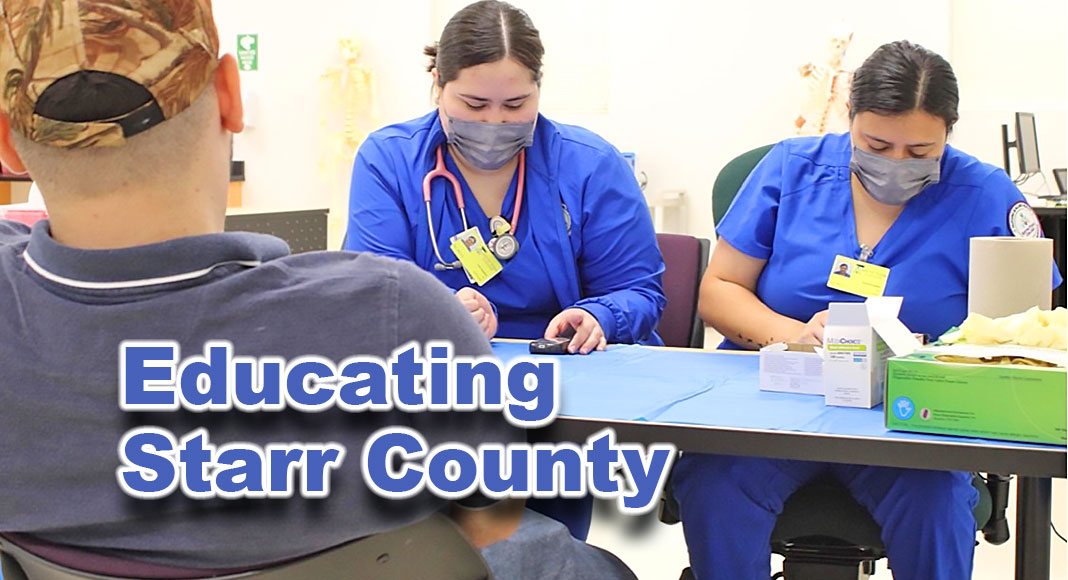 Mega Doctor News
- Advertisement -

By Joey Gomez
RIO GRANDE CITY, Texas – South Texas College Vocational Nursing students recently joined health care providers in one of the most medically underserved areas in the nation to educate residents in Starr County about healthy living.
Students participated in STC's World Health Day Health Fair at the college's campus in Rio Grande City.
Together with health care providers and agencies including El Faro Health, Starr County and Texas A&M Health-McAllen, students assisted by offering glucose, blood pressure and cholesterol screenings and providing important information on diet education to the community.
"What we are trying to do is make our students understand what it means to give back to our community when it comes to health care," said Sylvia Contreras, Vocational Nursing instructor at STC Starr County campus. "We brought our vocational nursing students from Weslaco and McAllen to Starr County to help and give back to this community, which has been known to have a limited number of health care providers and services. Maybe we can open peoples' eyes here about the importance of getting checked."
More than 21% of adults in Starr County are living with a diagnosis of diabetes, which is 9% higher than the state average, according to a County Health Rankings (CHR&R) report by the University of Wisconsin Population Health Institute. The rankings measure the health of nearly every county in all 50 states.
Starr County is ranked among the least healthy counties in Texas with adult obesity at 47%, according to the rankings.
- Advertisement -

"This is a great partnership with STC and it's so important. Together we are hoping to provide programs to people from the community and in surrounding areas who may have difficulty accessing health care services," said Rose Lucio, director of Texas A&M Health-McAllen who attended the health fair. "We all have the same goals, which is to give back to our communities. STC itself is doing a great job educating students, but together we would like to make a positive health impact on the community."
Jocelyn Garza, a Level Two student in the Vocational Nursing program from Rio Grande City understands health care issues among residents in Starr County are critical.
"It's important for me to get involved because these are my people," Garza said. "I feel a personal responsibility to be among those who are trying to help them understand what we are doing. We are guiding them towards a healthier life."
World Health Day is celebrated on April 7. The annual event is meant to celebrate the start of the World Health Organization (WHO), which was created in 1948 to promote health, serve the vulnerable and attain the highest level of health and well-being. This year, the organization celebrates its 75th anniversary.  
"For us, celebrating World Health Day means sharing information on serious health issues in our region like diabetes, and the screenings they can do to keep themselves as healthy as possible," Castaneda said. "We have an extremely high incidence of diabetes here, and that is combined with hypertension issues among many other health problems. Bringing that education and letting them know of the things they can do to change their lives is one of the most important things we can do."
For more information on STC's Vocational Nursing program, visit nah.southtexascollege.edu/vn/.