The Valley is a tropical desert with hot, and both humid and dry weather
By Roberto Hugo Gonzalez
Dr. Darryl L. Stinson is a board-certified family physician who has been serving Valley residents for the last twenty-five years. Originally from Brownsville, Texas, he attended college for one year in that city and left for Monterrey, Nuevo Leon in Mexico. He did his pre-med and then medical school training from 1982 to 1988.
Up until now, Monterrey has been a magnet for students wanting to study medicine from many parts of the world. The city has been equipped with fine schools to educate and train the most excellent physicians, many of them from the United States.
Upon graduation, he moved to Beaumont, Texas for a year to satisfy his social service. In 1991, he started his residency in McAllen. Once he finished in 1994, he began his practice in Mission; it remained open until 2007. That year is what he calls a "window of opportunity" opened. PCI (preventive care institution)is a McAllen practice clinic where he works today; he was offered a job with compensation difficult to refuse. Dr. Stinson said, "I went and spoke to my office manager and asked, 'can you pay me this amount of money?" The answer was no, so he decided to give PCI a try, and has been practicing medicine there ever since.
When Dr. Stinson ran his practice, Claudia, his beautiful wife, was also very involved in managing it, kind of a 'mom and pop' operation. He said that to let go of the control he had as a solo practitioner was not easy for him. At PCI, he tried to do it his way, however, in the end, he understood that he had to be a physician dedicated to his patients and leave the administration to the PCI professionals.
In reality, in today's world, it's even harder for solo practitioners to operate a clinic. According to many of the physicians that Mega Doctor News has interviewed, the changes in the law and additional regulations applied to the world of medicine, plus the difficulty to get paid, make this profession more than just a day of work.
Dr. Stinson said, "Working here, it became so much easier. There is no need to worry about anything else, just attend to my patients with the support of the personnel of the clinic."
"In my era, from the 80s to 90s it became more difficult for us because medical care became too expensive for our country." He said that it was a time where physicians learned how to fight against insurance providers and the government because they would find ways to get out of paying physicians. "Insurance companies are very, very, very ruthless. Their business models are designed to save money by not paying doctors," he said.
He said that in the last decade it has gotten worse. "I've been buffered here, away from all the turmoil that's going on with the Medicare and Medicaid. The changes that are affected by the Affordable Care Act have not really affected this clinic, because we make a direct contract. We don't have to worry about all those things," he said.
What concerns you more about your patients and what kind of diseases are more prevalent here?
A: "It is a much more severe problem for us than all over the country. I saw this epidemic unfold before my eyes. I am talking obesity and diabetes," he said.
Dr. Stinson said this has been a challenge since his early practice when as a young doctor in the 90s. He noted that the whole population started to gain weight to levels that he had not seen before.
He attributes the problem to genetics and the choice of lifestyle. "We don't eat often enough. We are too stressed to eat right; we don't eat like we used to," he said.
Dr. Stinson says that today when people eat lunch and dinner, their meals have gotten bigger and bigger. Their desire for high-calorie food has increased, plus there is not enough physical activity, consequently their body just stores everything.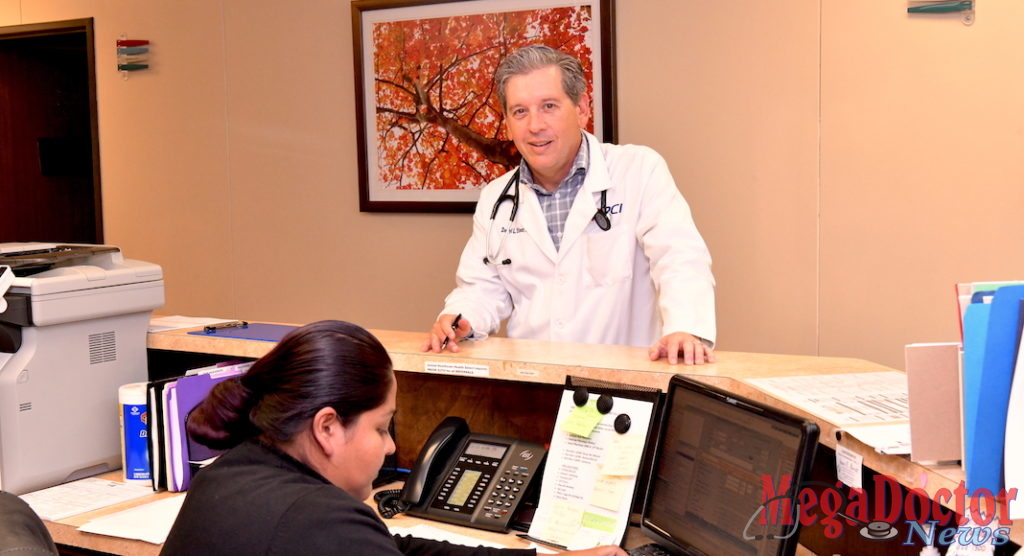 One of the challenges for physicians is that they haven't figured out how to make people change their lifestyle.
"We already understand what we need to do, and that is to eat more often, eat smaller portions, and eat less calories. Exercise is so important for everyone," he said.
Aside from diabetes and the obesity epidemic, he also noticed as far back as 2008 that there is an abnormal amount of mental stress among the Valley's population.
"I typically see patients with depression all the time, and we are very experienced in treating it. I saw it change, now my patients where didn't have the common stressor and their life was going smoothly, they also were coming in depressed."
Dr. Stinson said that among the millennials, it's getting even worse. "Even at a younger age they're much more affected by this than my generation was." His opinion is that what is causing depression is the technology. "We're more productive because of technology, and we don't give our brain rest." If we are not talking on our smartphones, we are searching using google. "We can talk to somebody on live video chatting in China if we want to right now, and we are not relaxing our brains."
According to him that we should not tolerate more than two or three dozen decisions a day, but in today's world that amount is done in 30 minutes. That includes answering your phone, texting, emailing, and much more.
"I definitely recommend to people to change their behavior and put a stop to technology at a certain time of the day." He is not saying to change technology, technology is good, but it is essential to counteract and to avoid overusing our system. Rest your brain.
What diseases affect this population?
Dr. Stinson told Mega Doctor News that we have a lot of allergy problems, it's endemic. "I'm not an infectious disease doctor, but fungi and allergies are prevalent."
He says that the Rio Grande Valley has a hostile environment that he calls 'tropical desert.' "It's very dry, doesn't rain often, but it's humid." He adds, "Also there's a lot of dust and wind and funguses and different bacteria that are common here that you don't see much in other places. I was telling you about tuberculosis; that is here."
Tuberculosis! Yes, the disease is here in the Valley. He said, "We can't get rid of it. It's endemic in our environment. Our body is always having to fight against it. The Valley is a hostile environment to live in."
He pointed out that that's why the Aztec and the Mayans didn't plant themselves here. They chose the lush green valleys of Mexico. "To live in the Valley, you have to be tough to survive."
Personal Life
Dr. Stinson used to be an Army brat, his dad is from East Texas and his mother is from Cameron County. "So, I'm mixed, Anglo Hispanic," he said. He is fluent in Spanish, he interacts very well with the population of the Rio Grande Valley.
When he went to study in Monterrey, he met Claudia, his wife.
Was it love at first sight?
"For me, yes," he said. They have three children, the youngest is Eric, he is 29 and lives in San Antonio and just got married.
Is he a doctor?
"No, no doctors in the family. They were discouraged by watching me. I guess they weren't impressed with my lifestyle. But now Eric is a lawyer.
The middle child, Darryl, is 30; he lives in Fort Worth and works for an exciting company doing set designs to make those panic rooms or escape rooms. Our daughter, Michelle is 32, and she's getting married this year."
No grandchildren yet?
"I do; I have a four-year-old grandchild. Her name is Quinn."
How do you juggle your profession and family?
"I always tell everybody, especially when I talk to young people, that your profession is very important. I remember how it when I was that age. You can have the best career ever at whatever you've become. But it's not going to matter as much as your family." He continued, "Now I would say, you can ask Barack Obama, would he give up that career or give up his family, his daughters. I'm pretty sure he would choose to give up the profession and keep his daughters."
Dr. Stinson admitted that Obama had an incredible political career, the most fabulous job of our lifetime. "His face is to be on the money in different countries not only America. I didn't like his politics but as far as what he accomplished, yes," he said.
"In medicine, it's a jealous profession." He continues, "It wants to keep you away from your family and wants to keep you away from other things. It doesn't like to share, if you want to be a good doctor. So that's one of the tough things about being a physician, it's that we have to learn how to juggle it," he finalized.