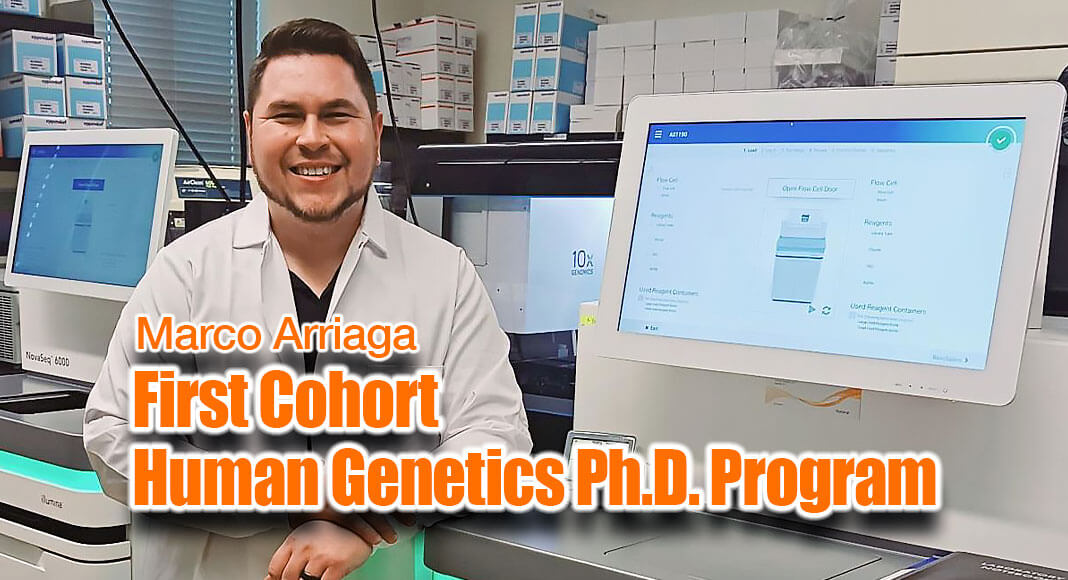 Mega Doctor News
By Dimitra Trejo
EDINBURG, Texas – There are a lot of firsts for Marco Arriaga.
He is proud to be a first-generation student at UTRGV and proud to be in the first cohort of the university's Human Genetics Ph.D. program.
As the eldest of three siblings raised across the border in Mexico, Arriaga knew he had to be a leader.
"I was born in Brownsville, Texas but raised in Matamoros, Mexico," Arriaga said. "My grandparents were factory workers in Mexico. My parents were hard workers, as well, but neither of them was able to get a college degree. So, I am the first to go to college in my family."
Arriaga graduated from UTRGV in 2015 with a bachelor's degree in biology, followed by a master's degree in biology in 2018. And he did it all while maintaining a full-time job.
"Unlike other students, my education took a little longer to complete," he said. "I had to help my family along the way. It was hard – I remember those times. But I'm glad I did it.
"It was then, while I was studying, that I fell in love with biology and human genetics."
FROM THE GROUND UP
Arriaga said his upbringing and cultural background helped fuel his enthusiasm for human genetics, because he always wanted to get to the root of his community's major health problems.
"Human genetics is the baseline in understanding how to treat and prevent diseases," he said. "Diabetes, hypertension – I want to solve these diseases because they hit so close to home. I want to find solutions from the ground up, through genetic research."
An estimated 12.4% of the adult Texas population has been diagnosed with diabetes, according to the American Diabetes Association. Over the past 15 years, the rate of obesity in Hidalgo and Cameron counties was higher than for the entire state of Texas, according to the Unidos Contra La Diabetes organization.
The staggering statistics alone made him eager to apply to the UTRGV School of Medicine's first Human Genetics, Ph.D. program, he said, and that was the path to helping his community through research.
HUMAN GENETICS AT UTRGV
The Ph.D. program is designed to focus on the study of the basic principles of genetics and genomics as applied to human disease, and to use research discoveries to enhance the quality of life for people in the Valley and beyond.
Using both experimental models and population-based approaches, the department has ongoing programs focused on:
Research in experimental genomics.
Statistical and population-based genetics.
Bioinformatics, and translational research.
Dr. Sarah Williams-Blangero, department chair of the human genetics program and director of the South Texas Diabetes and Obesity Institute, said the four-year program will allow students to directly help the community and apply scientific solutions to prevalent health disparities in the area.
"The discoveries that are made by the students and the faculty who are working with them will have a direct local impact on the health of the Mexican American population," Williams-Blangero said.
The first cohort, made up of three women and three men, will have the opportunity to bring fresh perspectives to research and to advance in research-specific careers.
"Our program is research-intensive and designed to produce independent researchers in human genetics," she said. "There are a variety of fields that they can go into after completing their degrees, both on the academic side, as well as in private industry, the pharmaceutical industry, patent law, biotechnology, clinical laboratory management, and scientific writing and reporting. A broad range of fields need expertise in genetics and our students will be able to choose from multiple career paths."
LOOKING AHEAD
As Arriaga begins his research journey in his first semester this year and as part of the first cohort,he is eager to begin diving into proteomics.
"Proteomics is an analysis of all the proteins that are produced by a cell or an organism," Arriaga said. "It will be significant to understand the effects of genetic alterations in the human genome for many complex diseases, such as diabetes, hypertension, coronary heart diseases, and cancers including glioblastoma and leukemia. I would like to pursue this field because this will allow me to not only focus on a specific disease, but also to try to come up with a treatment that helps the community for the future."
As one of the first students in the program, and the first in his family to go to college, Arriaga said, he has high expectations for a career in genetics, and he hopes for more "firsts" in his future.
"I'm excited for this program," Arriaga said. "I will be able to contribute to potential treatments for serious health disparities that affect people all over the world, and in our community."
To learn more about the human genetics program at UTRGV, visit Department of Human Genetics (UTRGV School of Medicine) | UTRGV.