- Advertisement -

Mega Doctor News
Dr. Michael B. Hocker, MD, MHS, dean of the UTRGV School of Medicine and senior vice president for UT Health RGV acted as master of ceremonies during what he called "a landmark event." He welcomed everyone to what will be UTRGV McAllen Academic Medical Campus. "From what you see, anything that looks like a hayfield except for a few small pieces here and there, all that is UTRGV property," he said. It was mentioned that 38 acres were acquired for the campus.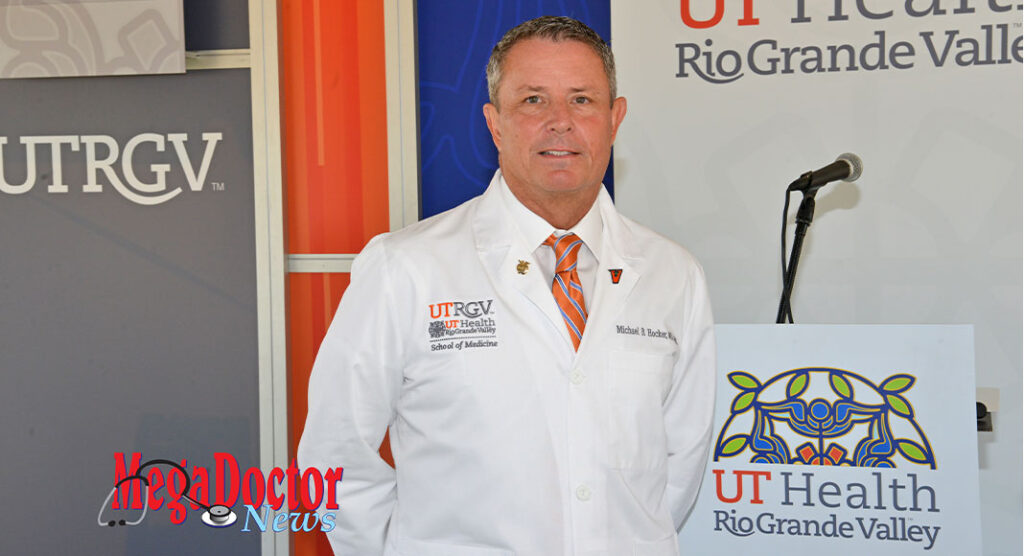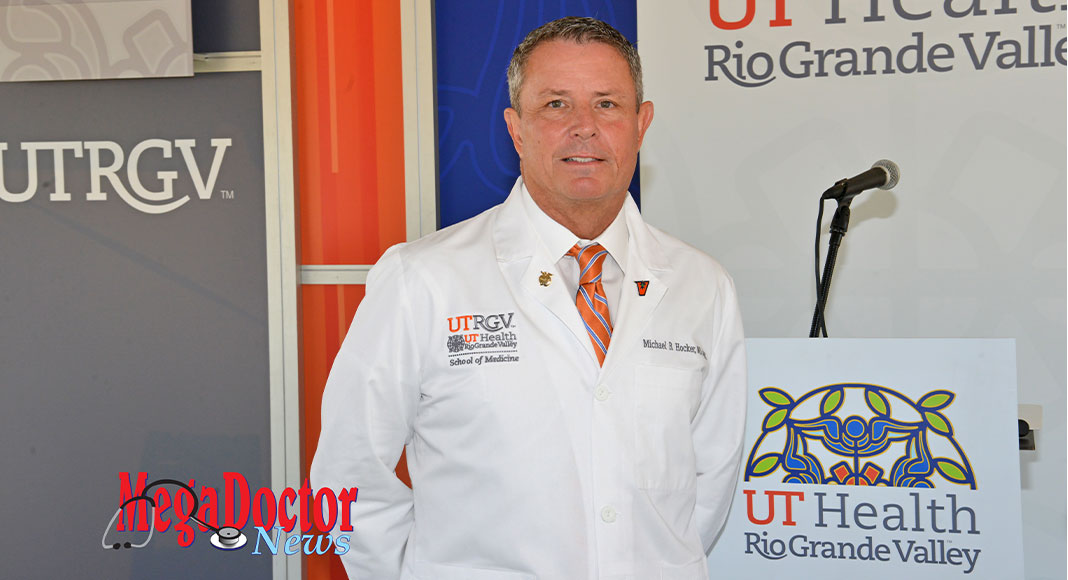 The cancer center is part of the Phase 1 development of UTRGV's McAllen Academic Medical Campus, centrally located off Pecan Boulevard between Jackson and McColl roads in the 495 Commerce Center development. This location is one of the finest available in the city of McAllen.
Dr. Hocker said he couldn't sleep the night before. "I felt like a kid, like before Christmas morning. I told my wife this morning, I'm not nervous about getting up in front and talking to people. That isn't what made me nervous; it's the $150 million building that we're building here," he said.

The three-story facility will include access to underserved specialties and clinical services in medical, radiation, and surgical oncology, with additional opportunities to expand the cancer research already being conducted at UTRGV and its School of Medicine. The center will also include outpatient surgery and imaging spaces to support the continuity of care for patients through the full spectrum of their care.
He pointed out that it was their first Novo Campus under the UTRGV umbrella. "We have amazing legacy institutions and have done amazing things there. But as UTRGV, this will be our first true academic campus."
The start of construction of this facility is the culmination of the work of many people. "I thank the UT System for their continued support, the politicians who fought long and hard to bring this medical school here, and the leaders of this community."
The UT System Board of Regents recently approved more than $145 million (link here) to help fund the new center. The City of McAllen has provided an additional $1 million in monetary funding.
- Advertisement -

The MD Anderson group was present and was announced as a special guest. Dr. Hocker said, "Probably, it is the most renowned cancer center in the world." He added that one of their decisions was to partner with MD Anderson in an advisory role. "We knew they knew how to do cancer care, probably, better than anybody else in the world."
UTRGV President Guy Bailey, who has been in the Valley for the last eight years, said, "We are not celebrating a ribbon cutting today, or a building, but a dream dating since 1947. Remember this day; the medical school was first proposed for the Rio Grande Valley in the Texas legislature that year."
He continued, "It took until 2013 to get it done; until people like Senator Juan Hinojosa were able to make it happen. There was a dream that people kept pushing and kept pushing until it got done. Think about it," he said.
Dr. Hocker said that when Dr. Bailey was here, he took two legacy institutions, combined them to form a thriving university, started a medical school, and a pediatric school, and recruited an amazing leadership team group.
It was announced that the McAllen Cancer Campus would be strategic and focused on the cancers most prevalent in the Rio Grande Valley, like prostate, breast, colorectal, and lung cancers.
The center will also provide other specialty services at this initial facility, which include outpatient orthopedics, surgery care, physical therapy, and rehabilitation imaging laboratory services.
Michael Patriarca, MBA, the Executive Vice Dean School of Medicine, Vice President of UT Health RGV, said, "This is your facility, and you are the transformers of health in the Rio Grande Valley across the education, research, and clinical missions." He continued, "What we have coming is a state-of-the-art three-story, 144,000 square foot facility, focused on advanced academic medical care. Our cancer center will bring medical oncology infusion with 18 infusion base radiation oncology with two linear accelerators, the first of their time in the Rio Grande Valley, and a clinical research unit bringing together the basic science research. "We have an ambulatory surgery center with six operating rooms, endoscopy, orthopedics, and rehab therapy support services, including diagnostic imaging, rehab, pharmacy, building support, clinical laboratory, sterile processing staff amenities, and community spaces." He said that the facility will be completed in 2024.
Dr. Nolan Perez was also present; he is a member of The University of Texas System Board of Regents. He said, "I strongly believe that UT institutions play a critical role in helping Texans live longer, healthier lives. This includes fighting cancer today. There are few people whose lives haven't been affected by a cancer diagnosis. Cancer is the second leading cause of death in the United States. In 2021 alone, there were 130,000 new cancer diagnoses in Texas, including 8,500 new cases within a 19-county region in South Texas. With that in mind, improving access to cancer treatment for valley residents is a top priority for our board.
This new center will mean that valley residents will no longer need to drive hours to Houston, San Antonio, or beyond to access quality cancer care. And it will enable us to recruit and retain medical specialists and physicians to serve our community. As a board, we are proud to authorize funding. We approved funding of $145 million from the Permanent University Fund. It came from legislative support, from tuition, revenue bonds, and a generous $1 million gift from McAllen for this transformational project that illustrates the power of collaboration, not only among UT institutions but among UT, the State, and the City of McAllen.
Dr. Hocker said that we live in a region that has long been neglected. "It has a significant lack of access to both primary and specialty care. High percentages of diseases include diabetes, obesity, hypertension, Alzheimer's, neurologic disorders, and cancer, and unfortunately these cancers are advanced. They're not found early; they're not detected." He continued, "They carry high mortalities. And we know that the Valley is a place where there are significant shortages in almost every medical specialty that you can think of. And that's why the medical school was brought here. And through this campus, we will expand and educate personal opportunities for all health professions, medical students, podiatry students, residents, fellows, and future faculty."
Texas State Senator Juan Hinojosa was introduced as a big proponent, and this medical school wouldn't be here without his leadership. "This is a very exciting and special day for us working in the Texas legislature. Sometimes we think nobody is watching, nobody's listening. We fight our chances to ensure that we get our fair share of resources, especially in healthcare. We passed the Medical School Senate bill in 2013. It was a tough battle. The bill itself didn't get formed and agreed to until almost the deadline before the session ended. And finally, we agreed to create this great medical school and make the whole university part of the PUF Fund (Permanent University Fund)."
Senator Hinojosa said, "In reality, many of us know someone who has been impacted or died of cancer – family, friend, or neighbor. My father died of cancer; he was 51 years old with stomach cancer. It wasn't diagnosed until it was too late. Cancer spread to the liver when they operated on him. He only lived one more year after that."
According to Senator Hinojosa, the Texas legislature is committed to providing more research, finding cures, and minimizing cancer. "We have authorized over $6 billion to do research and find better cures to cancer", he said.
McAllen Mayor Javier Villalobos said, "I want to talk about the spirit of cooperation just like the Senator said about working together; it's so important to us. The city of McAllen contributed a little bit. It might not be much, but for us to be part of this project is an amazing thing."
The Valley is expected to see an increase of over 16% in cancer diagnosis in the next ten years. And the new facility will provide comprehensive, high-quality outpatient cancer care with medical radiation and surgical oncologists. The recruiting has begun to employ those individuals.
Dr. Hocker said, "The people of the Rio Grande Valley are deserving of a world-class academic medical center, and we intend to give it to them as an early Christmas present in 2024. And we will see our first patients in early 2025 as a New Year's gift."