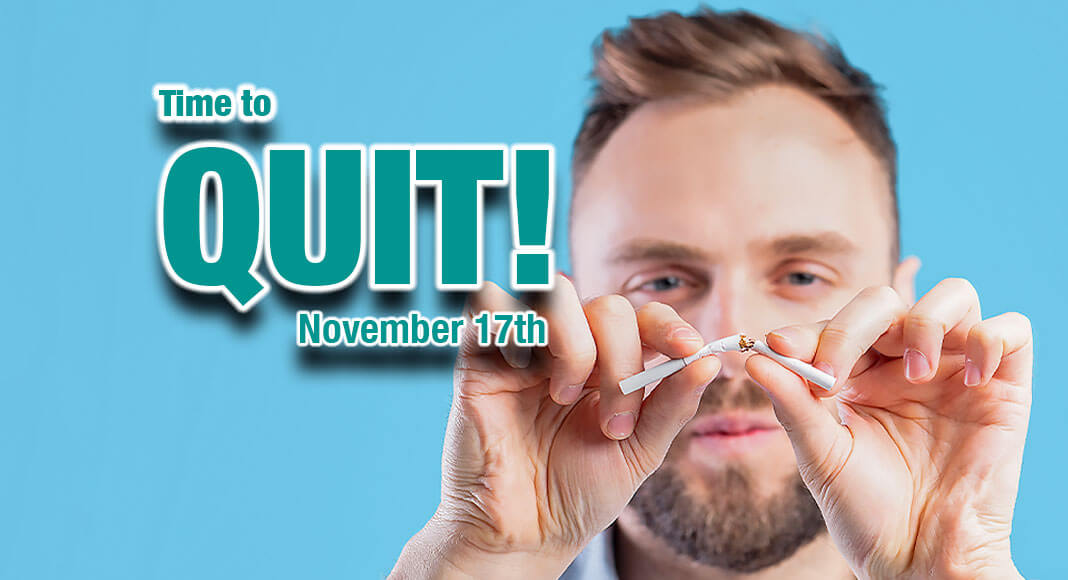 - Advertisement -

Mega Doctor News
Like many people who smoke, you may have thought about quitting. You may have found yourself coughing more than usual or found it harder to breathe. You probably thought, "I have to stop smoking, now!" You may have even tried once or twice before—only to find yourself smoking again.
Quitting smoking is not easy, and it's not a matter of willpower. The nicotine in tobacco is addictive, and that's what makes quitting so hard. The good news is we know more than ever before about what works best to help people quit. A smokefree life is possible and there has never been a better time to try quitting than right now.
On November 17, join thousands of other people from across the country for the American Cancer Society's Great American Smokeout.® Mark the date. Make a plan. Start living life smokefree.
Why the Great American Smokeout?
Cigarette smoking remains the leading preventable cause of disease and death in the United States. An estimated 30.8 million Americans smoke cigarettes, and more than 480,000 people die from a smoking-related illness each year—meaning smoking causes about 1 in 5 deaths in the United States.
While these numbers seem daunting, there are free tools, resources, and support to help you succeed.
The Great American Smokeout is more than a reminder of the dangers smoking poses to your health. It's a call to act. No matter your age, or how long you've been smoking, quitting improves health both immediately and over the long term.
- Advertisement -

Quitting Smoking Leads to Better Health
Quitting smoking is one of the most important actions you can take to improve your health.
After your last cigarette is smoked, your body begins a series of positive changes that continue for years. For example, within minutes of quitting smoking the heart rate decreases, and within 24 hours the nicotine level in blood drops to zero. Within 1 to 2 years after quitting smoking the risk of a heart attack drops sharply. After 3 to 6 years, the added risk of coronary heart disease drops by half. After 10 years, the added risk of lung cancer drops by half. And after 15 years, the risk of coronary heart disease drops to close to that of someone who has never smoked.
Quitting smoking can also lessen or delay loss of lung function and slow down the progress of chronic obstructive pulmonary disease (COPD). If you already have heart disease, quitting can lower your risk of dying prematurely, getting a new type of heart disease, or having a new or repeat heart attack.
For women who are pregnant, quitting as early as possible can help protect against some health problems for their developing babies, such as being born too small or too early.
To have the best chance of quitting and remaining smokefree, it's best to know what to expect, what your options are, what tools and quit-smoking medicines are available to you, and where to go for help. Quitting smoking is a journey. It can be hard, but it is possible, and you can increase your chances of success with a good plan and support.
Five Steps to Improve Your Success in Quitting Smoking
Set a date. Choose the Great American Smokeout or another day within the next 2 weeks.
Tell your family and friends about your quit plan. Share your quit date with the important people in your life and ask them for their support. A daily phone call, email, or text message can help you stay on course and provide the support you need.
Be prepared for challenges. The urge to smoke is short—usually only 3 to 5 minutes—but those moments can feel intense. Even one puff can feed a craving and make it feel stronger. Before your quit day, make a list of healthy ways to cope.Adopt a positive attitude. Visualize living your best smokefree life. Stay busy. Get up and move around. Exercise. Think about how you can change your routine.Drink lots of water, slowly sip-by-sip. Drink less alcohol or avoid it completely.Avoid situations where the urge to smoke is strong.Listen to your favorite songs, play a game, dive into a hobby of yours.Call or text a friend.Get coaching by attending a quit smoking class, call a quitline, or sign up for text message support. Start using FDA-approved quit-smoking medicines.
Remove cigarettes and other tobacco from your home, car, and workplace.Throw away your cigarettes, matches, lighters, and ashtrays. Clean and freshen your car, home, and workplace. Old cigarette odors can cause cravings.
Talk to your pharmacist, doctor, or quitline coach about quit options. Nicotine patches, gum, or other approved, quit-smoking medicines can help.