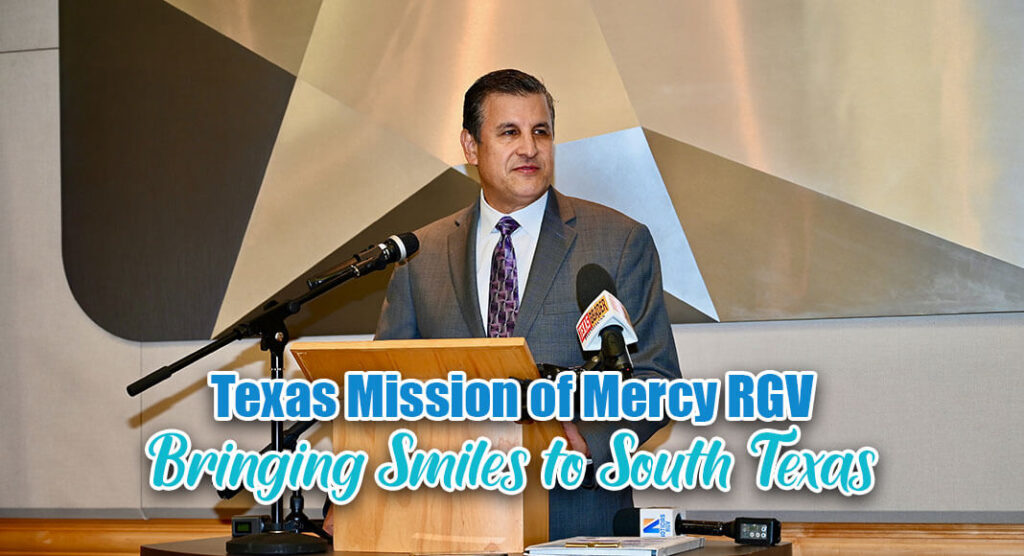 Mega Doctor News
- Advertisement -

By Roberto Hugo Gonzalez
EDINBURG, TEXAS — In a transformative move to provide free dental care to underserved residents of South Texas, the Texas Mission of Mercy Rio Grande Valley (TMOM-RGV) has announced its inaugural large-scale Free Dental Clinic event. The initiative is slated for September 15 and 16 at the Edinburg Bert Ogden Arena.
The announcement was made at a press conference distinguished by Mr. David Deanda, President of Lone Star National Bank, and Dr. Carlos Cruz, a renowned oral and maxillofacial surgeon. Also, present Richard F. Cortez, Hidalgo County Judge; McAllen Mayor Pro-Tem Omar Quintanilla, representing Mayor Javier Villalobos, and Dr. Carlos Cardenas, Chairman of the Board at DHR Health. All of them emphasized the importance of community support and collaborative effort in making such a significant event possible. Also supporting this noble cause present Jaime Longoria of the Hidalgo County Community Service Agency.
TMOM's mission has always been clear: providing free dental care to those who need it most. Dr. Cruz, with a history of charitable endeavors, particularly in repairing cleft palates, is now steering his passion towards helping his local community in South Texas. "I believe all of us have a mission in life. Being part of TMOM and providing care for those in need is part of mine," said Dr. Cruz.
Dr. Cruz highlighted the event's significance, emphasizing the gravity of the dental health crisis in the area. "Many of our population of about 870,000 are in poverty. This event is our answer to that call for help."
The event, supported by stakeholders including Lone Star National Bank, DHR Health, and the Bert Ogden Arena, with over 60 dentists, and 92 pre-dental students ready to serve the community.
Hidalgo County Judge Richard F. Cortez remarked, "I frequently mention that a community's essence lies in how its members support each other. Today, we witness a prime example of that spirit here in Hidalgo County. This initiative to aid our most vulnerable is of utmost significance. Notably, 31% of our residents benefit from government assistance, with many lacking adequate healthcare access. Dr. Cruz, alongside his dedicated team, has been meticulously planning this event for over a year."
- Advertisement -

Taking the stage, Omar Quintanilla, McAllen's Mayor Pro Tem, shared, "Echoing Dr. Cardenas's sentiments, it's truly inspiring to see the magic that unfolds when we unite, collaborating with medical professionals and dentists for the community's welfare. Representing the mayor, along with Pepe Cabeza de Vaca and Seby Haddad both City Commissioners of the City of McAllen, we wholeheartedly endorse the upcoming event on September 15th and 16th at the Bert Ogden Arena. We urge our community to attend this complimentary health clinic. Embracing preventive healthcare can significantly benefit our community, especially those who might not have the means for such services otherwise. We encourage everyone who can, to take part. We stand firmly behind this initiative."
Dr. Carlos Cardenas, Chairman of the Board at DHR Health, expressed, "This gathering is a powerful testament to a community's potential to bridge health disparities and tackle prevailing issues across our county." He continued, "The Texas Mission of Mercy serves as an example, showcasing the unity of physicians, dentists, community members, and sponsors in addressing healthcare inequalities. Often, dental health and overall health are perceived separately, yet they're intrinsically linked. The mouth, a vital creation, can be both an entry point for illness and a gateway to overall health. A robust dental regime can combat heart diseases, dementia, rheumatologic diseases, and even diabetes."
He pointed out that it was enlightening to realize these interconnections. Although physicians and dentists have always collaborated, this event paves another pathway for the collective efforts. The Texas Mission of Mercy in RGV not only provides immediate care but ignites a ripple effect of health education that touches families at large. Dr. Cardenas emphasized, "By addressing oral health, we set the groundwork for holistic well-being, possibly circumventing future illnesses like diabetes and heart diseases. Addressing these disparities and establishing a foundation of equitable healthcare is a mission we're proud of. It fills us with immense pride at DHR Health to stand alongside Dr. Carlos Cruz and all our sponsors in this noble initiative of the Texas Mission of Mercy RGV."
Beyond immediate care, the event aims to spread awareness about oral health. Free dental cleanings, fillings, and extractions are among the services to be offered during the two-day clinic. To streamline operations, pre-screening session have been organized at Nuestra Clinica del Valle on September 9.
As preparations reach their final stages, Dr. Cruz calls upon community doctors to join the mission, reinforcing the belief that a collective effort can create significant change.
"We know that dental health is intrinsically linked to overall well-being," Dr. Cruz said. "Our goal with TMOM-RGV is not only to provide immediate relief but also to raise awareness about the importance of oral health."
There's a message of hope, unity, and resilience woven into the fabric of this event. As Edinburg gears up for September 15 and 16, there is an undeniable buzz in the air. Residents are optimistic, volunteers are enthusiastic, and sponsors are hopeful.
As the Texas Mission of Mercy busily lays the groundwork for its Rio Grande Valley clinic, the message is clear: community-driven efforts can not only identify and address pressing needs, but they can also inspire, invigorate, and pave the way for a brighter, healthier future.
Cabeza de Vaca, also representing Hidalgo County Commissioner David Fuentes said, "The Hidalgo County Community Service Agency provided $65,000 from Community Service Block grant funds that are designed to assist vulnerable families in accessing needed services. These critical funds were provided to assist those families who otherwise could not afford dental services. CSBG funds were allocated to cover many of the administrative and logistical expenses associated with the Texas Mission of Mercy and were paid directly to the Texas Mission of Mercy organization.
About Texas Mission of Mercy:
Established in 2001, the Texas Mission of Mercy (TMOM) has been a beacon of hope for underserved Texas residents. Operating as a mobile dental clinic, TMOM provides essential dental services, focusing primarily on pain relief and infection prevention. The organization has consistently shown that, with collaboration and dedication, communities can come together to create lasting positive change.