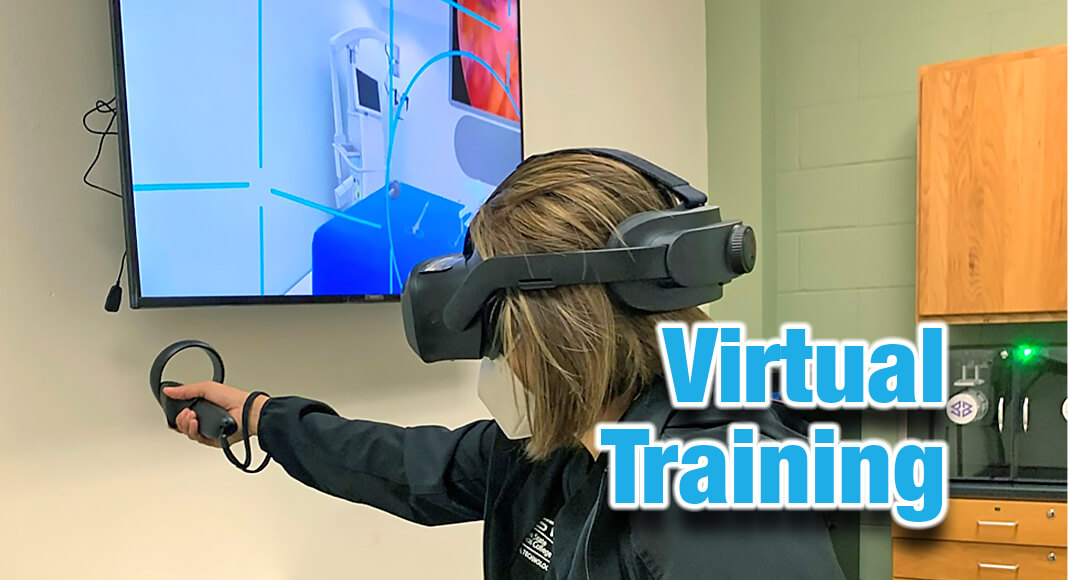 Mega Doctor News
- Advertisement -

HARLINGEN, Texas – As the health care field introduces the latest advancements in medical technologies, Texas State Technical College implements similar resources to prepare its students for real-world careers.
The Surgical Technology program at TSTC's Harlingen campus recently introduced a new PeriopSim surgical simulator to be used by students during lab sessions.
The software was developed by medical professionals to ensure that learners understand everything from instrumentation to safe procedures prior to entering an operating room.
Anna San Pedro, a Surgical Technology instructor at TSTC's Harlingen campus, said the new immersive technology will help students.
"PeriopSim offers instrument and procedural lessons in various surgical specialties such as cardiothoracic, general surgery, neurosurgery, OB-GYN and orthopedic," San Pedro said.
Marissa Gonzales, a clinic coordinator in TSTC's Surgical Technology program, said the new technology will take the students' virtual reality capabilities to a new level.
"The simulator engages the students and gives them the confidence they need," Gonzales said. "This preparation will contribute to the anticipation of the surgeon's needs."
- Advertisement -

Esmeralda Zavala, of La Feria, is pursuing an Associate of Applied Science degree in Surgical Technology at TSTC's Harlingen campus.
Now in her third semester at TSTC, Zavala said what she enjoys most about PeriopSim is that she is able to see the instruments.
"We have been practicing with a thoracoscopic surgery simulation to become familiarized for upcoming lessons," she said. "In the activity, there is a back table with instruments. Then a voice provides instructions on which surgical instrument to choose and where to pass it."
Zavala added that the practice has been great preparation.
"I enjoy it because it is similar to hands-on training," she said.
Abigail Rafael, of San Benito, is also pursuing an Associate of Applied Science degree in Surgical Technology.
Now in her fourth semester at TSTC, Rafael said she likes engaging with this type of modern technology.
"I actually feel that I am passing an instrument to a surgeon," she said.
Since PeriopSim was implemented, TSTC Surgical Technology instructors have seen an improvement in their students' demeanor.
"Their confidence has definitely improved in a controlled environment," Gonzales said.
PeriopSim is the latest advancement for the program since a laparoscopic simulator, LapSim ST, was introduced in TSTC lab sessions in fall 2021.
Through LapSim ST, students have been able to earn certificates for completing modules in basic laparoscopic skills in General Surgery and OB-GYN Surgery.
According to onetonline.org, surgical technologists can earn a yearly median salary of $50,930 in Texas. Those jobs are expected to increase 14% in the state by 2028.
TSTC offers Surgical Technology at the Harlingen campus, where students can earn an Associate of Applied Science degree. In addition, an occupational skills achievement award is available in Sterile Processing.
Registration for TSTC's fall semester is underway. To learn more, visit tstc.edu.