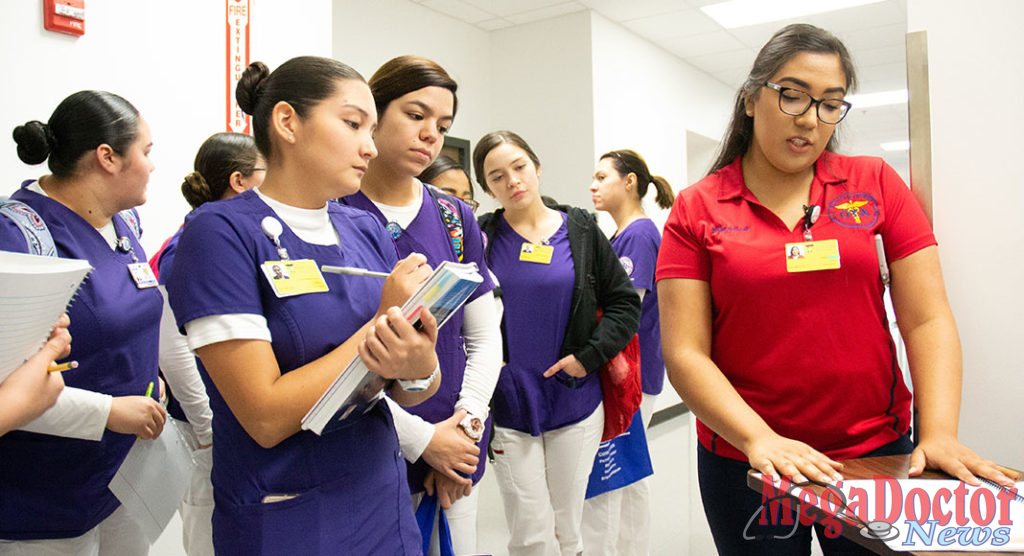 Mega Doctor News
It might seem unusual to see drawings of utensils or constant safety reminders around the home but found beneficial when caring for a loved one or patient with Alzheimer's Disease. These helpful visual cues, including photos and other reminders, can make the difference from a patient completing a task or becoming frustrated or confused.
South Texas College Occupational Therapy Assistant Program (OTA) students had a unique opportunity to practice implementing Alzheimer's and Dementia Care inside of the Nursing and Allied Health Campus' Activities of Daily Living (ADL) apartment.
The apartment's location is on the fourth floor of the new Nursing and Allied Health Campus building within the newly developed simulation hospital. The ADL apartment and simulation hospital provide the healthcare practitioner students and trainees with real-life, hands-on experiences with equipment and scenarios they may encounter in their field of study.
"We use the apartment to simulate different environments," OTA Program Chair Layman Darnell Miller said. "This is the first time we have done this project per se, but we have also done other adult programs with things like orthopedic injuries."
The students' task was to modify the one-bedroom apartment with helpful visual cues and reminders for elders who have Alzheimer's to better navigate and engage in their daily occupational performance. The first thing guests noticed when entering the ADL apartment was a map of the residence layout.
Four separate areas in the apartment represented each of the severity levels of the condition. Each level of cognitive impairment requires different methods of care and attention from family members and the caregivers that support these patients.
ALZ.org is the official website for the Alzheimer's Association, that estimates 5.8 million Americans are living with Alzheimer's disease.
Students served as tour guides and explained the modifications within the residence, that a person living with Alzheimer's would need to continue to live as independent as possible.
South Texas College is prepping the caregivers of tomorrow that will treat this aging population.
"All of these steps would help patients do things themselves since they understand they are still going to be able to perform tasks," OTA student Julissa Cantu said.
In the kitchen, images of forks and spoons were drawn on drawers to help patients remember where to locate the cutlery. Directions on how to properly use an oven and stove to reduce the risks of possible fires were also visible. Labels on food ensured that patients were aware of expiration dates.
Calendars with reminders and even pictures of upcoming events like doctor's appointments or family birthdays were visible in the bedroom — all designed to assist in a better quality of life for patients with Alzheimer's.
"If patients are functionally able, they should still be able to do most things," Cantu added. "Sometimes, it is just their cognition that is limiting them and not so much their physical ability."
Alzheimer's patients are assessed with cognitive exams to determine the level of severity.
The OTA program at South Texas College is a two-year program that prepares students for their careers as Certified Occupational Therapy Assistants (COTA). In Texas, students must obtain a license to practice under the supervision of a Registered Occupational Therapist.
Certification holders can work in a multitude of healthcare disciplines, from home health agencies and hospice care to rehab centers and hospitals.
"In this program, you get to do a bit of everything," OTA student Mark Ochoa said. "We do not focus on just elders or pediatrics. We can work with patients from birth to end of life care in hospice."
The simulation hospital and ADL apartment will continue to serve as a learning environment for students at the Nursing and Allied Health campus as they prepare for the fast-paced medical field.
"We look at occupational therapy in the perspective of what challenges our patients are having as a result of their injury or their ailments in everyday life," Miller said. "We want patients to be as independent as possible. That is how we educate our students, in more of a critical thinking path versus cut and dry 'the book says this.'"