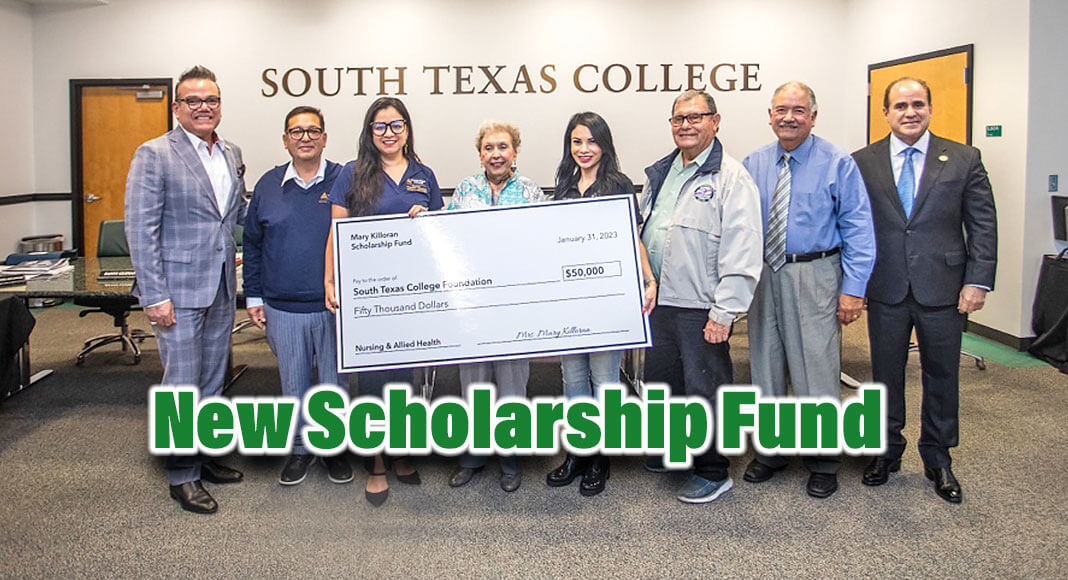 Mega Doctor News
- Advertisement -

BY Amanda Sotelo
Retired nurse practitioner Mary Killoran knows the value of an education in health care and has created a scholarship fund in her name to help South Texas College nursing students continue their education.
During the most recent STC board meeting, Killoran presented college trustees and leadership with a $50,000 donation to the STC Foundation, the first installment of an annual donation, that will fund scholarships for nursing students pursuing a bachelor's degree.
Inspired by her later brother, who upon returning from World War II passed away after a cardiac arrest, Killoran decided to become a nurse, but during that time it wasn't common or required to have a bachelor's degree.
"I never got a bachelor's degree, not even when I later became a nurse practitioner. I always wanted one," she said. "Now is my chance to ensure that other nurses can get their degrees, if they desire one, and this money is going to help make that happen."
Beginning this fall, deserving Associate Degree in Nursing students pursuing a bachelor's degree in Nursing will receive a $3,500 scholarship to help cover tuition costs and other school-related expenses.
STC Dean for Nursing and Allied Health Jayson Valerio, DNP, RN, said the Mary Killoran scholarship will go to help students juggling school, work and family responsibilities.
- Advertisement -

"This will help alleviate the burden of student debt and other expenses for many deserving students, allowing them to focus on their studies without the stress of financial worries. In addition, it will provide recognition and validation of their hard work and academic achievements," said Valerio. "I would like to take this opportunity to express my sincere gratitude to Mary Killoran for her generosity. Without a doubt, her kindness will inspire our students to continue pursuing excellence in their studies."
STC Vice President of Institutional Advancement and Economic Development Rodney Rodriguez, Ph.D., also expressed his gratitude to Killoran for her contribution to STC student success.
"It is donors like Killoran that give our students hope; hope for their futures and hope for their families," said Rodriguez. "This scholarship is going to fund dreams, change lives and nurture success."
STC's Nursing program is currently ranked No. 1 among Texas community colleges and No. 2 among Texas universities as a top producer of graduate nurses entering the health care field, and STC President Ricardo J. Solis, Ph.D. said scholarships like this help keep STC and its students on top.
"Success describes our nursing programs, and STC is a leader in putting skilled nurses into the workforce," said Solis. "The generous donation from Ms. Mary Killoran is going to benefit our students, their families and our program for years to come. We are in gratitude to Ms. Killoran for believing in us and in our students, and for giving them the opportunity toward a rewarding career path."
Killoran, who said she has had several encounters with STC nursing graduates as a hospital volunteer for more than two decades at South Texas Health System and on the occasional hospital stay, and each time their skills and compassion are impressionable.
"I know that STC produces really effective and skilled nursing candidates," said Killoran. "And that influenced my decision to choose STC. I want to be part of the positive changes STC is making in lives and in our nursing industry. This is a wonderful and rewarding profession and this is my chance to help those that are the future of nursing."
For more information on giving to the college or creating a scholarship in a loved one's name, contact the STC Division of Institutional Advancement and Economic Development at iaed@southtexascollege.edu or 956-872-2048.