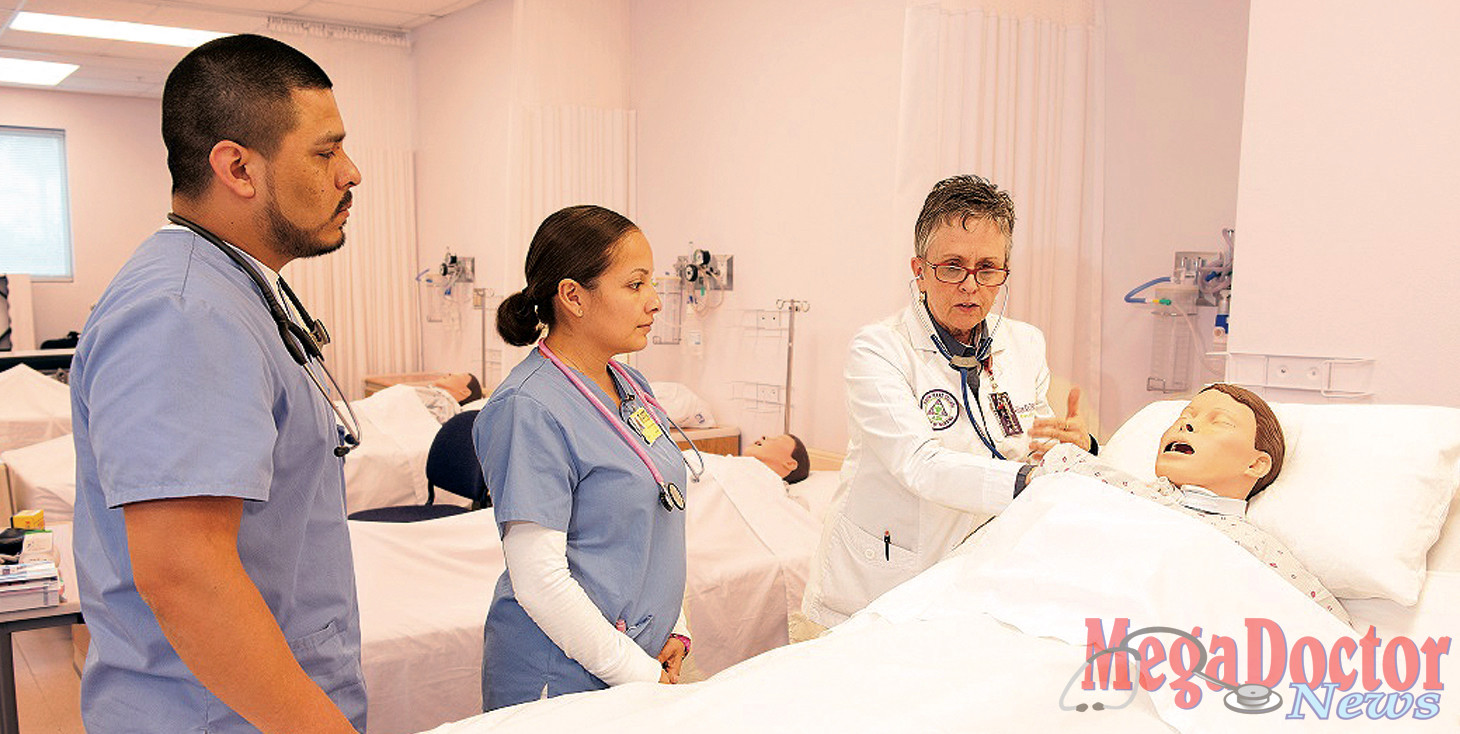 Mega Doctor News – 
- Advertisement -

McAllen, TX – July 2016 – South Texas College has one of the country's top nursing schools in the southwest region.
A study by the Research Team at Nursing Schools Almanac, which collected data on over 3,200 institutions nationwide ranked STC's Division of Nursing and Allied Health (NAH) 45 out of more than 350 nursing schools considered in the southwest, which includes schools in Arizona, New Mexico, Oklahoma and Texas. Only 10 percent of the 3,200 schools made the final list.
Of the top 100 nursing schools in the United States, only 4 other institutions were located in Texas including UT Houston, Austin, San Antonio, and Texas Tech University.
"It is an honor to be included in one of the country's top 50 nursing schools in the southwest region especially being evaluated against universities that offer Bachelors of Science in Nursing and other graduate nursing degree programs," said Jayson Valerio, Interim Dean of the Nursing & Allied Health Center at STC.
"This recognition can be attributed to South Texas College's main core values such as excellence, innovation, giving back to the community, professionalism, collaboration, integrity, and most especially student success," Valerio said. "We take pride in promoting student success and completion of their degree through the implementation of diverse and individualized strategies and initiatives. The NAH Division is gifted with a high caliber of faculty and staff and highly engaging student support services."
NAH offers an Associate Degree Nursing (ADN) program with three entry points: a traditional two-year pathway for non-nurses, a three-semester pathway for Emergency Medical Technician-Paramedics (EMT), and a 12-month pathway for existing Licensed Vocational Nurses (LVNs).
STC also offers a three-semester LVN certificate program that provides classroom instruction and clinical practice in the nursing care of four populations: adults, mothers / newborns, children, and the elderly. The college graduates 100-120 new LVNs and nearly 200 new Registered Nurses (RNs) annually.
- Advertisement -

Students of all programs have exhibited strong licensure exam pass rates. Since 2008, LVN students have achieved an NCLEX-PN pass rate of 85.2 percent, while ADN students have achieved an NCLEX-RN pass rate of 85.4 percent. The National Council Licensure Examination for Practical Nurses (NCLEX-PN) is administered by individual State Boards of Nursing. The exam is used to determine a nurse's eligibility to begin practice as an entry-level practical/vocational nurse.
"As the healthcare delivery system is changing at a rapid pace, our faculty not just in nursing but as well as other allied health programs must keep abreast with the trends in fostering safe and high quality healthcare," Valerio said. "The National Council Licensure Examination (NCLEX) is a proficiency exam that evaluates safety. As a Registered Nurse and a nurse-educator myself, I have the professional and legal obligation to produce graduates that are safe and competent.
We, the faculty in both programs, need to arm our students with a complex set of knowledge, skills, and values that empower them to function safely and efficiently in the healthcare setting."
According to the Research Team (2016), each nursing school in the region was evaluated on three dimensions, this included the institution's academic prestige and perceived value, which represented 50 percent of the overall score.
Prestige and value were measured by:
Graduates' ability to repay their student debt in a timely manner;
Professional designations;
Grant funding for nursing research from the National Institutes of Health; and
Other established methodologies including U.S. News & World Report's MSN (Master of Science in Nursing) and DNP (Doctor of Nursing Practice) rankings.
STC was also ranked according to the breadth and depth of nursing programs offered, which comprised 15 percent of the overall score, and student success, particularly on the NCLEX national licensure, which comprised 35 percent of the institution's overall score.
"This remarkable distinction would not be possible without the headship team of South Texas College and the academic chairs headed by Dr. Christie Candelaria and faculty and staff for the ADN department and Ms. Daphine Mora, RN, MEd, program chair for the vocational nursing and faculty and staff," Valerio said. "Having been at the College for almost thirteen years and currently serving as the Interim Dean of Nursing and Allied Health for less than a year, if there is one thing I can attest, is the outstanding Leadership Team at the college headed by our founding President, Dr. Shirley Reed, and Vice-President for Academic Affairs, Dr. Anahid Petrosian, and the members of the College Board of Trustees.
"This leadership team is always committed to student success by maintaining high expectations, setting courageous goals, and constantly seeking methods for improvement and innovation to provide a better quality of life in our community," he stated. MDN