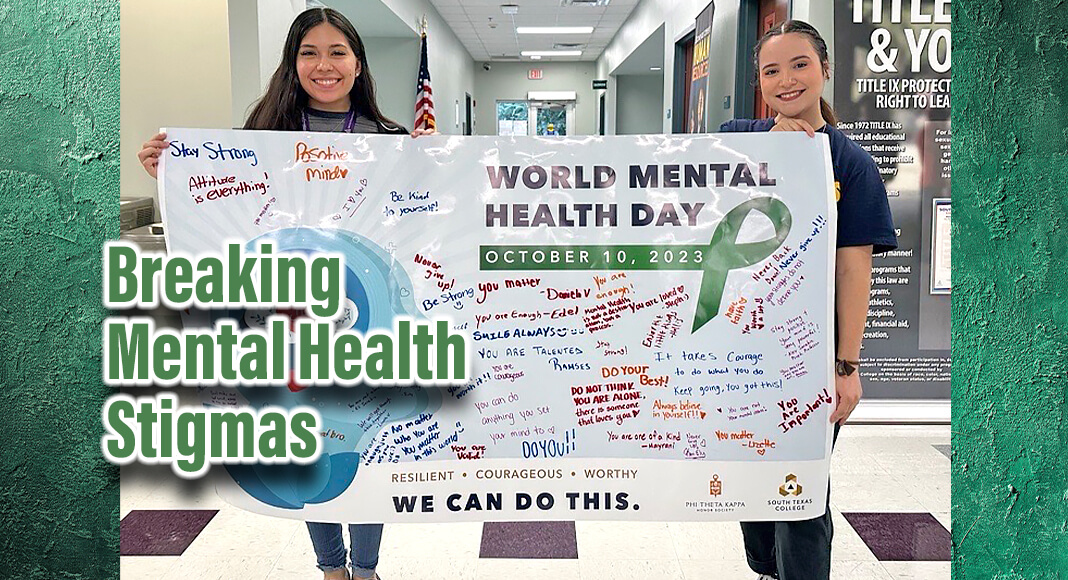 Mega Doctor News
By Joey Gomez
South Texas College is seeking to break the stigma of mental health among students, and in honor of World Mental Health Day (WHMD), Phi Theta Kappa (PTK) partnered with STC's Office of Counseling and Student Accessibility to distribute information on the wide range of services available to students.
This week, STC's Phi Theta Kappa Honor Society: Beta Epsilon Mu chapter reached out to students on all six STC campuses with the goal to remind them how essential it is to care for the mind, just as much as the body.
More than 500 students participated and were given green ribbons to wear in support of WHMD along with a positive message card that listed phone numbers to various help lines for students seeking support.
"Sometimes, knowing that someone else has struggled and made it through is enough to get you through a challenging situation," said STC Psychological Science faculty and Phi Theta Kappa Advisor, Celina A. Jorge. "We met with Vice President (Anahid) Petrosian, Ph.D. and presented her with various ideas including having an event at the Pecan campus for World Mental Health Day and she supported it, and suggested we take it a step further and open it up for all campuses, which we did with a network of counselors on each campus. Together we were able to have representation of Counseling, PTK and Psychology Club members to share information with students."
Jorge along with Phi Theta Kappa Advisor Celina Casas, D.O.T., established the event with students as a college project that sought to establish a supportive relationship between the PTK chapter and college administration.
Jorge said she and Casas explored the various topics that are relevant to current times and opted to focus and bring awareness to mental health.
During the awareness event, PTK also unveiled its WMHD Awareness banner that was made available at all campuses for students to sign and leave a positive message of encouragement for other students. The banners were then gifted to counseling centers at all STC campuses as a "thank you" for their partnership, with the hope that students visiting the centers see the messages as helpful and inspiring.
The National Institute of Mental Health (NIMH) estimates that more than 1 in 5 U.S. adults live with a mental illness (57.8 million in 2021). Mental illnesses include many different conditions that vary in degree of severity, ranging from mild and moderate to severe.
With the goal in mind to assist students with their personal challenges, STC offers free counseling services to students enrolled at STC. Students can refer themselves for counseling, or walk-in and speak to a counselor during regular business hours.
"Partnering with groups such as Phi Theta Kappa helps facilitate our goal of getting the word out to our students and letting them know that we are here for them," said Armando Medrano, Counseling and Student Accessibility Services manager. "It was exciting to be offered the opportunity to support Phi Theta Kappa in their efforts to promote mental health awareness. It's not often that events such as this can occur simultaneously at all our STC campuses, but when students, staff and departments work together amazing things can be done. I look forward to participating in future events with Phi Theta Kappa and hope to collaborate with other organizations in the college."
The counseling department provides workshops to students on various topics such as stress management, self-care, self-esteem, depression, and coping with loss. Workshops are offered throughout the year and take place at all STC campuses.
Vashti Lazaro Luna, an STC student pursuing a degree in Health Sciences, is the group's Public Relations officer. Luna said upon arriving to the Valley more than a year ago in order to start a new career, and being away from her family, took a toll on her physical and mental health.
"I used to get lost with work and school (but) all I was doing was putting a band aid on my issues," Luna said. "I'm not going to lie, it hasn't been easy, but with the help of my therapist and my family, I've been able to overcome this challenge. One step at a time. Struggling with anxiety and depression is a daily battle but surrounding yourself with your loved ones and focusing on daily activities, like being an officer for PTK, has helped me to overcome those recurring thoughts is the way to go."
Information on Phi Theta Kappa can be found at www.academicaffairs.southtexascollege.edu/academicexcellence/ptk/.
Students looking for counseling services at STC can visit studentservices.southtexascollege.edu/counseling/contact.html.