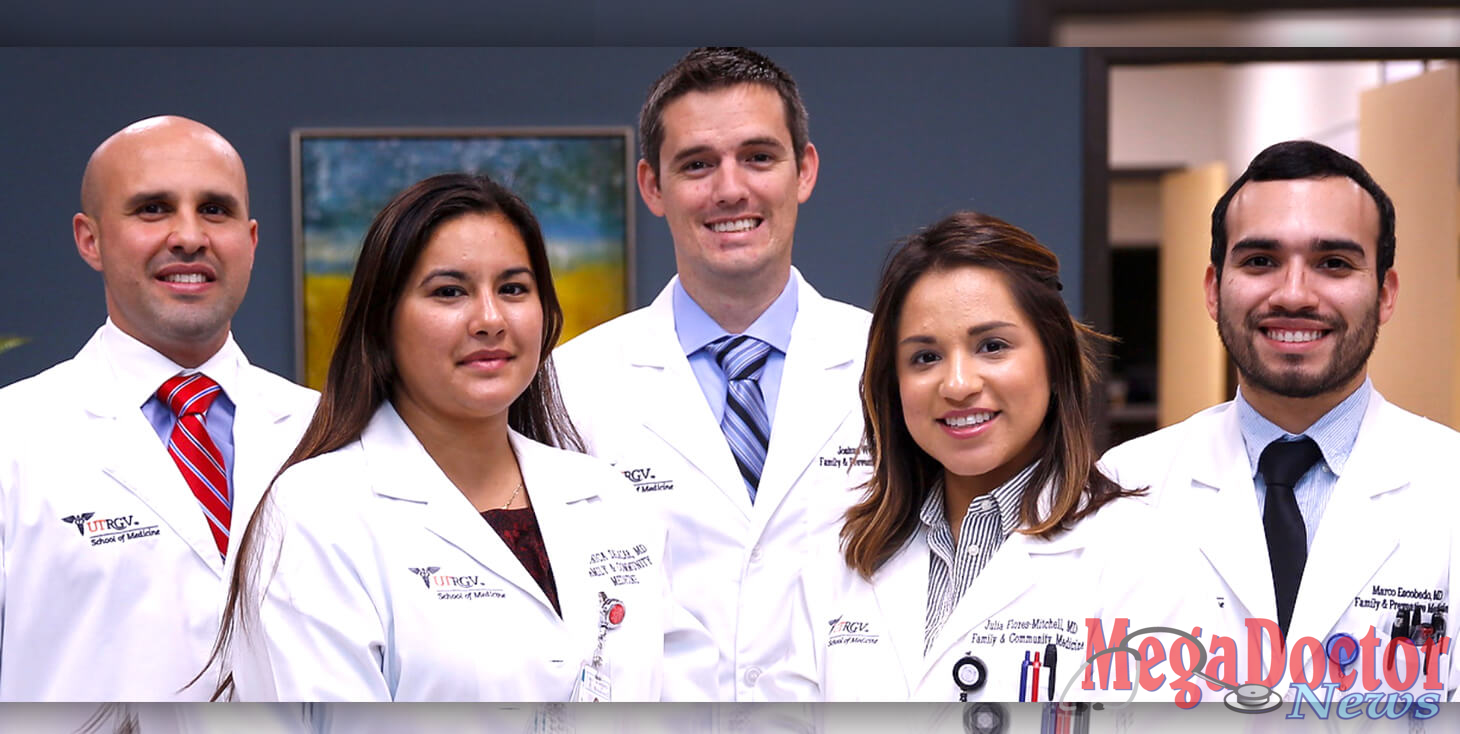 Mega Doctor News
By Jennifer L. Berghom
Rio Grande Valley, Texas – The University of Texas Rio Grande Valley School of Medicine is launching UTHealth RGV, its much-anticipated clinical practice, which will provide patients throughout the Valley additional access to primary and specialty care.
"UTHealth RGV further fulfills the School of Medicine's promise to expand healthcare access across the Rio Grande Valley," said Dr. John H. Krouse, executive vice president for Health Affairs at UTRGV and dean of the School of Medicine.
"For years, families have had to travel to outside of the Valley to seek treatment – some as far as Houston, Corpus Christi, and San Antonio," Krouse said.  Additional healthcare access in the Valley was confirmed in a 2014 assessment of the area's healthcare needs.
The assessment indicated that the number of physicians per population in the Valley is almost half of the physician-per-patient ratio for the United States, which is 240 doctors per 100,000 people. The Valley only has 124 doctors per 100,000 people.
"An important responsibility of our medical school is to provide patient care," Krouse said. "The goal of this clinical practice – UTHealth RGV – is to lessen the need for patients to travel outside of the Valley to receive care from board-certified, fellowship-trained physicians and other healthcare providers. This is an exciting time for healthcare in the Rio Grande Valley and I am pleased that UTHealth RGV is joining the medical community in advancing health equity throughout the region."
Medical schools throughout the country usually have affiliated practices operated by faculty members who are licensed physicians, as well as other healthcare professionals and medical staff.  Having a school of Medicine-affiliated physician provides patients with access to individuals who are training the next generation of healthcare providers, many of whom are involved in research related to diseases that affect the health of Valley families.
- Advertisement -

UTHealth RGV has several offices open that provide primary and specialty care, including pediatric genetics and neurology care, women's health specialists, general and endocrine surgery, rheumatology and other services. More locations will be open in the coming months, including employee health centers at UTRGV's campuses in Brownsville, Edinburg, and Harlingen.
Patients can call 1-833-UTRGVMD (887-4863) or visit the recently launched website for UT Health RGV, to:
Look up our locations.
Find a physician.
Request appointments.
Contact our offices.
The School of Medicine also provides patient care through graduate medical education clinics it operates with its partner hospital systems and through its Area Health Education Centers in Cameron, Hidalgo, and Starr counties.