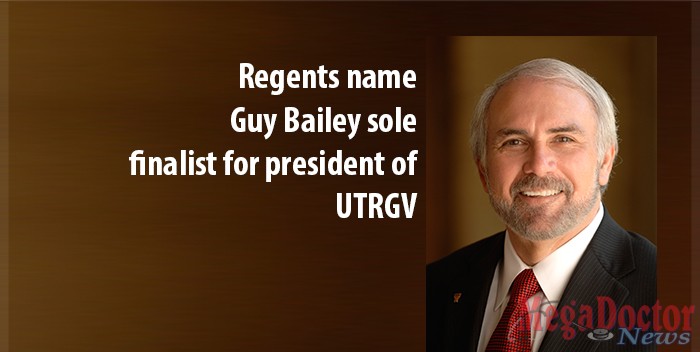 Mega Doctor News
AUSTIN – Guy Bailey, a proven leader with extensive experience at the helm of large research institutions, has been selected by The University of Texas System Board of Regents as the sole finalist for the historic position of founding president for The University of Texas Rio Grande Valley.Bailey has served as chancellor of the University of Missouri-Kansas City, the president of Texas Tech University and the University of Alabama, and provost of The University of Texas at San Antonio. While at UMKC, which is home to schools of medicine, dentistry, pharmacy and law, Bailey developed an action plan designed to make the institution a model research university. He also developed an innovative construction plan that allowed the institution to build numerous new facilities with minimal state resources. He led Texas Tech University, a comprehensive research university with an enrollment of more than 32,000 students, for four years, and was instrumental in leading the university on its successful quest to become eligible for the state's National Research University Fund.
The Board announced its selection after interviewing select candidates Monday and considering recommendations from an advisory committee that vetted all applicants. Witt/Keiffer, an executive search firm, assisted the committee in a national search to identify candidates.
Under state law, Regents must name a finalist for a university presidency at least 21 days before making the appointment.
"I view this role as the single most exciting educational opportunity in America today," Bailey said after being informed of the Board's decision. "I look forward to working with everyone as we launch the nation's first major public university of the 21st century.   I am truly honored to be the sole finalist."
UTRGVwill welcome the inaugural class of students in fall 2015.
UTRGV, which also will establish a medical school in 2016, is being designed as a 21st century university that will have global impact. The university is being created by combining the talent, assets and resources of UT Brownsville, UT Pan American and the Regional Academic Health Center (RAHC).
Bailey, a sociolinguist, was most recently president of the University of Alabama. He has also held positions at Emory University, Texas A&M University and Oklahoma State University and served as dean of liberal arts at the University of Nevada at Reno.
He received a bachelor's and master's degree in English from the University of Alabama and a doctorate in English linguistics from the University of Tennessee and is the author of more than 100 books and articles. Bailey will visit the Rio Grande Valley campuses in the coming weeks to meet with students, faculty, staff and community members.
"Outstanding leadership is crucial for any institution of higher education," UT System Board of Regents Chairman Paul Foster said. "UTRGV's unique and innovative environment, which will integrate next-generation technology and customized learning to increase access and affordability for all students, calls for a visionary leader like Dr. Bailey. We initially saw his tremendous leadership first-hand when he served as provost of UT San Antonio, and we were impressed with continued successes at Texas Tech and Missouri. We are thrilled to welcome him back to the UT System."
UT System Chancellor Francisco G. Cigarroa, M.D., said choosing the right leader for UTRGV is one of the most important decisions the Board of Regents will make, and he anticipates the new university will have a monumental impact regionally, nationally and even internationally in the generations to come.
"UTRGV is the fulfillment of the creation of a new model of excellence with the aim of transforming the quality of life, health and economic prosperity in South Texas and beyond," Cigarroa said. "This new university is poised to be a major academic and economic asset not only to the Rio Grande Valley, but all of Texas. UTRGV will uphold a mission of global excellence that will transform South Texas into an epicenter for research, world-class education and healthcare."
Cigarroa said Bailey's familiarity with Texas and the UT System, along with his experience at the helm of a university with a medical school makes him an ideal candidate.
"Dr. Bailey has had a very impressive career, and we are fortunate to invite such a proven, progressive leader to be a part of this transformational mission in South Texas," Cigarroa said.
Both Cigarroa, a nationally-renowned pediatric transplant surgeon who was born and raised in South Texas, and Rio Grande Valley native and former Regents' Chairman Gene Powell were instrumental in the push for legislative approval of the university's creation in 2013. Gov. Rick Perry visited the region in July 2013 for a ceremonial signing of the historic legislation.
Per the goals and guiding principles set by the Board of Regents, UTRGV will have access to resources to become an emerging research university with the long-term goal of becoming a global leader in higher education, producing graduates who are bicultural, bi-lingual and bi-literate. It is projected that when it opens, UTRGV likely will become the second-largest Hispanic-serving institution in the nation.
About The University of Texas System
Educating students, providing care for patients, conducting groundbreaking research and serving the needs of Texans and the nation for more than 130 years, The University of Texas Systemis one of the largest public university systems in the United States, with nine academic universities, six health institutions and a fall 2013 enrollment of more than 213,000. The UT System confers more than one-third of the state's undergraduate degrees, educates two-thirds of the state's health care professionals annually and accounts for almost 70 percent of all research funds awarded to public universities in Texas. The UT System has an annual operating budget of $14.6 billion (FY 2014) including $3 billion in sponsored programs funded by federal, state, local and private sources. With about 90,000 employees, the UT System is one of the largest employers in the state.