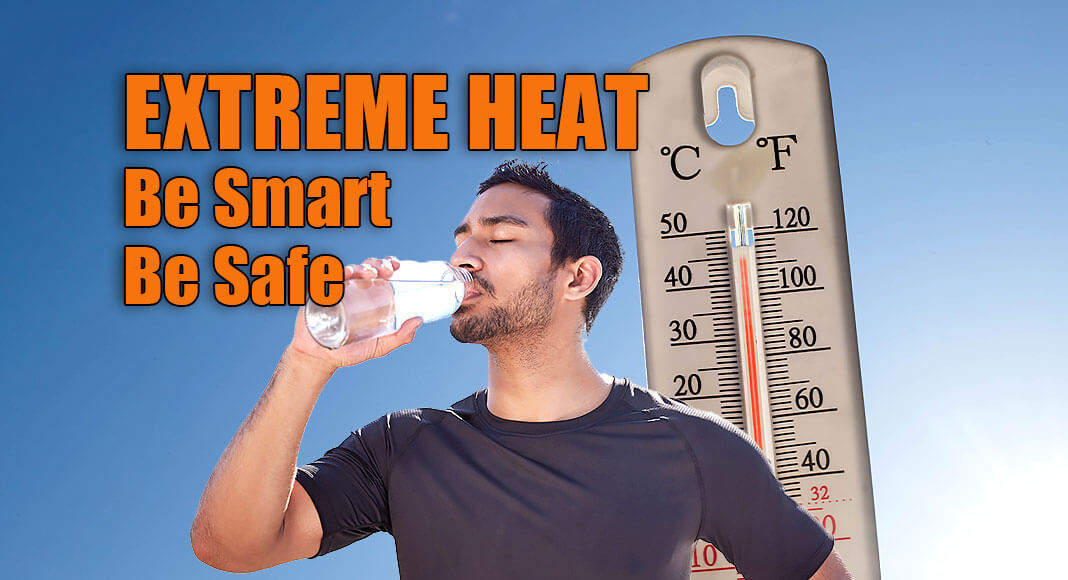 Mega Doctor News
- Advertisement -

Extreme heat is the most dangerous type of severe-weather event in the U.S., killing 12,000 people each year. Climate change is making extreme heat events more frequent, more severe, and longer lasting. Moreover, extreme heat events are increasingly accompanied by power failures, increasing the number of people vulnerable to illness and death. But we can take action to prepare our loved ones, pets and communities for extreme heat events and related power outages. Learn what to do before, during, and after to help keep everyone safe and healthy.
HEAT SAFETY TIPS
Hot cars can be deadly. Never leave children or pets in your vehicle. The inside temperature of the car can quickly reach 120 degrees.
Stay hydrated by drinking plenty of fluids. Avoid drinks with caffeine or alcohol.
Check on family, friends and neighbors who do not have air conditioning, who spend much of their time alone or who are more likely to be affected by the heat.
If you don't have air conditioning, seek relief from the heat during the warmest part of the day in places like schools, libraries, theaters, malls, etc.
Wear loose-fitting, lightweight, light-colored clothing. Avoid dark colors because they absorb the sun's rays.
Slow down, stay indoors and avoid strenuous exercise during the hottest part of the day.
Postpone outdoor games and activities.
Use a buddy system when working in excessive heat. Take frequent breaks if working outdoors.
Check on animals frequently to ensure that they are not suffering from the heat. Make sure they have plenty of cool water and shade.
Keep your pets inside and out of the heat if possible.
SIGNS OF HEAT STROKE
Cool, moist, pale or flushed skin
Heavy sweating
Headache
Nausea or vomiting
Dizziness or loss of consciousness
Weakness
WHAT TO DO
If you see someone suffering from heat stress, follow these steps:
If losing consciousness or vomiting, immediately call 9-1-1
Relocate to an air conditioned or shaded area
Slowly drink cool water
Apply ice or cold towels to head, neck, groin, wrists, ankles and underarms
Animals can suffer heat stroke in warmer weather as well. Dogs with short noses or snouts, like the boxer or bulldog, are especially prone to heat stroke, along with overweight pets, those with an extremely thick fur coat or any pet with upper respiratory problems such as laryngeal paralysis or collapsing trachea.
SOME OF THE SIGNS OF HEAT STROKE IN YOUR PET ARE:
- Advertisement -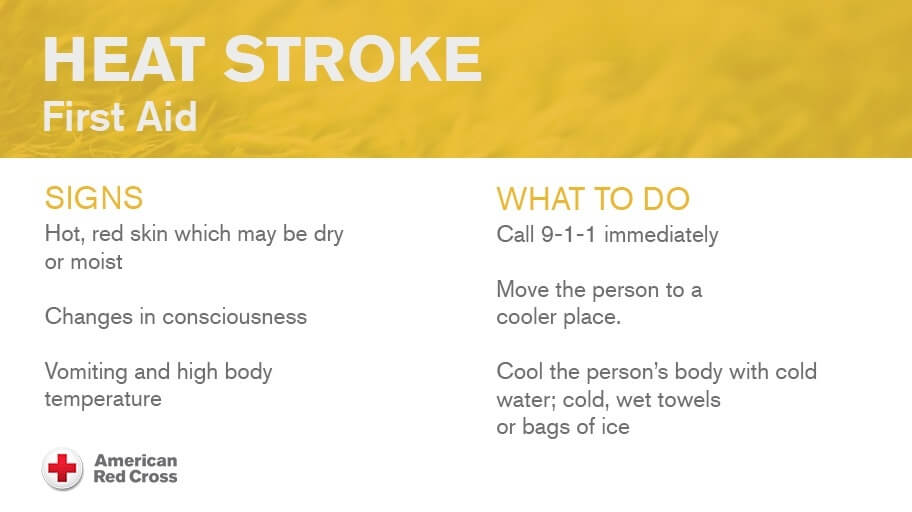 • Heavy panting and inability to calm down, even when lying down.
• Brick-red gum color.
• Fast pulse rate.
• Inability to get up.
If you suspect your pet has heat stroke, take its temperature rectally. If the temperature is above 105 degrees, cool the animal down. The easiest way to do this is by using the water hose. Stop cooling the animal when the temperature reaches 103 degrees. Bring your pet to the veterinarian immediately, as heat stroke can lead to severe organ dysfunction and damage.
Download The Red Cross app "Emergency" can help keep you and your loved ones safe by putting vital information in your hand with more than 35 customizable severe weather and emergency alerts. The Red Cross First Aid app puts instant access to information on handling the most common first aid scenarios, including heat emergencies, at your fingertips. Download these apps for free by searching for 'American Red Cross' in your app store or at redcross.org/apps. Learn First Aid and CPR/AED skills (redcross.org/takeaclass) so you can help save a life. You can also download the Red Cross Pet First Aid app for step-by-step instructions for first aid emergencies, toxic substances, a pet profile for storing tag ID, photo and medical information, early warning signs for when to contact a veterinarian and an animal hospital locator.