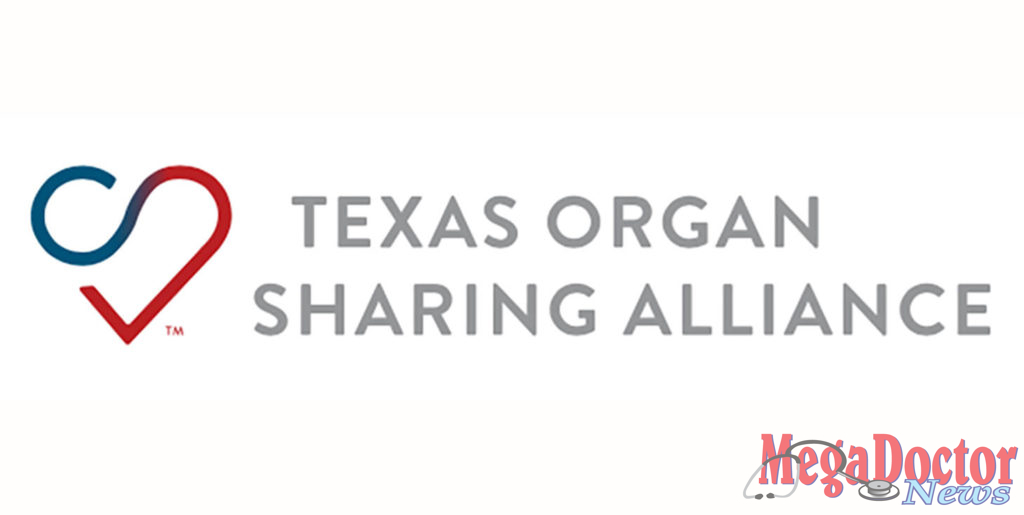 Mega Doctor News
- Advertisement -

McAllen, Texas – Texas Organ Sharing Alliance (TOSA) is the organ procurement organization that provides organ donation and recovery services in Central and South Texas. TOSA reports that in 2018, a record 175 individuals became organ donors in its 56-county service area, which spans from Waco to the Rio Grande Valley.
Remarkably, these 175 organ donors provided 561 organs for transplantation. Additionally, 84 of these donors made the decision to save lives by registering with Donate Life Texas, the official state registry for organ, eye and tissue donors. In the Rio Grande Valley, 21 individuals became life-saving organ donors.
"We praise these selfless individuals, and their families, who made the decision to give someone the ultimate gift: The gift of life," said TOSA CEO Dr. Joseph Nespral. "We're also very encouraged by the increase in registered organ donors because it demonstrates the commitment our community has to helping others as a final act of kindness."
For the Valdez family of Weslaco, the donation decision proved to be a way to celebrate their loved one's life.
"It has brought us, as a family, comfort knowing that Regina's legacy remains alive in others," said Rosalinda Valdez, mother of organ donor Regina Valdez. "We see that being an organ donor can save many lives in many different ways. Being a donor family has opened our eyes and hearts about organ donation and we would never hesitate to become one."
Nationwide there were a record 10,722 organ donors in 2018, according to United Network for Organ Sharing (UNOS), the national organization that manages the organ transplant system. The 36,527 organ transplants performed in the United States in 2018 set an annual record for the sixth straight year.
Despite these record increases, there still is a great need for organ donors. Nationwide, 113,800 people are awaiting a life-saving organ transplant, including more than 10,000 Texans. A single organ donor can save eight lives and improve the lives of up to 75 others through tissue and eye donation.
- Advertisement -

TOSA is headquartered in San Antonio and has regional offices in Austin and McAllen. In 2018, TOSA was named a Top Workplace by the San Antonio Express-News for the seventh consecutive year. For more information on organ donation or community initiatives and to register online, visit TOSA1.org.