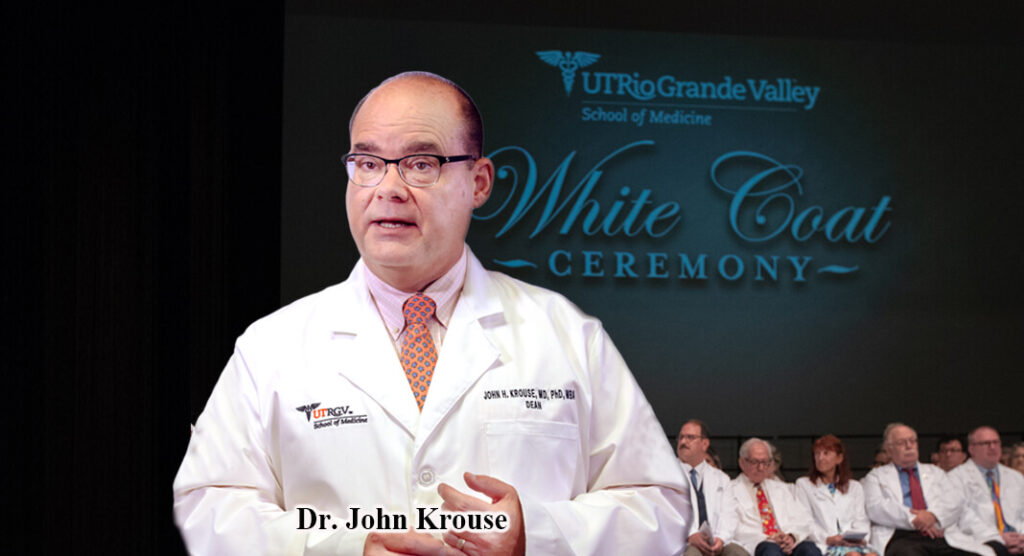 As originally published by Mega Doctor NEWS newsprint edition June 2021
Throughout his medical career Dr. John H. Krouse, dean of UTRGV School of Medicine and Executive Vice President for Health Affairs, has worked creating career opportunities for young physicians and provided words of encouragement when they needed it. Those attributes have led to Krouse being selected for the 2021 Young Physicians Section (YPS) Model Mentor Award by the American Academy of Otolaryngology-Head and Neck Surgery.
This recognition was based on the joint nomination of a group of young physicians who celebrated the role Krouse's mentorship played in their success. Get to know more about him in this issue.
On another matter, fifteen minority students entering Texas medical schools this fall will each receive a $10,000 scholarship from the Texas Medical Association (TMA). Physicians selected the students for their academic achievement, commitment to community service, and their desire to care for Texas' increasingly diverse population. The TMA announced the winners during TexMed, the association's annual conference; it was held virtually. Get to know more about them in this issue.
Rio Grande Regional Hospital (RGRH) announced that their goal is to provide adult patients with comprehensive services for preventing, diagnosing, and treating cardiovascular disease. Our commitment is to continue expanding our cardiovascular services by not only developing a new structural heart program but also by integrating key physician specialists such as cardiothoracic surgeons who perform cutting-edge procedures that can safely improve a patients' quality of life.
For this matter, Dr. Jaime Villarreal, Board Certified in both General and Cardiothoracic surgery will work hand in hand with our cardiologists and the rest of the cardiovascular care team at the hospital to provide unparalleled service to our patients. More inside this issue.
A decade ago, DHR Health Diabetes and Endocrinology Institute opened its doors to Rio Grande Valley residents, showcasing the effort to combat diabetes amongst the Hispanic population. In the Rio Grande Valley, diabetes prevalence among the Hispanic population is 28%, which is higher than the national level of 18%.
Observant of the growing world epidemic of diabetes, DHR Health looked for ways to help residents control their diabetes. Directed by Dr. Marcel Twahirwa, the institute opened its doors on 5/2/2011, with one physician and a nurse practitioner providing superb care to patients in the area.
Integrated into the DHR Health Diabetes and Endocrinology Institute, it is now a one-of-a-kind institution leading the battle to conquer diabetes in the Rio Grande Valley. Learn more in this issue.
On another important note, learn when is a visit to a pediatric cardiologist in order?
"Although 80-85% of structural heart defects are often caught before or at birth, some don't present themselves until later, so it's important to tell your child's pediatrician or family doctor about any changes you or your child notice," said Dr. Stephen Cyran, pediatric cardiologist with Penn State Health Children's Heart Group. "Unlike adults who often self-refer to a cardiologist, the referral to the pediatric cardiologist almost always comes through the pediatrician or family physician." Learn more about the warning signs in this issue.
Enjoy!