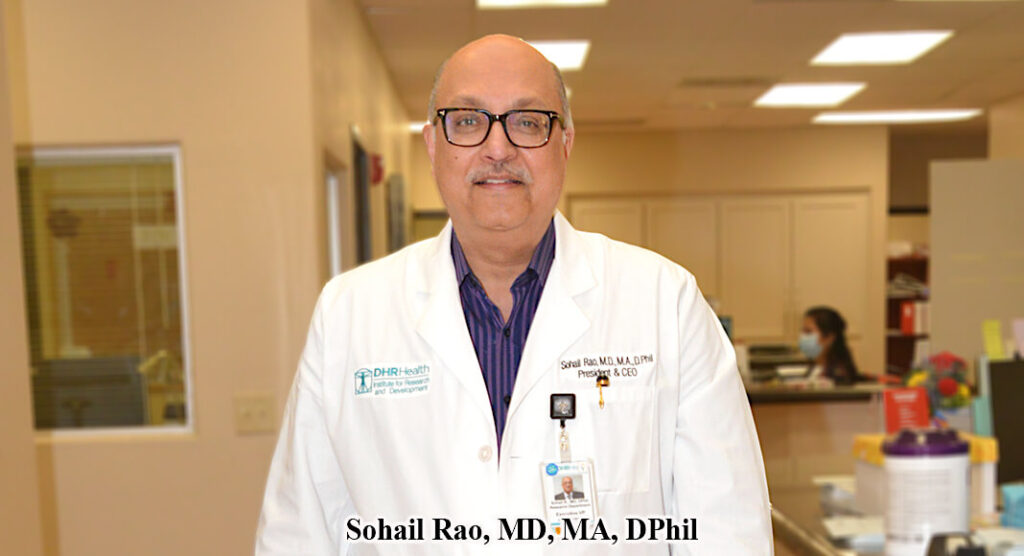 As originally published by Mega Doctor NEWS newsprint edition April 2021
- Advertisement -

It is not every day that I have the opportunity and the honor of meeting a physician researcher on a quest to find a cure for a most formidable enemy facing humanity.
That's Dr. Sohail Rao, MD, MA, DPhil; he is the President and Chief Executive Officer at DHR Health Institute for Research & Development.
In this issue, learn more about him and his fight against COVID-19.
On other news: To take care of your heart, it's important to know and track your blood pressure. Millions of Americans have high blood pressure, also called hypertension. While many don't realize they have it or aren't doing anything to keep it at a healthy level. There is more information inside.
On another note, the good news is that Dr. Michael Dobbs, chair of the Department of Neurology in the UTRGV School of Medicine and a pioneering neurologist, recently published his fifth book. This book is on an understudied field in healthcare – neurotoxicology.
Neurotoxicology studies substances that are toxic and possibly even deadly. Dr. Dobbs' book provides practical knowledge on the topic to help neurologists better recognize and treat neurotoxic exposure in their clinical practices. "Applied Neurotoxicology" was published by Elsevier as part of its Neurologic Clinics series and reviews articles from authors around the world. More in this issue.
Buying your own health insurance just got a lot less expensive. If you've already bought a plan on Healthcare.gov, or you didn't because you thought it was too pricey, act now to save money.
- Advertisement -

Last month, hundreds of millions of Americans got a cash infusion from the government, as part of the American Rescue Plan. But starting this month, another part of that law could have an even bigger effect on the wallets of tens of millions of Americans.
That's because starting April 1, the law makes health insurance much less expensive for people who don't get it from their job, Medicare, Medicaid, or military and veterans programs. More in this issue.
For Breastfeeding Moms, COVID-19 Vaccinations May Also Protect Babies. A major boost in COVID-19 antibodies is being seen in breast milk after vaccination. Nursing mothers who receive a COVID-19 vaccine may pass protective antibodies to their babies through breast milk for at least 80 days following vaccination. This is what is suggested in new research from Washington University School of Medicine in St. Louis. Learn more inside.
Health Tips to Navigate Year 2 of the Pandemic. After months of unfamiliar restrictions and guidelines, pandemic fatigue is affecting how some Americans protect their health. However, experts warn that diligence is still extremely important because new mutations and variants of the virus that causes COVID-19 are being discovered. The typical cold and flu season also brings added threats to people's health and wellness. More inside.
Once again, the Valley Baptist Health System has been nationally recognized, this time with the Platinum Recognition from the Health Resources & Services Administration as part of the National Organ Donation Campaign and Workplace Partnership for Life is a culmination of hours of dedication and teamwork at both Valley Baptist-Brownsville and Valley Baptist-Harlingen. Valley Baptist-Harlingen has received Platinum Recognition each year since 2016, while Valley Baptist-Brownsville has been a Platinum Recognition recipient since 2015. Congratulations to Valley Baptist Health System!I hope you'll enjoy this issue.